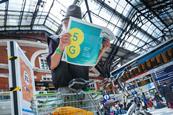 Another nine projects added to the state‑backed funding call. BT/EE, O2, and Three support AR, broadcasting, and logistics use‑cases. Emerging players take lead roles.

Five standout startups driving UK 5G innovation. UK government helping underwrite. Regional initiatives open floor to smaller operators (MNOs in the wings).

Inaugural DCMS 5G funding established testbeds across the UK: hubs for future 5G‑enabled innovation. £200m funding pledged by 2022.

DCMS‑funded projects take £16m in grants for 5G use‑cases. Automation, broadcasting, and XR among the technologies. BT, O2, and Three participate.

WM5G was established by the West Midlands Combined Authority and DCMS, with the DCMS promising more than £20m of investment by March 2022.

The S5GC was established as a 5G development hub and is chaired by former BT executive Julie Snell. Attracted £5.3m Scottish government investment, to expire in 2022.

A joint initiative between the EC and European industry. In its third wave of projects after launching in June 2018. Telefónica present via its R&D entity Telefónica I&D. Deutsche Telekom also involved in several projects via Group and Greek subsidiary; BT present in UK‑focused projects.