Deutsche Telekom, Telefónica, and Vodafone represented at the latest European Round Table event.
Behind‑closed‑doors discussions focused on decarbonisation, skills transformation, and single market competition.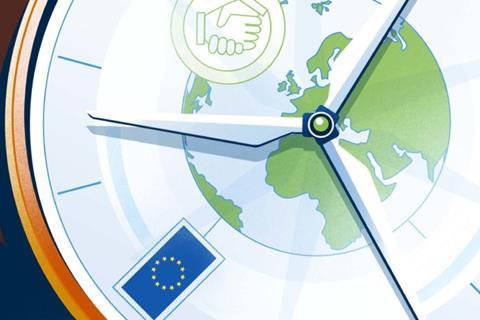 Senior executives from Deutsche Telekom, Telefónica, and Vodafone were among representatives at the latest European Round Table for Industry (ERT) gathering, which brought together leaders from the continent's foremost multinational corporations at an event in Bilbao over the weekend.
The ERT, based in Brussels, acts as a business lobby for European industry. It hosts two events a year, with discussions regarding strategy and industry‑wide targets between senior figures taking place behind closed doors. The sessions are kept largely secret, with very little information leaked to the public. The latest event named Deutsche Telekom's Timotheus Höttges, Orange's Stéphane Richard, and Telefónica's José María Álvarez‑Pallete among the anticipated attendees, while senior representatives from the likes of Ericsson, Nokia, SAP, and Vodafone were also expected.
Carl‑Henric Svanberg, ERT Chair and Chairman of automaker Volvo Group, indicated that the debate had a focus on environmental, social, and corporate governance (ESG), and the opportunities presented as Europe emerges from COVID‑19.
Svanberg said the debate was an opportunity for business leaders to "exchange on some of the major economic and social trends at this time of accelerating green and digital transition". Ignacio Galán, CEO of Iberdrola, the Bilbao utilities company that hosted the ERT event, said the discussions confirmed that decarbonisation strategies were a mutual focus for European industry. It was one of five priority areas identified during the plenary session:
The impact of digitalisation and a "green transition" on the European Union's Single Market. ERT members signed off on a paper covering the development of the single market while encouraging market competitiveness, which will be published in December 2021.
Next steps for carbon neutrality following COP26, and how to maintain competition amid decarbonisation efforts.
Strategic growth of cloud and edge computing as part of wider digital transformation programmes.
Development of the ERT's Reskilling 4 Employment (R4E) initiative, a pan‑European training scheme.
The EU's strategy to handle supply chain disruptions and the associated implications.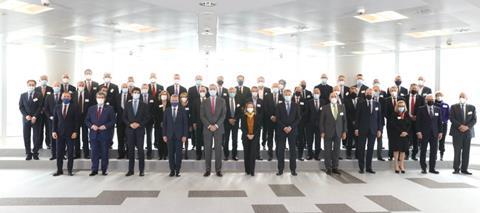 Skillset transformation a shared priority
Among the conclusions of the session was the need to prioritise re‑skilling and collaborative training schemes. To this end, the ERT launched an in‑house programme, R4E, earlier in 2021. It aims to re‑skill one million adults in Europe by 2025, with a goal to increase that number to five million by 2030.
Telefónica is a leading proponent of the ERT's R4E programme (alongside AstraZeneca, Iberdrola, Nestlé, SAP, Sonae, and Volvo Group), and will support its rollout, which begins with pilots in Portugal, Spain, and Sweden. The operator has in recent years emphasised the need for extensive re‑skilling and up‑skilling internally to underpin its digital transformation, and launched SkillsBank last year, a digital educational platform to enable employee training (Telefónicawatch, #137, #151, 154, and passim). This year, Telefónica began a refurbishment programme at its Madrid headquarters to change the space into an "Innovation and Talent Hub" fit to prepare the Group's workforce for future challenges and working environments. It aims to equip 100,000 staff annually with skills required for the "future of work", the operator said (Telefónicawatch, #159).
Álvarez‑Pallete was also in attendance for last week's La Fundación Cotec para la Innovación conference, a meeting between private and public sector leaders from Italy, Portugal, and Spain to discuss the "intangible" economy — digitalisation, innovation, and the need to re‑skill the workforce included. Members, Telefónica among them, agreed to international collaboration to monitor the growth of new skills, identify new job roles to drive transformation, and increase cooperation between the academic and private sectors.
Deutsche Telekom, also an ERT member, is among supporters for the R4E scheme and has led its own retraining drive in the past few years. In early‑2021, it committed to "new‑skilling" nearly a third of its workforce, with the Group's VP for Digital Transformation Anna‑Lena Bruné describing skill transformation as "our main strategic programme for the next few years" (Deutsche Telekomwatch, #102).
Deutsche Telekom CEO Höttges has been on something of a tour of the Group's eastern European holdings of late, taking in Budapest, Prague, and Warsaw over the past week. He spoke of the Group's need to build resilience in the face of hard‑to‑predict and "challenging markets".
Vodafone has implemented staff re‑skilling schemes including its Future Ready initiative, part of which focuses on investments in skills and talent as an element of broader digital transformation. The operator also expanded its Skills Mobility app to enable existing employees to up‑skill and re‑skill. Nick Read, Vodafone CEO, has previously outlined the Group's response to the pandemic as enabling a transition to "future" work models, including remote and hybrid working (Vodafonewatch, #193, #197, and passim).

Joseph Purnell is a Staff Reporter for TelcoTitans, contributing telecoms news analysis since 2019 as part of the TelcoTitans Editorial team.