Hopes for post-completion spending boost now offset by COVID-19 uncertainty.
Ceragon, CommScope, and Amdocs among those to highlight adverse impact on quarterly and full-year results whilst uncertainty reigned.
5G infrastructure pledges from new T-Mobile of particular interest.
Vendors appear confident in entrance of DISH as solid fourth player once TMUS‑Sprint deal finalised.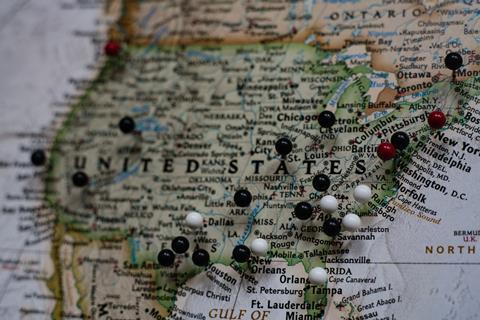 Vendors in the T‑Mobile US (TMUS) ecosystem continued to display supply chain pain from a pre‑Sprint merger spend slowdown by the operator, but with optimism for an uptick now TMUS has concluded the transaction.
It remained clear that the merger's lengthier-than-expected approval process has had significant impact on the pair's respective supply chains, though enablers' recent full‑year and quarterly earnings suggest hope that lost business can be recouped within the year.
With a few exceptions, there is an air of confidence in the viability and eventual success of the merger, especially in terms of improving the competitiveness of the market as a whole.
Equipment provider CommScope partly blamed a 13.8% sales decline to $9.8bn (€8.9bn) in its fiscal year to 31 December 2019 on a "temporary pause in spending" whilst the merger was pending. This apparently stretched across all lines, affecting mobility solutions in particular. CommScope President and CEO Marvin Edwards, speaking on the provider's full year results conference call, noted that "our position with T‑Mobile is very strong", particularly in reference to antenna provision.
Ceragon Networks indicated a "slowdown" whilst the merger awaited approval, echoing similar reports from Ericsson and others (Deutsche Telekomwatch, #91). Ira Palti, CEO of Ceragon, which supplies TMUS with backhaul equipment, said that delayed approval for the merger was to blame for "negatively affecting the companies' ordering patterns". At the time when the merger was announced in 2018, Palti expressed confidence that Ceragon would remain a preferred vendor for both Sprint and TMUS, adding: "we are very well positioned to take advantage of the aggressive spending on Gigabit LTE and 5G for our primary US customer". On its most recent call, Palti reiterated this confidence, despite still waiting on the aggressive spending he had hoped for. "The merger is essential for 5G deployment. As both companies continue to deploy 4G and launch 5G in additional markets, we will continue to be a significant player in that rollout", he said.
Ceragon's Palti also answered questions about competition from Huawei Technologies, and the effect of global geopolitical decisions being made regarding the Chinese supplier. As a direct but substantially more heavyweight competitor in the market, concerns surrounding Huawei have apparently benefitted Ceragon's bargaining power in several unnamed, but presumably US-China conflicted markets. A caveat to this, however, is that Chinese suppliers are "becoming a lot more aggressive than usual" in neutral countries.
Wireless infrastructure operator SBA Communications also reported a hit from a slowdown in TMUS spending. Indirectly, SBA pinned an apparent fall in business from customers with TMUS or Sprint contracts on uncertainty throughout the industry. Though impacted marginally by paused spending, US tower players have repeatedly batted off concerns over negative impact from TMUS' consolidation of Sprint and SBA considers that, upon approval, "New T‑Mobile will require meaningful upgrades across their combined portfolio. These efforts will drive amendment activity for SBA". CEO Jeffrey Stoops appears to anticipate a windfall post-approval: "I think we're going to be very well positioned with T‑Mobile. They are a very good customer of ours".
Floridean infrastructure provider MasTec highlighted similar optimism, noting that the merger will necessitate increased spending to implement 5G infrastructure, to the point that any negative ramifications of the pre-approval slowdown will be more than repaid. Speaking of this anticipated 5G infrastructure spending, CEO Jose Ramon claimed that "we know it's coming. We've geared up for it. We think we're in a great position".
Wireless Telecom Group again recognised "unexpected disruption and delays to large projects in network solutions due to uncertainty over the T‑Mobile merger". Timothy Whelan, CEO of the US‑based equipment manufacturer, offered a consolation that, despite uncertainty, unnamed T‑Mobile project spend was "beginning to shake loose".
Landmark Infrastructure Partners was particularly optimistic, perhaps owing to its "relatively modest" base of Sprint and TMUS contracts. With 8% of its revenue derived from TMUS, Arthur Brazy CEO said there was little to no overlap with the 6% that comes from Sprint deals. However, Brazy conceded that the real impact of the merger would be felt in years to come, given the size and complexity of the two parties and the amount of time anticipated to rationalise their networks.
American Tower Corp pointed in a similar direction, estimating that "the first six months of this year [2020]" will be dedicated to TMUS and Sprint building a network strategy, potentially to the detriment of infrastructure spend in the short‑term (especially merger pre-completion). James Taiclet, CEO of the tower provider, said he expected spend to pick up in around six months, once post‑merger plans are confirmed.
Colony Capital boasted of a "fantastic relationship" with TMUS, with Marc Ganzi, incoming-CEO of the investment group, predicting a "bright" future for TMUS, especially with regards to what he estimated will be a "massive programme of investment for 2020 to 2021". He added his desire to build a stronger relationship with potential fourth provider DISH. Landmark and Wireless Telecom also alluded to DISH as a winner from the TMUS-Sprint merger, with hopes it can use associated absorption of some New T‑Mobile assets to cement its position in a foursome of big US wireless players, thus making itself a target for vendors.
Amdocs Chief Financial Officer Tamar Rapaport-Dagim flaunted the strength of the software and services provider's relationship with both Sprint and TMUS, claiming to be working with the pair on the introduction of a "new offering of Amdocs", though details were kept hush-hush. The TMUS deployment of Amdocs' MarketONE over‑the‑top onboarding platform was promoted as a key indicator that the vendor feels confident in retaining its slice of TMUS pie post‑merger (Deutsche Telekomwatch, #89).
Though vendors for both Sprint and TMUS experienced a slowdown whilst approval was pending, it is anticipated that workers are yet to see the full extent of the merger's downside. The Communications Workers of America (CWA), which represents upwards of 700,000 workers in the USA, claimed that 30,000 would be at once approval was granted. CWA has been working to protect the jobs of workers at risk of "elimination" by new T‑Mobile efforts to shut down duplicate stores and consolidate central functions. CWA fears have been confirmed thus far, with TMUS laying off an unconfirmed number of workers from its discount sub-brand Metro by T‑Mobile, with speculative CWA estimates claiming "hundreds" lost their jobs.