Sign-off to mega-deal would give New T‑Mobile management a raise/fold option in north-eastern US states.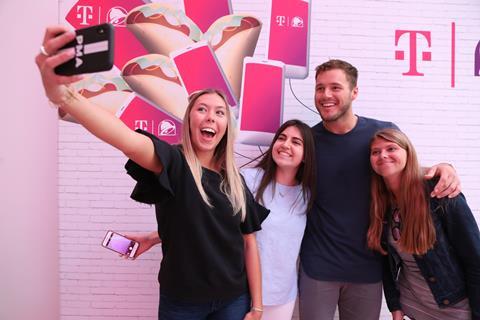 Shenandoah Telecommunications (Shentel), a Sprint-affiliated regional telecoms provider, indicated it may sell its wireless business to T‑Mobile US (TMUS) if the NatCo successfully pushes through its takeover of Sprint (as now appears nearly inevitable — see separate report).
James Volk, Chief Financial Officer of the provider, told Citi's Global TMT West Conference (via CQ FD Disclosure) that 2020 was "likely to be one of the more transformative years for Shentel in a long time, strategically".
He described the Sprint–TMUS deal's chances of completion as a "coin toss", although he was speaking before the two nationwide operators secured a crucial court win against dissenting state authorities. If the huge transaction goes through, Volk said it will "likely create a couple of different strategic options for us, whether it's to end up selling the business to T‑Mobile if the merger goes through", or "possibly re‑affiliating with T‑Mobile and acquiring some of their legacy network and subscribers".
Options opened
Volk went on to explain that Shentel — which uses Sprint's Personal Communications Services (PCS) network to serve wireless users in a zone covering parts of Kentucky, Maryland, North Carolina, Pennsylvania, Virginia, and West Virginia — has clauses written into its contract covering any takeover of Sprint by a competitor. The merged Sprint–TMUS entity (or New T‑Mobile) would have a time‑limited call option to buy Shentel's PCS business for 90% of its "appraised" enterprise value, he said.
If that is passed up, Shentel will gain the rights to purchase what Volk called the "legacy T‑Mobile network and subscribers" — although it was not clear exactly what would come into play in this instance. The CEO said these assets would "essentially" be priced at "75% of the enterprise value-per-subscriber of the T‑Mobile customers and network before the deal would have closed". "We think those economics are very attractive, and we would be very interested in doing the second option", he added.
Not an insubstantial add, if TMUS is interested
Shentel's Sprint affiliation is around 20 years old and generated 68% of its revenue in the fiscal year to 31 December 2018 (FY18), according to the provider. That twelve-month period saw the operator report a 3.1% increase in revenue, to $630.9m (€575m), and more than double its operating income to $93.2m. It ended the year with 1.05 million wireless subscribers and around 135,000 cable revenue generating units, as well as an unspecified number of corporate and public sector fibre customers.
One of several loose ends
The Shentel relationship is one of a number of tangential business interests that TMUS' leadership will need to neaten up, if the Sprint buyout goes through. How external virtual operator partners like Altice Europe (Altice Mobile) and Google (Google Fi) will be treated by New T‑Mobile, post-merger, has been a key area of contentiousness in debate over the transaction. It also remains unclear what the deal will mean for a further Sprint regional affiliate — Swiftel Communications in South Dakota.
Beyond those external relationships, within Sprint's own sub-brand stable are: Boost Mobile and Virgin Mobile, which are in line to be offloaded to Dish Network as part of concessions agreed to secure the mega-merger's approval from the Department of Justice (a deal that also effectively makes Dish a New T‑Mobile wholesale partner — Deutsche Telekomwatch, #85). Sprint recently announced it was shuttering Virgin, and transferring users to Boost, ahead of their takeover by Dish. Dish's willingness and ability to support those businesses been questioned, however, especially with the operator yet to ramp up its wireless go-to-market play. Sprint had 9.3 million mobile virtual network operator-based customers, including those of Boost and Virgin, when the Dish deal was announced in mid‑2019.
As Deutsche Telekomwatch went to press, Sprint and T‑Mobile US (TMUS) achieved success in fighting off a state-level challenge to their long-sought mega-merger, and therefore cleared the final major hurdle to getting the controversial deal over the finish line. Confirming prior reports in the US media, presiding Federal Court Judge Victor Marrero opted not to side with a grouping of 13 US states, plus the District of Columbia, that had been seeking to kibosh the merger on antitrust grounds. Sprint's share price — which has dwindled in recent months, amid jitters over the deal's chances of success (Deutsche Telekomwatch, #90) — jumped dramatically on the news. Judge Marrero said the Court had not been provided with "sufficiently impartial and objective ground" on which to assess the merger's impact on competition, and rejected the states' argument that Sprint was sufficiently healthy to continue operating on a standalone basis. He was also unpersuaded by the doubts painted over the viability of Dish Network as a new nationwide mobile competitor, using assets siphoned from the two operators as regulatory concessions. Welcoming the ruling, the two operators said they were "now taking final steps" to wrap up the transaction — which, if followed up with an effective integration programme, promises to take both TMUS and Deutsche Telekom onto an entirely different plane in terms of scale and cash generation (Deutsche Telekomwatch, #73). They indicated they were looking to wrap up the deal "as early as 1 April 2020", once they have worked through "possible additional court proceedings and satisfactory resolution of outstanding business issues among the parties". One of the loose ends to tie up is approval from the California Public Utilities Commission. "Look out Dumb and Dumber [AT&T and Verizon] and Big Cable — we are coming for you… and you haven't seen anything yet!", said John Legere, the outgoing Chief Executive of TMUS.