FY19 sees Group remain on track with short- and medium-term targets.
European businesses regaining form.
DT now entering new era after supercharging US presence through Sprint merger.
COVID‑19 outbreak adds to sense of a watershed.
Ex-CFO Dannenfeldt trolled over cost savings miss.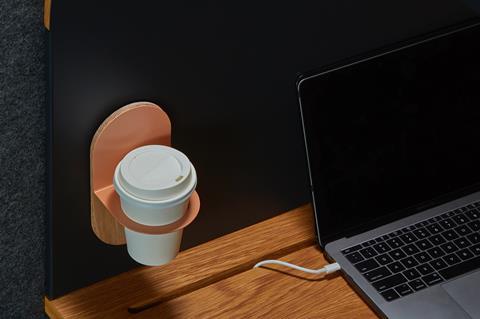 Top executives' self‑satisfaction was again on full display as Deutsche Telekom (DT) produced another solid set of figures for the quarter to 31 December 2019 (Q4 FY19), aided by the Trans‑Atlantic platform it has (part-accidentally) developed over the past decade.
Ongoing, turbocharged growth in the USA and an increasingly consistent performance across Europe‑based businesses meant the telco met FY19 targets with room to spare. At Group level, it remained well on track to hit the mid-term, FY17–FY21 markers laid out at May 2018's Capital Markets Day (Deutsche Telekomwatch, #74).
Such were the comfort levels among DT's leadership that it was evident thoughts are now turning to the operator's next strategic plays, following a decade of focus on business transformation stateside and troubleshooting elsewhere.
With T‑Mobile USA's (TMUS) mega‑merger with Sprint now wrapped up (see separate report), and DT coming into the penultimate FY of its current strategic cycle, next steps are clearly under consideration by its aggressive-minded top team.
Contrasting with retrenchment by many DT rivals, recent months have seen revived talk of a 'Europa Telekom'-type move in the Group's home continent (Deutsche Telekomwatch, #89). Beyond that, leadership may see a variety of opportunities in their increasingly "global" vision, fuelled by an expected ramp‑up in cash flow from the enlarged TMUS (a.k.a. "UnCarrier 2.0" or "New T‑Mobile").
The COVID‑19 pandemic — whose European and American spread came too late to feature heavily in the late-February 2020 discussion — may be seen as not just as a huge tragedy and wake‑up call by the Group's management team. With their relentless positivity, they may be considering strategic possibilities too, with the outbreak: adding to pressures on European rivals; shaking up consumer, enterprise, and public sector telecoms and IT markets; engendering demand for next-generation networked services; and perhaps opening a window for a complete reset of relations with regulators in still-fragmented Europe.
Tim won't stop
DT Chief Executive (CEO) Timotheus Höttges does not seem the sort to revert to the back foot in the post-COVID‑19 world, especially with many key rivals retrenching.
As each FY passes, and with DT's American presence continuing to grow its influence on the Group's figures, Höttges seems himself to be taking on an increasingly Un‑Carrier persona. The Q4 presentation saw the CEO not just declare he could "give a shit" about German mobile rivals' boasts regarding data uptake. He also contrasted DT's 3%‑core earnings growth target for FY20 with the staid wider industry, saying the latter's struggle to create growth made him "depressive".
Within DT, Höttges continued to ensure his top lieutenants are not sitting too comfortably, despite strengthening of the Group's position. The operator's FY19 Annual Report revealed new contracts for Europe CEO Srini Gopalan and T‑Systems (T‑Sys) CEO Adel Al‑Saleh, but Telekom Deutschland (TDE) CEO Dirk Wössner is to depart as the home-market NatCo continues its struggle to satisfy Group leadership on commercial broadband performance metrics (see separate reports).
The lively Höttges went on to use the presentation to taunt former Chief Financial Officer (CFO) Thomas Dannenfeldt over the cost‑cutting shortfall he owned up to at the 2018 Capital Markets Day, before his exit — and the apparent better progress being seen under successor Christian Illek. Dannenfeldt — trekking in Patagonia — was sent Höttges' "best greetings", along with a note that DT is "perfectly on track" to meet the €1.5bn indirect cost reduction target laid out at the 2018 event.
"Thomas was talking about it, Christian is executing. "

— Höttges.
Q4 FY19: business as usual (pre-coronavirus)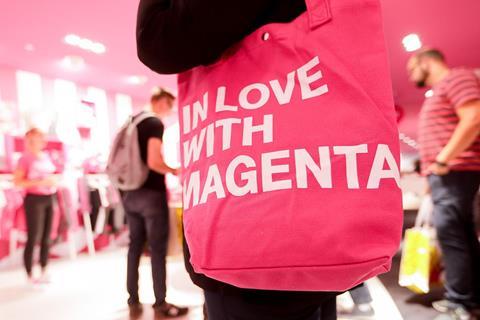 DT's headline numbers painted a familiar picture. For both Q4 and FY19, the Group's results were lifted primarily by TMUS' American muscle, enhanced by the strengthening of the dollar seen since mid‑2018 (and now set to be further boosted by the approved Sprint merger).
At the same time, European-centred divisions continued to gradually expand their contribution. Although broadband trends in Germany remain a clear niggle for the DT top team, TDE produced a steady performance in the face of rising competitive pressures (including from arch-rival Vodafone Germany), and recovery efforts progressed further at the Europe segment and T‑Sys.
For FY19, all external-facing segments produced forward movement on earnings and only T‑Sys saw a step‑back in revenue (which is hardly likely to have been a major concern to Group leadership, considering the enterprise division's primary mandate is to improve profitability, and finally begin contributing cash to DT). Major segments' results are looked at in more depth elsewhere in this report.
At Group‑level, DT's main figures for FY19 comprised:
A 6.4%‑increase in net revenue, to €80.5bn. "Organically" — i.e. factoring out the FY's favourable currency movement — this translated to a 2.8%‑rise, according to Illek. This comfortably surpassed both DT's aim of a "slight increase" for the twelve months and its 1%–2% compound annual growth target range for FY17–FY21 (Deutsche Telekomwatch, #81).
A 7.2%‑increase in "adjusted" earnings before interest, taxation, depreciation, and amortisation, after leases (EBITDA AL), to €24.7bn. DT again trumped guidance, recording a 4%‑rise in adjusted, ex‑US EBITDA AL in FY19, against a 3%‑FY19 target and 2%–3% mid‑term window.
A 15.9%‑jump in free cash flow before dividend payments and spectrum investment, to €7.0bn. DT had guided for a 12%‑increase.
Deutsche Telekom, financial summary, Q4 FY19
Notes: * DT sold Telekom Albania on 7 May 2019 (i.e. during Q2 FY19), thus discontinuing its mobile business in Albania. Historical figures have not been adjusted for purposes of comparison.
** EBITDA after leases (AL) as a proportion of total revenue.
*** Defined as "payours for property, plant, and equipment and intangible assets excluding goodwill".
**** Before dividend payments and spectrum investment.
Sources: DT and Deutsche Telekomwatch.

Q4 FY18

Q4 FY19

Change

Net revenue

€20,261m

€21,361m

5.4%

Germany

€5,275m

€5,336m

1.2%

US

€10,018m

€10,791m

7.7%

Europe *

€3,032m

€3,127m

3.1%

Systems Solutions

€1,465m

€1,482m

1.2%

Group Development

€422m

€576m

36.5%

GHSS

€50m

€50m

–

EBITDA (adjusted)

€5,649m

€7,054m

24.9%

EBITDA margin **

27.5%

28.2%

0.7pp

Cash capex ***

€3,141m

€3,150m

0.3%

Free cash flow ****

€1,438m

€1,763m

22.6%
DT goes global
It remains an entertaining spectator sport to see how the Group's leaders, and their communications team, seek to frame DT's corporate character and vision, while ensuring common ground between its two very distinct centres of gravity on each side of the Atlantic. The last few years have seen careful shifts in language not just to reflect the operator's changing make‑up but also maintain figurative bridges between Bonn and Seattle, which are separated by not just by 8,000km of geographical distance but also major cultural and environmental differences.
While Höttges appears, with every quarter, to become even more America-influenced, he and Illek went out of their way in the Q4 presentation to give praise where European-based businesses have delivered. Illek was quick to draw attention to the fact that, in Q4, DT's ex‑US businesses grew EBITDA faster that TMUS (although on what level was unclear, and the difference must have been both marginal and with currency movement excluded). Could this diplomacy suggest the CFO is already eyeing up post‑Höttges opportunities, despite the latter's current contract extending to 2023?
Although decision-making power is still centred in Germany, it is clear that DT's roots have been widened considerably. The leadership team's most enthusiastic compliments remain reserved for TMUS' management — and beyond the language, its US-geared investment planning (see further on) is a tacit acknowledgement of TMUS' position as the Group's key growth engine.
There are also signs DT is looking to create common purpose by shifting focus beyond this bi‑polar structure. While the operator has long resisted the temptation to follow rivals into non-western mobile and wireline markets, it has clear interest in expanding its international influence through enterprise and carrier services, and corporate venturing. While DT's Leading European Telco mission statement has long been de-emphasised, the Q4 presentation saw no reference to the "Trans-Atlantic" vision it used when the Sprint takeover was announced. Instead, Höttges used his introduction in the FY19 Annual Report to rather innocuously emphasise DT's place as a "global, diverse, and successful company".
Spend: waiting for COVID
DT's outlook for FY20 does not arguably bear much analysis because while it came with a 'business-as-usual' air to it, the current year has been anything but.
Group targets did not include the impact of TMUS' expansion through the Sprint buyout, and the COVID‑19 pandemic is likely driving a coach and horses through many FY20 investment initiatives on both sides of the Atlantic, and therefore DT's capital and operating expenditure (capex/opex) planning. More details of direction changes may emerge when DT reports Q1 FY20 results in May 2020.
In terms of spending, it seems feasible that while there will be a major rethink, the broad approach of DT's leadership will remain the same, characterised by aggression on capex, offset by ongoing focus on indirect opex reduction; as well as focus on the USA as its best bet for returns. The Group is also likely to continue its shift from initiatives developed in the 2010s (All‑IP Transformation and 4G; fibre-to-the-cabinet; and vectoring/super-vectoring rollout), to 2020s-class programmes (5G; tower expansion; and full-fibre).
These themes pervaded in DT's FY19 capex breakdown, with Germany, the USA, and Group Development (parent of German infrastructure arm Deutsche Funkturm) trending upwards and other segments reined back.
Deutsche Telekom, capex and spectrum investment development, FY12–19

DT's capital outlay has been considerable in the Timotheus Höttges era (from FY14 onwards) as the Group has increasingly turned to the USA to fuel growth and ramped up significant investment in spectrum and network infrastructure to support that strategy.
Spend aggression is set to continue into the 2020s, with TMUS' Sprint merger laying the basis for further, 5G-infused expansion and aiming to build a huge cash flow stream for DT in return.

Notes: * Guidance is provided on a pro forma basis and by necessity excludes spectrum investment.
** At 1 January 2017, the Innovation, Telekom IT, and Technology functions that previously fell within the Germany, Europe, and Systems Solutions operating segments, were transferred into a separate Board department within Group Headquarters & Group Services (Technology & Innovation). This accounts for much of the dramatic capital expenditure change seen for FY17 at GHSS and SysSol, and accentuates Technology & Innovation's importance as a capex centre for DT.
*** At 1 January 2017, DT formed a new Group Development operating segment (now also referred to as USA & Corporate Development in some DT contexts). The segment has taken on oversight of several units and subsidiaries formerly assigned to other operating segments, such as T-Mobile Netherlands (previously in Europe) and Deutsche Funkturm (previously Germany). While responsible for managing T‑Mobile US, DT's USA figures are reported separately.
**** Group Development envisages a 17% compound annual growth rate in capex across FY17–FY21, if counting in the cost of network rollout by German infrastructure arm Deutsche Funkturm. This does not include USA capex.
Sources: DT and Deutsche Telekomwatch.
Past trend
Guidance / Ambition

FY12

FY13

FY14

FY15

FY16

FY17

FY18

FY19

Change (12m)

FY20 *

FY17–FY21*

Cash capex

(incl. spectrum

investment)

€8,432m

€11,068m

€11,844m

€14,613m

€13,640m

€19,494m

€12,492m

€14,357m

14.9%

Stable ("around" €13bn, against FY19's €13.1bn)

Stable ex-USA

Germany

€3,418m

€3,411m

€3,807m

€5,609m

€4,161m

€4,214m

€4,240m

€4,349m

2.6%

Slight decrease

Stable

US

€2,560m

€3,279m

€5,072m

€6,381m

€5,855m

€11,932m

€4,661m

€6,369m

36.6%

Stable

–

Europe

€1,698m

€3,661m

€2,101m

€1,652m

€2,764m

€1,874m

€1,887m

€1,824m

‑3.3%

Stable

Stable

Systems Solutions**

€1,187m

€1,066m

€1,171m

€1,169m

€1,058m

€383m**

€462m

€384m

‑16.9%

Stable

Stable

GHSS **

€404m

€411m

€381m

€342m

€268m

€1,055m **

€1,078m

€1,028m

‑4.6%

–

Stable

Group Development ***

–

–

–

–

–

€290m

€271m

€452m

66.8%

Strong

increase

Stable

ex-Deutsche Funkturm ****
Q4 FY19 guidance: coronavirus likely to mean all bets off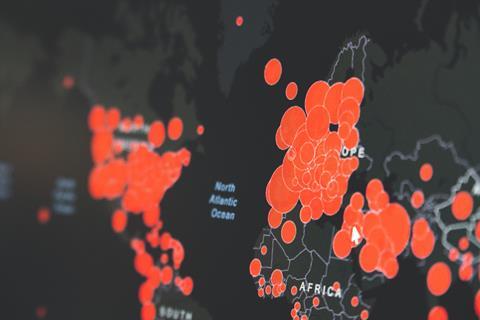 The anticipated severe economic impact of the coronavirus means that DT's guidance for FY20 is inevitably derailed.
Past predictions made on anticipated commercial activity are unlikely to be meaningful and major global corporations are already preparing markets for missed targets. Further, shareholders evidently believe there is a need to go back to the drawing board, as illustrated by a rapid wipe‑out of positive share price movement DT saw post‑results, as large economies went into lockdown. The Group saw a near‑35%‑drop in its share price between the announcement and mid‑March 2020, although subsequently recovered some ground.
Pre-pandemic, DT's FY19 guidance envisaged:
An increase in revenue.
Adjusted EBITDA AL growth of 3% across the Group, and a 2%‑increase ex‑US.
Stable capex.
Free cash flow AL growth of 14%.
Longer-term, the consequences of the current crisis remain difficult to predict with the impact of the virus itself, and the subsequent reaction and measures taken to address it, uncertain and evolving. Looking beyond the human and societal cost, areas of change could include:
Opportunities to accelerate adoption of digital services. A positive of the restrictions brought in to respond to the pandemic has been clear validation of telco services and their place in users' hierarchy of needs. Both integrated and over-the-top communications and collaboration services have been highlighted as a lifeline in the crisis, for consumers and organisations. Businesses are being forced to embrace more flexible working arrangements and make sure this is managed securely. Government and other institutions have clearly been given a major nudge to consider surveillance and tracking solutions for health, smart-city (including policing), social care, and other services, potentially playing into DT's privacy-infused go-to-market strategy around data management and Internet of Things. A greater focus on hygiene and health could increase emphasis on contactless- and remote-controlled technologies like voice interfaces, drones, and connected-robots. Telcos may see a role for organisations seeking to increase stress-testing of their businesses, and tighten up supply chains, as well as in tackling climate change.
There could be a significant remix of operator investment plans, in terms of technology. Across the board, the uncertainty means spending plans are likely to be pushed out, although to what extent is uncertain. As part of this, the role of 5G may be rethought, with tighter reins forcing a delay to the introduction of more advanced features and functions such as network-slicing and edge computing. At the same time, the pandemic response has evidently increased focus on the societal importance of reliable, widespread fixed-line connectivity, prospectively diverting resource to broadband infrastructure improvement (and possibly 5G-enabled fixed-wireless access). The crisis, in turn, could persuade authorities to ease restrictions on rollout, a long-time bugbear for DT. It also seems logical (but perhaps more of a pipedream) that operators will conclude that their spending decisions now need to be led more by customer needs than speculative, hyped‑up use‑cases that often end up falling flat in the market.
For DT and its prolific Deutsche Telekom Capital Partners investment arm, there could be major implications for its corporate venturing approach, including upside for well-placed investments and a relook at future plans to emphasise areas highlighted by the crisis.
More of the same seems likely, in terms of business transformation. Internally, it seems unlikely that conventional telco leaders will wholeheartedly reimagine their businesses in the wake of the pandemic, or that a significant change in direction will come out of the sector's numerous associations. It seems more probable that operators will seek to build on and accelerate initiatives developed well before the outbreak, particularly around digital transformation-led efficiency and speed. This is not an industry that turns on a sixpence.
There could be a window for a reset of relationships between operators and state institutions, although whether there is the vision and leadership to push this through remains to be seen, and much depends on whether international responses are coordinated or fragmented. As state intervention and massive aid programmes are considered by national governments and international governmental organisations, big investment plans may be encouraged and nationally funded network buildouts could step up. On the flipside, this is likely to increase focus on the mismatch between public needs and the shareholder returns-focused model operators currently work under. Exploration of new, collaborative rollout models and platforms is likely to be accelerated, creating both threat and opportunity to DT and other telcos. Nationalisations could come back on the agenda, in tandem with an accelerated push towards M&A — including the old chestnuts of cross-market consolidation in Europe and convergence-focused integration in the USA. Telcos are likely to highlight their role in operating critical infrastructure during the crisis and seek to bed down a more social responsibility-infused deal for the sector, but there will be pressures from some quarters for a wider shake‑up of the industry, going beyond fudge.
Cooperation and collaboration may be slowed, putting the brakes on technology and infrastructure initiatives. While DT and other operators are hoping to commercialise new digital and next‑generation network services, industry consensus on next steps may be harder to achieve. In an early indicator of the challenges that could be faced throughout the coming year, standards body 3GPP confirmed that the next stage of development on locking down several 5G‑related specifications will be delayed by a quarter following the cancellation of its meetings schedule in response to the virus. Some regulators have also put auctions and consultations on pause.
Supply lines are likely to be hampered in the short term, and production of kit and equipment may be slowed, with hardware manufacturers suffering more significantly than software and solutions providers. Operators are attempting to diversify supply chains for critical infrastructure through more open technology and generic hardware, and looking to reduce the dominance of the sector's biggest vendors. However, the smaller vendors that operators are now considering may be more vulnerable to the economic shock.
Uncertainty and straitened circumstances for consumers, with a dramatic spike in unemployment, will dictate market trends at least in the short term, resulting in further trading-down to lower end tariffs and bundles. In non-challenger markets, DT's close focus on customer experience improvement and churn reduction is likely to be intensified, especially if competition around pricing, promotions, and discounts steps up further. NatCos with an attack mandate and more agility on pricing and service creation may see greater opportunity.
Geopolitical disputes may be heightened in the wake of the crisis. US–China hostilities are unlikely to ease and will spill over into international markets. Telecoms operators' hopes of developing a sustainable new 'business‑as-usual' approach to working with politically controversial vendors such as Huawei Technologies and ZTE may be dashed. Domestic and regional tensions will inevitably spring up if the impact is extensive and prolonged, and there will be tough decisions to make for DT if states that have extended their power during the crisis, like Hungary, do not roll them back.
Significant currency fluctuations, with volatility potentially a challenge to financial liquidity. Multinational corporations like DT are very experienced in hedging exposure to a range of currencies. However, systems may be put under additional pressure, should rapid changes in sentiment continue to yo-yo.
Shorter term actions
External communications from DT have so far dealt largely with its short‑term response to the pandemic. Around the Group, NatCos and central functions have focused on providing support for customers, employees, and partners, as well as offering top tips for 'virtual leadership' and aiding efforts to track the spread of the virus.
For enterprise customers, TDE released a service and support package to ensure network connections are maintained. New offers geared towards changed consumption patterns include unoriginal 90‑day free trials of collaboration software such as Microsoft Office 365 and Cisco Webex, and an offer of three months' free cloud‑based web conferencing services for schools. Telekom Romania began providing free 4G connectivity and free licences from partner Adservio for teachers, parents, and students. Several other NatCos released similar, flexible software and communications services for home-workers and distinct user groups.
For consumers, run-of-the-mill actions in Germany included provision of 10GB of free mobile data to mobile customers and six months' free use of the new Disney+ streaming service on the MagentaTV platform, with TDE having become the exclusive streaming partner for Disney+ in Germany. TMUS launched a low‑cost T‑Mobile Connect smartphone plan ahead of schedule, as well as several other cost-easing measures for consumers. A broad mix of discounted and free services were opened up across other markets, stretching across data allowances, prepaid credit, TV subscriptions, and digital media offerings.
In relation to partners and other stakeholders, DT was said to be paying earlier than usual for services rendered to ensure that cash flow in its supply chain is more predictable and liquidity is sustained. The operator has also reduced targets for the first quarter of 2020. DT postponed industry events, including March 2020's Cyber Security Tech Summit Europe, Digital X East, and Digital X West shows. Both DT and other listed NatCos cancelled annual shareholder meetings.
For organisations involved in the pandemic response, DT said it is providing "anonymised" mass data from its mobile network to the Robert Koch Institute to enable scientists to map movement streams and make statistical predictions about the spread of COVID‑19. DT is also said to be among a group of operators that has agreed to share mobile phone location data with the European Commission for similar purposes. The GSM Association told Reuters that the other operator participants are A1 Telekom Austria, Orange, Telecom Italia, Telefónica, Telia, Telenor, and Vodafone. TMUS flagged donations to organisations such as Feeding America and the COVID‑19 Response Fund, while OTE Group highlighted the purchase of equipment and beds for Greek hospitals, and T‑Systems Iberia opened up 3D printers for production of medical supplies. Several NatCos offered zero‑rated access to support sites related to the virus. TDE established a Corona‑Hotline for the Nebenan.de portal.
In terms of infrastructure management, Walter Goldenits, Chief Technology Officer of TDE, proclaimed the German network to be "stable" and well prepared to handle increases in voice and data traffic. He said internal working groups were established early on, and noted that TDE is collaborating closely with other NatCos on its response. Streaming platforms have taken measures to mitigate increased use of their services during the pandemic. TMUS said its network was bearing up well despite major rises in data and messaging traffic. Nonetheless, the US OpCo doubled its 600MHz capacity for 60 days through partnerships with a number of other spectrum holders, including Comcast and Dish Network. Spectrum availability became an increasingly hot issue with the postponement of 5G spectrum auctions in Austria and Czech Republic (although COVID‑19 was not cited in the latter case), as well as in multiple non-DT markets in Europe, such as France, Portugal, and Spain.