Key BT wholesale rival is on the front foot as mobile operators shop around for 5G backhaul.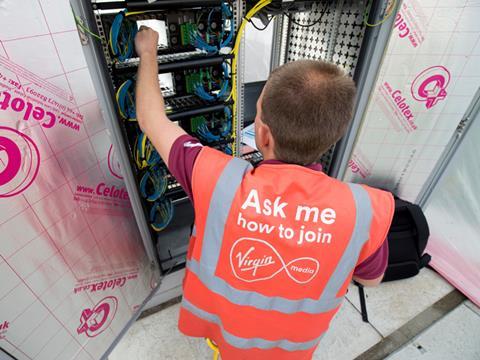 Virgin Media highlighted a new deal that will see it provide fibre backhaul for 3,000+ 5G sites for CK Hutchison's Three UK. Although it appears that the cableco may be somewhat hyping up the deal, it remains the latest sign that BT infrastructure rivals are gearing up to compete more intensely for mobile contracts with BT's access services and wholesale operations. It is also an indicator of the appetite for backhaul alternatives among the UK's mobile network operators (MNO).
Three has been weaning itself from Openreach and BT services for a while, having unveiled a similar deal to the Virgin Media agreement with fibre altnet CityFibre just a couple of months ago. In February 2020, CityFibre was describing itself as Three's "preferred provider" of 5G backhaul connectivity, although the comparatively modest extent of the altnet's fibre footprint has evidently provided opportunity for Virgin Media. The MNO had already started its distancing from BT ahead of the CityFibre deal through a mid‑2019 agreement with SSE Telecom to unbundle exchanges to manage its own fibre backhaul for 4G and 5G services in parts of London.
Virgin Media exuding confidence
Rather grandiosely, Virgin Media Business has now declared an intention to become the UK's "bastion of backhaul" for 5G, and has seen a run of success since it established a separate division to target major wholesale mobile deals in 2019.
It is said to have secured a significant backhaul contract with Vodafone UK late in the same year, linked to the deal that saw Virgin Media turn to Vodafone as its wholesale mobile partner, replacing EE (BTwatch, #308). The MVNO switch was said at the time to have included an agreement that Virgin Media Business would provide then‑unspecified network services to Vodafone (Vodafonewatch, #181). The Virgin Media division is also said to be in talks with Telefónica (O2 UK) over an arrangement encompassing a degree of 5G backhaul service.
The growing prospect of parent Liberty Global pursuing M&A plans or other forms of partnership with O2 UK adds to the momentum the cableco's wholesale business is building, and the threat to BT wholesale revenue streams.
BT's reach remains a comfort, but competitive terrain is changing
While Openreach's national infrastructure will continue to see operators have little choice other than to partner BT for any generation of backhaul in some regions, and the incumbent is developing its mobile backhaul portfolio to remain competitive in areas where customers may have alternatives, the rollout of 5G services is providing an opportunity for operators to re‑think and re‑balance relationships.
Three's embrace of alternative providers for 5G backhaul may additionally cast doubts on the future evolution of MBNL, the access network joint venture between Three and EE. A year ago, BT Consumer Chief Executive Marc Allera indicated that he believed the partnership could be extended to embrace 5G rollout, but should relations between the partners become more strained future collaboration may also be curtailed.