BT's UK TIP centre hosts six start-ups in competition to collaborate on 5G and edge compute.
Two winners, Ori Industries and DoubleMe, named.
ADVA, Cloud Backend, Condense Reality, and TDCOMM runners-up.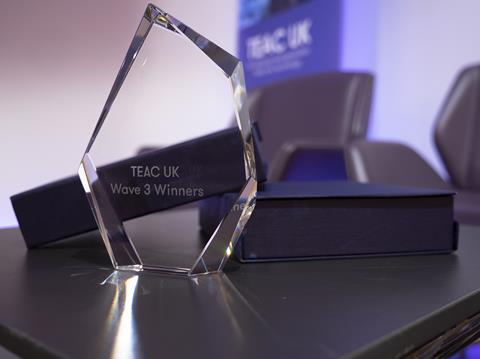 The six presentations were largely well done, with some of the unmistakable energy that innovators bring when introducing their technologies. Time was a real pressure, however, forcing rushed questions from the panel and presentations skipped through at pace in some pitches.
Ori Industries bucked that trend, using just half their allotted time, to benefit from an extended Q&A. Allowing the panel more time to dig for information from the perspectives that mattered most proved a winning strategy.
It became clear that, to be in the running for a TEAC UK win, there needed to be evidence of commercial viability and a proven business model — something Ori and fellow victors DoubleMe provided.
With the event being so BT‑centric, it felt at times to be a call for a direct partnership, with TEAC induction a pleasant afterthought (although Ori also injected the intriguing idea of cross-TEAC engagement). The added prize of a presence within the TIP booth at Mobile World Congress 2020 was an unexpected boon for the winners.
DoubleMe (HoloPortal) — WINNER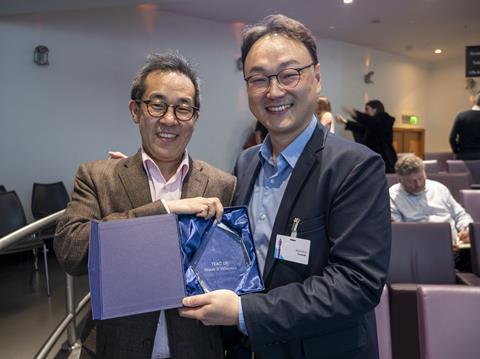 Albert Kim, founder and Chief Executive of DoubleMe, pitched HoloPortal: a real‑time volumetric 3D model builder. Using broadly similar technology to Condense Reality (see below), HoloPortal aims to utilise deep learning and algorithms to build real‑time 3D animations.
DoubleMe is immediately targeting the consumer rather than the video production industry with its project. The startup said that by using a standard webcam, consumers would be able to create 3D models in their own home, harnessing edge computing to offload the demanding data requirements of live volumetric video. With partnerships already forged in the UK and South Korean fashion industry and tie-ups with global telcos (including BT), HoloPortal appeared closer to the market than Condense Reality.
DoubleMe is also targeting enterprise deals to grow the platform and get the offering, rather optimistically, into "every household worldwide". BT's hesitation with mixed-reality technology in the past has been founded in latency issues (BTwatch, #300 and #304), but with edge computing and deep-learning DoubleMe believes these issues can potentially be circumnavigated.
DoubleMe has already partnered with Thai mobile operator AIS to give live demos in Bangkok (where it is using the approximately 25,000 users to build a database to train algorithms), and is pursuing a medical use‑case in Germany through a tie‑up with Deutsche Telekom. It has a target of sixteen Hologram Rooms available around the globe by the end of March 2020.
With its TEAC UK win, DoubleMe hopes to open a new Hologram Room in a more consumer‑friendly space in London (it already has a presence in Adastral Park), while growing footfall in its other hubs across cities such as Bangkok, Moscow, and Seoul. Incidentally, DoubleMe's Berlin Hologram Room operates out of innovation hotspot hubraum, an outfit managed by DT and TEAC Germany Programme Manager Daniel Schröder. The startup itself is based in California, and has raised $9.2m in funding since 2014, largely from South Korean and UK investors and grants.
Ori Industries (Ori Global Edge) — WINNER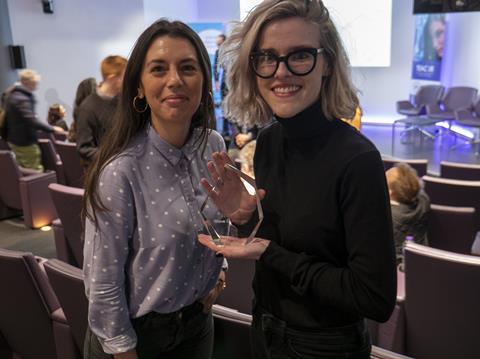 Ori Industries won a place in TEAC UK with a solution to what Melissa Doré, the startup's Vice-President Operations, claimed is a $480bn (£433bn) market opportunity: delivering real‑time computing over the cloud in under 20 milliseconds.
With current technology requiring substantial infrastructure investments, Ori's Global Edge is described as "an intelligent cloud that takes the speed and reliability of on‑premise with the ease and flexibility of the cloud". It apparently repurposes legacy and third-party infrastructure that underpins the distributed, software‑driven cloud, in a fashion that operators can then monetise.
Ori is already engaged in multi‑network deployments across the world, most notably including product trials with Telefónica. Through this, it is building on its position as a startup within the UK iteration of the Spanish group's Wayra incubator programme, and apparently competing with industry heavyweights to pitch technology for deployment across Telefónica infrastructure. It faces stiff competition from large players building a similar offering, such as Amazon Web Services. The London‑based outfit argues that partnerships with operators leveraged through TEAC membership will enable it to construct a global intelligent cloud that is faster, more capable, and more developer‑friendly than incumbent alternatives, and it expresses confidence that its infrastructure‑agnostic cloud will win out.
In a pitch half as long as other contenders, Doré, alongside Product Owner Anastasia Karatrantou (brought in from Vodafone's edge computing team in mid‑2019) proved their ability to present a complex proposition with a clarity that was clearly appreciated by the judging panel. Doré's pitching skills may have been honed at earlier pitching events — the startup previously secured a spot on Telefónica Group's Wayra UK incubation programme and is being backed by the Spanish group. Ori has also received $2m in funding from London‑based venture capitalist Episode 1, which has a portfolio including several startups seeking to break into markets with cloud and edge computing innovation.
Doré later told BTwatch that being named TEAC winners would support further development of GlobalEdge as well as build on existing tie‑ups. Working directly with DT, Telefónica, and Orange among other operators, she said that participating in TEAC "makes sense as Ori is also a platform of collaboration". She added that winning would help Ori  to develop partnerships with other telcos, including fellow TEAC host SK, thus alluding to Ori's global ambitions.
ADVA— RUNNER-UP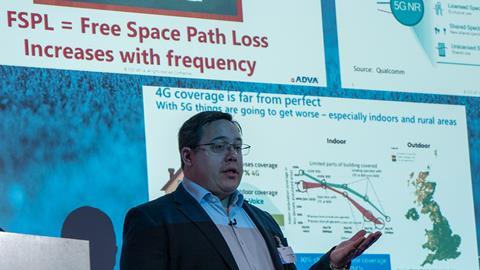 In order to extend and enhance mobile capability in-building and in rural settings, network infrastructure specialist ADVA presented an open host solution for campus-style and local networks that would underpin a plug-and-play combination of radio area network, edge core, virtualised infrastructure, and service provider gateway. This blended the Wave3 themes of edge computing and 5G private network.
ADVA's proposition centres on consolidating several key elements into a single building block, bringing together what Nazirali Rajvani, panel member and BT's Mobile Architecture & Solutions Director, later called "the basic components that we tend to forget about". Anthony Magee, Senior Director for Global Business Development in ADVA's mobile division, said that "ADVA is taking its mobile backhaul expertise and combining it with edge compute". The implementation ensures improved network performance, reach, and synchronisation — to achieve low‑latency connections in under‑served areas. The technology already exists to improve 4G, and ultimately 5G, coverage to reach all areas in the UK, both indoor and rural, but collaboration between equipment vendors and mobile network operators is required to leverage existing infrastructure.
With ADVA being an established supplier to BT and Openreach (see separate report), and so pitching as technology innovator rather than startup, Magee said involvement in the TEAC community should be seen as an incubation effort for the project. This would provide opportunity to forge new enabling relationships within BT and with startups and system integrators in the space, in order to accelerate introduction of a solution that could drastically improve the UK's mobile coverage. In particular, Magee promoted ADVA's stance on virtualised network function (VNF) onboarding: "we're very open, very open". It was this openness that formed the common thread through the ADVA pitch, which at times appeared to be a call to other players for collaboration as much as winning a new tie-in with BT.
Interestingly, ADVA's solution looked very closely aligned with the forthcoming field trials of BT's own vRAN FronthaulProject activity involving 2018 winner Accelleran (see separate report).
Cloud Backend — RUNNER-UP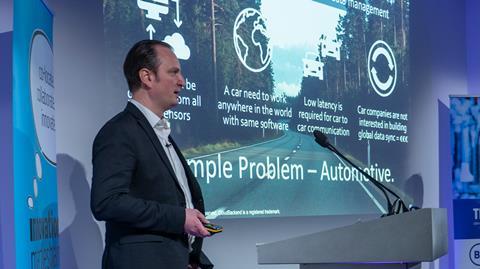 Swedish provider Cloud Backend pitched an edge computing Platform‑as‑a‑Service (PaaS) offering, layering its solution on top of existing cloud infrastructure by leveraging artificial intelligence, big data, and edge computing for applications such as connected cars and smart buildings. It aims to mitigate the potential issues of 5G data management by offering a cross‑border, inter‑operator, standardised PaaS.
Daniel Arthursson, Cloud Backend founder and Chief Executive, argued that "'no code' is a requirement for edge to work", and so proposed a distributed data management platform that could underpin edge computing as a solution, bolstered by a decentralised, serverless model. Delivered with confidence, Arthursson fielded questions from the judges well but could not navigate the panel's cynicism when it came to overheads, specific use‑cases, and competitor alternatives.
Although not a Wave3 winner, Cloud Backend recently joined mobilityXlab, a connected vehicle testbed where it adds its PaaS edge‑computing expertise to innovation from Swedish connected mobility leaders such as Ericsson, Volvo, and CEVT. In a pre-seed funding round, CloudBackend raised $820,000 and has a notable board of advisors, including Jean Paolio (former President of Microsoft Open Technologies) and Rikard Kjellberg (Chief Product Officer of network AI company B-Yond). It joined Sweden's software organisation Swedsoft in December 2018.
Condense Reality — RUNNER-UP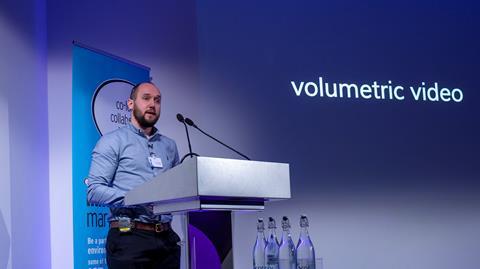 Bristol‑based Condense Reality seeks to bring 3D, volumetric video content into consumer homes, with a focus on sports broadcasting.
In order to make volumetric video a viable option for broadcasting, Chief Executive Nick Fellingham described the necessity of reducing the cost of current solutions. In particular, this means reducing the number of cameras required and bringing the technology into sports arenas (current alternatives can require hundreds of cameras in a studio).
While reducing the number of cameras lessens the quality of video output considerably, which makes augmented reality (AR) viewing near‑impossible, Condense Reality leverages deep learning and artificial intelligence to "fill in the holes" to create 3D models in real‑time in a virtual environment. This approach might go some way towards addressing BT Sport Chief Operating Officer Jamie Hindhaugh's previously declared scepticism on the merits of 3D sport coverage (BTwatch, # 297), but the business model was insufficient to win over the TEAC panel.
While the startup currently has no deals with broadcasters, Condense Reality has set itself the target of achieving a "beta partnershipwith a UK broadcaster" by the end of 2020, alongside a deal with a telecoms provider to support the large amounts of data transferred every second when using its 5G‑reliant technology. Fellingham hopes the technology can be seen as a "catalyst for 5G uptake among sports fans". Condense Reality is a member of the Nvidia Inception Program, a virtual accelerator that grants access to deep learning expertise as well as hardware. Its founders and executive board are dominated by ex‑Twitter engineers, giving the team a social- and analytics-leaning that showed in the pitch.
The judges appeared to be seeking a wider market appeal beyond sports broadcasting, however, which may have been a reason for Condense Reality's placement behind winner DoubleMe, which also pitched an AR/VR product.
TDCOMM — RUNNER-UP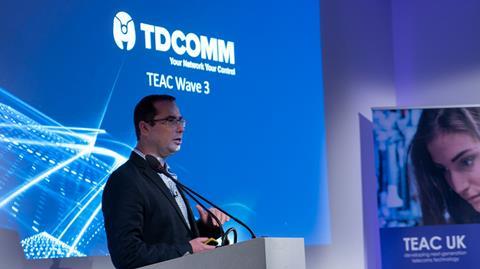 TDCOMM's defence sector background featured strongly in its pitch for local cellular networks as an alternative to private LTE networks, which it considers require costly infrastructure and feature physical obstacles to adoption.
TDCOMM aims to provide a locally‑managed, seamless, multi‑layer software platform that is located on the lower layer of the cellular core to support all generations of connectivity up to 5G, thus facilitating configuration and management from a local Security Operations Centre (SOC). By giving the control to the SOC and retaining control of firewalls and security efforts, TDCOMM hopes to ensure greater security without friction points seen in private LTE networks that require a change of SIM card.
TDCOMM seeks to build partnerships with telcos, whilst selling to network equipment providers and global systems integrators in order to implement the solution in areas where security and communications are imperative, pointing to airports and military buildings as primary examples.
With larger networks, however, TDCOMM conceded that competition from industry kingpins like Ericsson and Nokia could prove difficult to overcome unless enterprise customers recognised the benefit of extensive flexibility and on‑premise control. Its entry point onto market, though, will be its network‑in‑a‑box product, which it claims is unique in its configurability for medium‑sized networks.