Ten cities now confirmed as locations BT plans to retain — although EE's Hatfield base not yet on list.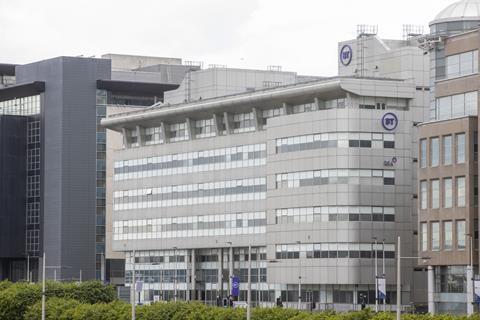 BT confirmed two more "key locations" that it plans to keep up and running under Better Workplace, the long-term property consolidation programme it announced in 2018 (BTwatch, #296).
The operator is to retain Alexander Bain House, its current office in central Glasgow, and will remain present in Dundee — although it is reviewing "property options" in the city and yet to firm up its "new home".
The Glasgow site, which currently houses around 1,000 staff, will gain a "multi-million-pound refurbishment" and is seemingly set to become an expanded base for "hundreds more colleagues from across BT Group", with sites being closed elsewhere.
In Dundee, BT currently has a city centre office on West Bell Street, and John Alexander, Leader of Dundee City Council said it will be "working closely with BT, who are one of Dundee's largest employers, on a range of topics to help the company develop its plans".
The operator is yet to confirm plans for other Scottish locations, including a contact centre in Aberdeen.
Better Workplace: the bricks and mortar
The Better Workplace programme is scheduled for completion by March 2024 and will distil the Group's scattered network of more than 300 UK offices into 30 strategic and "upgraded" regional centres.
Beyond Dundee and Glasgow, BT has confirmed eight cities where it will maintain these hubs: Belfast, Birmingham, Bristol, Cardiff, Edinburgh, Ipswich (i.e. Adastral Park), London, and Manchester. More are expected to be announced in the next few weeks.
Recent statements by the Communications Workers Union, which has raised employee concerns over the Better Workplace overhaul within BT's Technology division and internal services arm Group Business Services (GBS), have hinted at other sites BT plans to keep going.
According to the union, GBS plans to reduce focus onto six core hubs — two of which (Darlington and Newcastle) have not so far been confirmed as 'safe' locations by BT — as well as maintaining further specialist hubs.
Similarly, Technology is expected to focus on six main centres (in Belfast, Birmingham, Bristol, Ipswich, London, and Manchester) and other "single-function" buildings. These twelve latter sites are expected to include BT's:
Command Centre in Sheffield;
Satellite gateway at Madley;
Test centre at Borehamwood;
BT Tower in London;
Submarine cable landing points in Bude, Goonhilly, and Penzance.
Among the approximately 270 properties BT plans to move out of, under Better Workplace, are its headquarters in London's historic St. Paul's district.
EE's head office in Hatfield has not yet been publicised as being retained, but a BT spokesperson sought to stress that rejigging of lease arrangements, under Better Workplace, was having an influence on the timing of future location announcements.