Vendors aim to provide indoor coverage solutions for the ESN.
Hardware accreditation process gathering speed.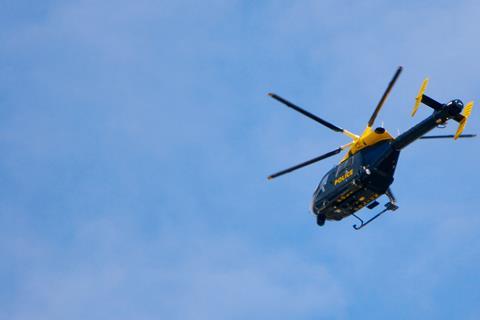 As the Emergency Services Network (ESN) programme edges towards initial deployments, the ecosystem of partners and suppliers surrounding the project is developing with companies seeking accreditation and contracts in order to provide a range of products and services.
In August 2019, critical technology provider Cobham flagged its selection by the Home Office to provide the full Emergency Services Network Aircraft Communications System (ESN ACS) as part of the Emergency Services Mobile Communications Programme (ESMCP), in a contract worth £64m.
Cobham said its solution builds on its RT‑7000 tactical radio and will provide mission-critical push‑to-talk voice and high‑speed data services over LTE for all UK police and air ambulance aircraft, with deliveries anticipated in 2021–22. The supplier also collaborates with QinetiQ, which has already secured a two‑year contract with BT Group to test 5G services and the ESN (BTwatch, #307).
Subsequently, Cradlepoint, a network edge solutions provider, declared that its 4G mobile router and NetCloud networking service was the first to be certified and authorised for use across the new ESN. The in‑vehicle technology is said to enable emergency services vehicles to act as Wi‑Fi hotspots, providing a link to back office systems over a prioritised cellular connection. Cradlepoint has a history of providing technology for emergency services use, and said it had been developing its LTE‑based solutions since the announcement of the ESN plan.
Elsewhere, Panasonic has flagged accreditation for its TOUGHBOOK 33 rugged notebook computers as the first Microsoft Windows‑based device authorised to be used on the ESN.
Vendors align
BT/EE's involvement in the ESN was recently seized on by two vendors as an opportunity to promote sales of equipment designed to boost mobile signals inside buildings.
Nextivity, a US‑based supplier of mobile signal boosters under the Cel‑Fi brand, trumpeted a tie‑up with Spry Fox Networks, which provides bespoke in‑building mobile signal solutions and currently targets National Health Service sites for its offerings. The partnership is claimed to be "strategically aligned" with the ESN programme, apparently because Cel‑Fi products comply with Ofcom regulations for licence-exempt mobile signal boosters in the UK. Furthermore, the products are supported by all four UK mobile networks.
Other providers have also raised the thorny issue of ensuring indoor coverage for the ESN. In a note on its website, managed indoor connectivity service provider Spectrum Infrastructure said that while EE has measures in place to provide temporary indoor coverage in the event of emergencies, a more permanent private solution should be considered by owners and managers of private buildings and spaces. "Nothing will provide a seamless connectivity to blue light services throughout your campus, school, estate, or building better than dedicated 4G", claimed the vendor, while highlighting its range of technologies that can deliver the level of coverage it deems necessary for emergency services' connectivity.
Also worth noting is that BT Group teamed up with Mavenir in early‑2019 to develop a virtual radio access node to meet indoor mobile coverage requirements for large premises (BTwatch, #303).