European fibre surge anticipated; Openreach partner folds.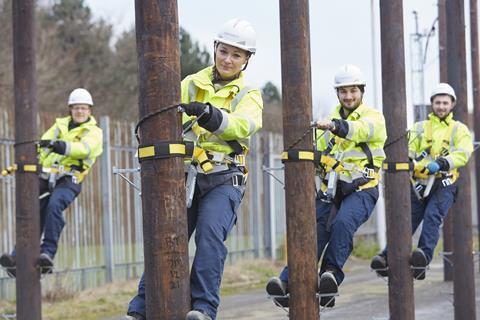 Openreach sought some positive publicity around job creation by highlighting plans to generate 5,300 new roles during 2021. Of that number, 2,500 trained-up engineers will be added directly onto Openreach's payroll. The remaining 2,800 will be created by a number of third-party contractors that work on Openreach's behalf. These include the nine construction partners were handed new deals to support Openreach on roll out earlier in 2020: Instalcom, John Henry Group, Kelly Group, Kier Group, KN Circet, MJ Quinn, Morrison Telecom Services, nmcn, and Telent (BTwatch, #316).The challenges of meeting set targets for full-fibre rollout explains much of the recruitment drive. BT announced in May 2020 that it intended to roll out full‑fibre to 20 million premises by the mid‑ to late‑2020s, subject to the "successful resolution of a number of critical enablers" (BTwatch, #313). While Openreach is currently extending its full-fibre network at a weekly rate of 40,000 homes and businesses, a rate of 50,000 premises per week during 2021 is apparently needed to stay on course. Job creation has been a theme at Openreach for some time, with the infrastructure arm adding a net 5,000 new roles since March 2017. In parallel with the announcement of 5,300 new jobs, Openreach said it had created more than 6,500 trainee engineering roles, to "support its build programme and to deliver improved customer service". Openreach's headcount is currently in excess of 34,500 people, which includes more than 25,000 engineers. Openreach's headcount expansion stands in stark contrast to workforce shrinkage at BT Group. As part of its transformation programme — announced in 2018, when the headcount was just shy of 107,000 — BT is pushing on with its aggressive goal of reducing that number by 13,000 within five years (BTwatch, #296). For the Communications Workers Union, however, the job cuts have been overly aggressive (see separate).
A report by the FTTH Council Europe forecast that 202 million homes in the European Union and UK will be passed by fibre‑to-the‑premises (FTTP) technology by 2026, compared with 88.1 million in 2019. The industry body expects take‑up across the European FTTP footprint (including DOCSIS 3.0 cable connections) to reach 73.3% in 2026 (up from 43.3% in 2019). The report also predicted that full fibre will pass 27.5 million premises in the UK by 2026 — representing an increase of 548% from 2019 and taking fourth spot in the estimated rankings for the region — behind 53 million in Russia (+9%), 34 million in Germany (+730%), and 30 million in France (+79%). Openreach expects to pass 20 million premises by the mid‑to‑late‑2020s, while Virgin Media is aiming to upgrade its 15 million-premise footprint to gigabit‑capable connectivity by end‑2021 using a mix of DOCSIS 3.0 and FTTP (BTwatch, passim).
Openreach partner and fibre‑optic solutions provider Lite Access Technologies flagged to media outlets that its UK division had filed a notice of intent to appoint an administrator, following the collapse of its share price amid a run of recent troubles "relating [to] ongoing builds" and the ongoing COVID‑19 pandemic.