Engineers honoured with MBEs; fibre expansions trumpeted in Scotland and Wales; and PSTN switch‑off trudges on.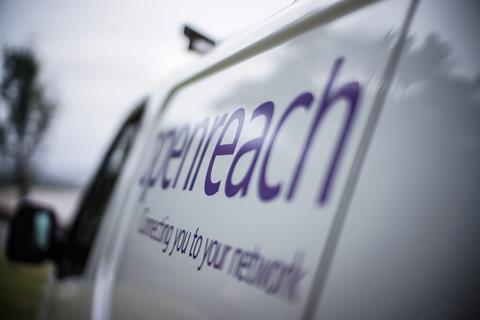 Openreach indicated the Digital Scotland Superfast Broadband (DSSB) fibre rollout is "drawing to a close", having passed 38,200 premises in the Scottish Borders and 950,000 homes across the nation with superfast or ultrafast connectivity. Ninety-four percent of Scottish households are now said to be able to receive superfast broadband services or better, and the Reaching 100% (R100) scheme will pick up where the DSSB leaves off, targeting 100% fibre broadband reach by end‑2021 (BTwatch, #316 and passim).
Openreach and charity Crimestoppers are now offering up to £20,000 for information relating to a spate of copper thefts in the Thamesmead area of London, which left hundreds of households without fixed‑line services. Openreach Senior Security Manager Richard Ginnaw said that Openreach is "deploying additional security enhancements" in the affected area.
The Welsh government reported that, as of June 2020, 9,895 premises had been passed by Openreach's full‑fibre network as part of Phase 2 of the Superfast Cymru scheme, set to bring Gigabit‑capable broadband to 39,000 homes. The government expanded the initial £22.5m Phase 2 target from 26,000 premises in summer 2020, with the change adding £30m to the estimated cost of the project, to be funded by the government and the European Union, with additional funding from Openreach itself. The project is scheduled for completion by June 2022.
Openreach named a further 51 exchange locations that will be switched from analogue to all‑IP. The access services division is conducting a gradual migration from the public switched telephone network (PSTN) to an all‑IP network, due to be completed by end‑2025 (BTwatch, #315 and passim).
Openreach Chief Executive Clive Selley added his condolences to the family of Openreach engineer Alun Owen, who died after falling into a river in North Wales. Selley said Openreach was "working closely" with local police during its investigation.
Openreach engineers were named on the Queen's Birthday Honours list for their work in keeping customers connected during the coronavirus lockdown. Pete Martin, Clerk of Works in Openreach's Chief Engineers team, received a Member of the Order of the British Empire (MBE) award alongside engineer Scott McPartlin, who camped on the island of Coll for three days to restore services. Openreach employees were designated key workers during the lockdown.
[Further reference: Continued attacks on Thamesmead communications infrastructure, affecting broadband, prompts £20,000 reward — Crimestoppers, September 2020; Q2 2020 progress update on Wales BT FTTP broadband rollout — ISPreview, 30 September 2020; Openreach add 51 areas to the copper phone to fibre migration — ISPreview, 5 October 2020; Faster broadband for more Scottish Borders homes — Openreach, 6 October 2020; Statement on the tragic death of Alun Owen — Openreach, 7 October 2020; Openreach engineers recognised in Queen's Birthday Honours — Openreach, 10 October 2020.]