Openreach flexes on network strength after UK broadband usage hits new highs.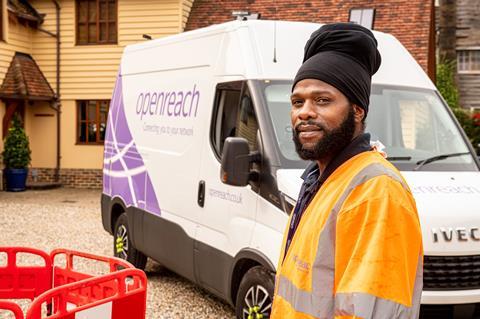 Openreach reported that UK broadband usage more than doubled in 2020, following the rise in home working, streaming, and video conferencing, and sought to highlight that its access network had "coped well" with the increased demand. The provider said it carried a total of 50TB of data during the twelve months, up from 22TB in 2019. The busiest single day recorded was Boxing Day, at 210PB. Openreach flagged updates to popular games such as Call of Duty and Fortnite (BTwatch, #319), and Amazon's coverage of November 2020–December 2020's Rugby Autumn Nations Cup, as drivers of "big surges" in traffic.
Openreach indicated it was reassessing the wording of its job postings in a bid to encourage more women to apply for vacancies. The division said it had "put its use of language under the microscope", working with language specialist Linguistic Landscapes and gender bias expert Dr. Chris Begeny from Exeter University. A study produced by its partners found issues linked to the vocabulary, construction, and skills descriptions used in ads. Steps taken to create a gender‑inclusive job description — including the removal of the term "engineer", which is still strongly perceived as a male role — resulted in interest in the job rising by more than 200% among a panel of women. Openreach recently flagged that it was aiming to generate 5,300 new engineering roles during 2021, either within its own operations or installation partners (BTwatch, #319).
Openreach completed fibre deployment work in East Neuk of Fife, Scotland, connecting 90% of residents in Anstruther, Cellardyke, Kilrenny, Lower Largo, Lundin Links, and Pittenweem with Gigabit‑capable broadband. Work is ongoing to connect other residents, although Openreach's expected final reach has not been confirmed.
Damage to an Openreach subsea cable in mid‑December 2020 caused a broadband outage on the Scottish island of Westray. The outage reportedly lasted more than two weeks, before services were fully restored by engineers. Repairs were said to have been necessary to 300 metres of damaged cable sited approximately 8km from the neighbouring Orkney mainland, according to local outlet The Orcadian. Openreach did not confirm the cause of the damage.