New Bristol office for 2,000 by 2022; Centrical-SAP training platform for 150,000; 99.9% of electricity now renewable internationally.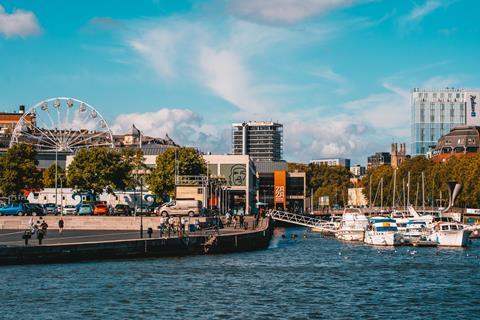 The UK government reportedly approached internet service providers (ISPs) including BT to provide connectivity for 47 coronavirus vaccination centres in England. The Financial Times cited "three people with direct knowledge of the plan" as stating that the eleventh‑hour request gave BT and other ISPs, including Virgin Media, a week to have the inoculation units online, in time for their planned inauguration on 1 December 2020.
BT highlighted plans to add offices for 2,000 staff in the centre of Bristol by early‑2022, as part of the Group's five‑year Better Workplace Programme to consolidate its workplaces across the UK (BTwatch, #314 and passim). Construction of the 13‑storey, Assembly Bristol waterfront development — said to represent a "multimillion pound investment" by BT — is underway, with completion due in 2021.
Centrical, an employee engagement solutions provider, flagged that BT had deployed its technology to support learning and development, in partnership with SAP. The platform combines real‑time engagement and performance management with personalised micro‑learning and "advanced gamification", integrated with SAP enterprise systems. Lisa Blewitt, BT's Director of Learning & Capability, indicated that the "multi‑year effort" will also see rollout across international operations, ultimately serving 150,000 employees and contractors.
Following a two‑phase public consultation that concluded in October 2020, the Scottish Highland Council expressed "extreme disappointment" at BT's proposal to remove 107 of the 348 public payphones in its territory during a pandemic. The council objected to 65 removals and expressed support for a further three to be 'adopted' by the communities. It criticised the telco for disregarding its Local Veto, and for duplicating a previous consultation that ended in October 2019 and considered removal of nearly half of the payphones affected by the 2020 consultation. BT was said to have attributed a 90% decline in payphone usage over the last decade to near‑universal 3G and 4G mobile coverage of the UK, as the basis of its proposal.
BT trumpeted its switch to 99.9% renewable electricity across its international operations, encompassing the Group's networks, offices, and retail outlets. The remaining 0.1%, where renewable electricity is not locally available, represent just eight countries from the 85 in which BT operates and will be offset by sourcing renewable certificates in neighbouring markets. The operator, which is said to be the joint‑largest private purchaser of electricity in the UK, added that its involvement in the RE100 initiative (BTwatch, #280 and passim) was helping to improve renewable energy supplies. BT said that 16% of its electricity is now supplied through corporate power purchase agreements, and the remainder via green tariffs or ("in a small number of markets") renewable certificates. BT has committed to becoming a net‑zero carbon emissions business by 2045 in line with the COP 21 Paris Agreement, thus aligning itself with the objective to limit global warming to 1.5°C. It is also a member of the United Nations-backed Science Based Targets initiative (BTwatch, #289, #300, and #307).