UK spectrum auction inches closer, although Ofcom still cautious; Digital Voice expansion; rights picked up in MotoGP and cricket.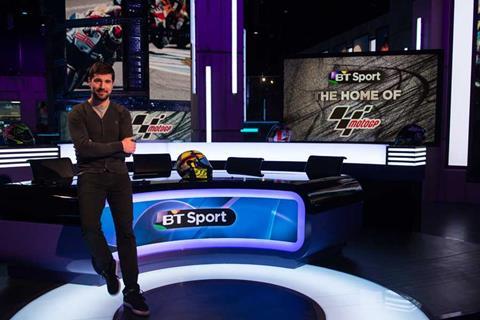 Ofcom confirmed that the bidding stage of the UK's 700MHz and 3.6GHz–3.8GHz spectrum auction will kick off in March 2021, although it will "continue to monitor [coronavirus-related] developments" in its timing.
The Advertising Standards Authority upheld a BT Consumer-initiated complaint against an advert from Sky Broadband promoting a discounted broadband and television bundle. The watchdog concurred with BT's view that the savings claim was misleading because it did not represent a genuine saving against the usual selling price of the standalone services.
BT Consumer introduced a new cordless handset, called the Advanced Digital Home Phone, with built‑in Amazon Alexa voice functionality. The device works with BT's broadband‑based Digital Voice service to provide 50m indoor wireless range and high‑definition calling, alongside Call Diversion, Call Protect, and Multi Call functionality, and is available as a free upgrade to customers signing up to BT's Digital Voice service.
BT launched the previously flagged Halo 3+ Hybrid Connect platform (BTwatch, #319), which enables broadband customers to call upon the EE mobile network during wired broadband service outages. At its results presentation for the six months to 30 September 2020 (H1 FY20–21), BT disclosed that Halo, the premium converged service that debuted in 2019, had reached 40% of the (undisclosed) broadband base, up from 25% in the previous year (BTwatch, #307–#308 and #317).
BT Sport renewed its exclusive rights to broadcast MotoGP Grand Prix motorbike racing in the UK and Ireland until "at least" 2024 (BTwatch, #244, #269, and #294).
BT Sport flagged that it had secured exclusive rights to broadcast domestic and international cricket in New Zealand and the West Indies. The rights were previously held by rival Sky Sports.
Sports streaming challenger DAZN was reported to be considering bidding in the impending auction of domestic broadcasting rights for Premier League football over the 2022–2025 seasons, increasing competitive pressure for existing rights holders BT Sport, Sky Sports, and Amazon. However, some analysts have predicted that the value of auction will fall by up to £960m, to £3.2bn, compared with February 2018 (BTwatch, #293) — reflecting the easing of competitive tensions between the current rights holders, and their focus on reining in costs for the top‑flight football rights.
BT marked the one‑year anniversary of its move to answer all customer service calls in the UK and Ireland by heralding the change as enabling it to "maintain resilience in the face of the coronavirus crisis where others have not". The operator highlighted that it employs more than 11,000 customer service advisors across the country, who have taken 34 million calls in the past twelve months, down from 38 million in the previous year because "we are better placed to help our customers when they first call, reducing the number of times they need to pick up the phone to get in touch". BT said this had resulted in a reduction in the number of complaints submitted to Ofcom.