Rugby talks go to wire; BT Sport welcomes fans back, EE clearing not‑spots.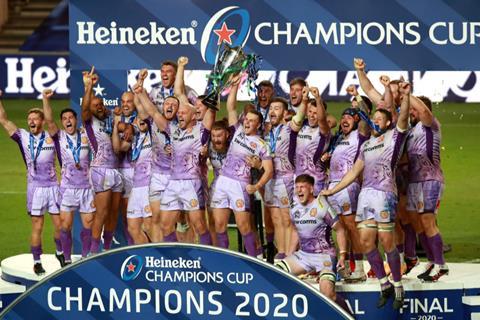 BT Sport was reported to be considering pulling out of talks over a renewal of its rights to Premiership Rugby, amid differences over their valuation. The broadcast arm, which is coming to the end of a four-year, £40m per annum contract for domestic coverage of English top-tier matches (BTwatch, #288), was said by The Sunday Telegraph to be "close to abandoning" negotiations as a mid-December 2020 deadline for agreement neared, and considering diverting funds to coverage of other sports. Premiership Rugby is represented in the talks by part-owner, private equity group CVC Capital Partners, and is said to have rejected at least two offers from BT Sport. Reports suggest BT Sport is seeking to pay less for the rights than the current deal, in reflection of the current economic environment. Its current deal is due to expire in June 2020, when the current season ends.
BT Sport is expected to revert to using true crowd noises for its football coverage now that fans are permitted into some UK stadia. Sports journal The Athletic reported that, given that the most recent rules in England permit up to 4,000 fans to be in attendance depending on the local Tier, BT Sport would soon offer organic crowd noise as the default, with artificial crowd sounds a choice for viewers via the red button. Sky Sports is expected to follow suit.
EE flagged a collaboration with the Scottish government to deliver 4G connectivity to so‑called 'not‑spots' across the Highlands and Islands, as part of the Scottish 4G Infill (S4GI) programme. EE said it had already signed up to use base stations in the under-served areas of Blairmore, Reawick, and Strathconon, with 32 more towns set to reap the benefits of 4G in the coming weeks and months. The £25m S4GI programme began operating earlier in 2020 but roll out has been disrupted by COVID‑19 and the challenges of brokering agreements for sites between local stakeholders (BTwatch, #310).