BT and partner's experience and capabilities to be put to use in Amazon's trial run of live soccer broadcasting.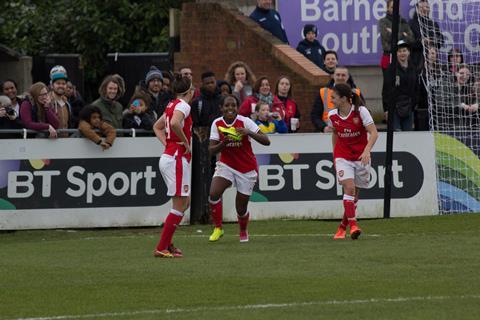 Amazon has contracted BT Sport and its production partner Sunset+Vine to produce its coverage of live English Premier League (EPL) football for broadcast on its Prime Video platform starting in the 2019-20 season.
In June 2018, Amazon won a three-year rights package that will enable it to simultaneously broadcast two full rounds of EPL soccer (equating to 20 live matches) per season (BTwatch, #296). The retailer giant has now confirmed that production of both studio coverage and live matches, set to be played over the Christmas period each year, will be handled by BT Sport and Sunset+Vine, after the companies won a competitive tender.
It also appears that the production partners will take responsibility for delivering a weekly EPL highlights programme that will be available to Prime Video customers from the 2019-20 season onwards. Sunset+Vine is reportedly planning to put a dedicated team in place to produce the coverage.
BT Sport extended its agreement with Tinopolis Group-owned Sunset+Vine in May 2018 with a new four-year contract to produce 1,200 hours of live and magazine coverage per annum, taking the relationship, which began at end-2012, through to 2022 (BTwatch, #240, #243, #262, #268, and #296).
The EPL coverage adds to Prime Video's growing live sports portfolio, which also includes ATP Tour tennis, US National Football League (NFL) games, and US Open tennis.
As part of its 'super-aggregator' approach to video content delivery, in June 2018 BT Consumer unveiled a deal to integrate Amazon's Prime Video service into its BT TV platform (BTwatch, #296).
Content rights
BT Sport agreed a broadcast deal with Ultimate Boxxer, a British boxing entertainment brand that launched in the country during February 2018. The deal will see at least five Ultimate Boxxer events broadcast live in the UK and Ireland on BT Sport and boxing channel BoxNation. The coverage will also be shown for free on BT Sports' YouTube page. The Ultimate Boxxer tournament events are faster pace than the traditional format, featuring single elimination rounds with eight boxers who compete in 3×3-minute rounds. The latest deal links in with BT Sport's earlier partnership with BoxNation and sports promoter Frank Warren, and follows its entry into the pay-per-view market in September 2018 with the launch of BT Sport Box Office HD on BT TV, Sky, and Virgin Media (BTwatch, #281, #296, and #299). In spring 2019, BT also broadened the BT Sport platform through a new large-screen application (BTwatch, #303).
BT Sport won the rights to broadcast the 2019 Vivo Indian Premier League (IPL) Twenty20 (T20) cricket tournament, which began in March 2019 and concludes in May 2019. BT Sport will broadcast at least one game a day, and every match is available on BTSport.com and its small-screen app for smartphones. The new deal complements BT's wider portfolio of cricket, which includes coverage of Australian international and domestic matches, the Ashes tournament, and Australia's T20 Big Bash league (BTwatch, #268 and #292).
BBC wins new FA deal; no word on BT Sport yet
Terrestrial broadcaster the BBC and the Football Association (FA) agreed a new four-year agreement to broadcast the Emirates FA Cup across BBC platforms from the beginning of the 2021/22 season until 2025.
The new deal will give the BBC rights to broadcast up to 18 live matches in the competition per season, and includes greater coverage of the early rounds with up to six live matches from across the first and second rounds, in addition to highlights and online clips. The FA is expected to issue further rights bundles for the 2021-25 period in the future.
The BBC currently shares the FA Cup rights with BT Sport, with the two broadcasters having extended their shared coverage of the domestic football competition until 2021 in April 2016 (BTwatch, #275). However, no announcement appears to have been made on a renewal of BT Sport's rights for the competition. There is speculation that rival terrestrial broadcaster ITV is interested in acquiring the remaining batch, and that the FA may favour a complete return of the FA Cup to free-to-air television, with recent live BBC coverage seeing viewing figures peak above eight million.
BT Sport currently screens up to 30 live matches per season, including the final, compared with the BBC's 16 live matches (also including the final, as well as additional matches involving Welsh clubs on BBC Wales and one live match per qualifying round via the BBC Sport website and its Red Button service).
Although the value of the current deal with the BBC is unknown, reports at the time of the original agreement, in July 2013 (BTwatch, #246), suggested BT had committed around £100m over four years.
Content rights
BT Sport is working with US-based pay-TV sports provider ESPN to produce a new show aimed at British baseball fans. The programme, called Caps Off, is intended to promote American baseball in the UK, and will air on BT Sport and also ESPN social media channels.
BT Sport expected to pay for women's football in future
A recent sponsorship deal between banking group Barclays and the England and Wales Football Association drew attention to BT Sport's coverage of women's soccer and suggested that the cost of involvement could rise in the near future.
With the Women's Super League securing a £10m three-year league sponsorship deal with Barclays, a prize fund is being made available for the sport for the first time. This is expected to have further knock-on effects in terms of the professionalism and commercial approach of the league. It was reported that BT Sport, which shares women's soccer coverage with the BBC, does not currently pay for the rights to broadcast the Women's Super League, but is responsible for production costs estimated to be between £50,000-£60,000 per game. The coverage provided by the broadcasters appears to have come as part of the deal secured in 2016 for broadcast rights of the FA Cup (BTwatch, #275).
Kelly Simmons, the FA's Director of the Women's Professional Game, said that, with the appeal and backing of the league growing, when the next round of rights is on the block in 2020 the association may be able to bring in a new stream of TV rights revenue.
Since the earliest days of BT's interest in sports broadcasting, the operator has seen women's sports as an underserved market where it could make an impression and grow a niche audience.