Group eventually signs £110m three‑year extension after reported disagreements over valuation.
BT continues to invest in regional Welsh club rugby with three‑year sponsorship extension.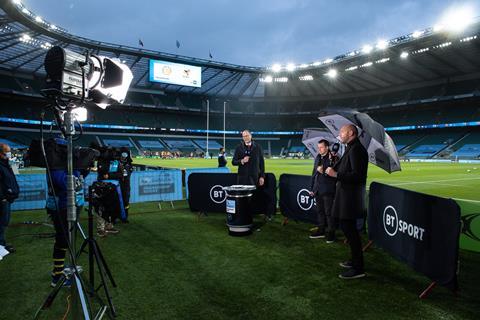 BT Sport renewed its domestic rights deal with Premiership Rugby, despite previous reports that talks about extending its current four‑year arrangement for coverage of English top‑tier matches — which expires at the end of the 2020–2021 season — were hitting some road bumps over valuation (BTwatch, #319).
Those differences appear to have been set aside in order to push a deal through. BT Sport reportedly agreed a £110m three‑year extension with private equity group CVC Capital Partners, part‑owner of Premiership Rugby and the organisation's representative in talks. The deal works out at slightly less than the current £40m‑per‑annum contract (BTwatch, #288), no doubt reflecting a cooling in the economic climate in the wake of COVID‑19.
The new deal allows BT Sport coverage of up to 80 live games per season: 69 Premiership Rugby games and eleven in the Premiership Rugby Cup.
Premiership Rugby reportedly knocked back at least two previous offers from BT Sport, and was apparently fielding interest from Amazon. BT Sport, at one stage, was threatening to pull out of talks, which may have focused minds at CVC.
Interestingly, Amazon, which appears to have been testing demand for streamed rugby coverage via rights to the Autumn Nations Cup, was flagged by Openreach as driving a near-record spike in broadband data usage in November 2020, contributing to a more than doubling of annual usage to 50,000PB (gaming and end-of-year video calls were also tagged).
Sponsorship continues in Wales
In separate rugby news, BT announced a new three-year sponsorship deal with the four regional clubs in Wales: Cardiff Blues, Scarlets, Dragons, and Ospreys. It will take the span of BT's involvement in Welsh club rugby up to nine seasons. BT signed its first sponsorship deal with the Welsh regions in 2014, which was renewed in 2017.
The new agreement will see the BT brand featuring in all the Welsh regions' home grounds, as well as in community activity and regional rugby marketing materials.