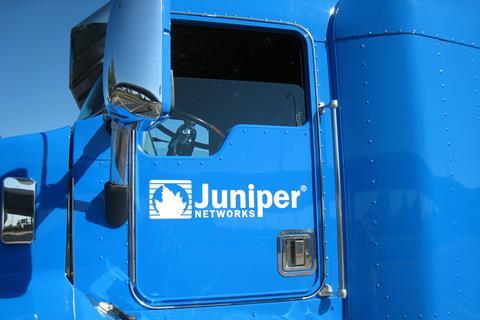 Juniper Networks revealed it will play a significant role in BT Group's rollout of the Network Cloud initiative, which aims to better support new services including future 5G applications through the creation of a programmable, automated network (BTwatch, #304).
The supplier said the Network Cloud platform, once deployed, will enable BT to further evolve its ambition to provide converged wireline and wireless services, the latter including both mobile and Wi-Fi offerings.
Juniper will support the creation of a common framework to operate across BT, enabling a range of currently discrete network functions to be combined on a cloud infrastructure. Functions including voice, mobile core and radio access, internet services, television broadcasting, and IT services for both internal and external users were flagged as potential elements that could be shared both nationally and globally on the emerging platform.
The intention of the project is to reduce the complexity of BT's infrastructure and ensure faster time to market for new services, while also improving the quality of service delivery and enabling greater scalability. The vendor said BT will use several Juniper solutions, including Contrail Networking, which emerged out of Juniper's acquisition of software-defined networking (SDN) specialist Contrail Systems in 2012; the AppFormix monitoring system to analyse both physical and virtual environments; and QFX -series Ethernet switches.
"[The] move to a single cloud-driven network infrastructure will enable BT to offer a wider range of services, faster and more efficiently to customers in the UK and around the world. We chose Juniper to be our trusted partner to underpin this Network Cloud infrastructure based on the ability to deliver a proven solution immediately, so we can hit the ground running. Being able to integrate seamlessly with other partners and solutions and aligning with our roadmap to an automated and programmable network is also important. "

– Neil McRae, Chief Architect, BT.
The new agreement bolsters Juniper's relationship with BT, as highlighted by the Innovation Day in October 2018 that was hosted by McRae and Manoj Leelanivas, Juniper's Chief Product Officer (BTwatch, #300). The collaboration appears to build on several of the ambitions outlined by Juniper at the time, such as its aim to function as a technology conduit between hyperscalers and operators – the relationship with entities such as Amazon Web Services and Google Cloud is also evidently at the front of mind for senior BT executives within its technology operations (see separate report).
Contrail Networking's SDN capability is based on Tungsten Fabric, an open-source network virtualisation solution for providing connectivity and security for virtual, containerised, or bare-metal workloads. Formerly known as OpenContrail, and previously hosted by Juniper, Tungsten Fabric is now a project within the Linux Foundation. Juniper said the Contrail Networking solution forms "a fundamental building block" of Contrail Enterprise Multicloud for enterprises, and manages data centre (DC) networking devices such as Juniper QFX- series switches, DC interconnect, and public cloud gateways.