Bruntwood SciTech, a property provider to the science and tech sector, signs on the dotted line.
EE, as part of the deal, leverages parent company's indoor neutral host solution at Cheshire's Alderley Park.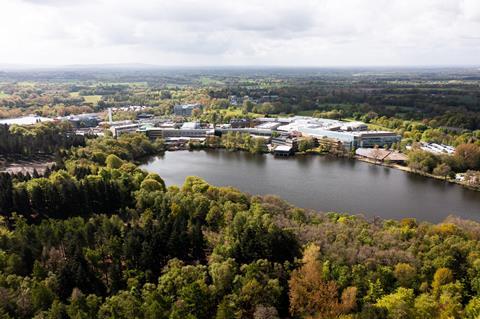 BT Enterprise's wholesale unit flagged its first UK customer contract win as a neutral host provider. On the back of BT's 'third-party' indoor LTE infrastructure deployed at Cheshire's Alderley Park, which is billed as the UK's largest single-site life science campus, Bruntwood SciTech, a 50:50 joint venture between Bruntwood and Legal & General, is using voice and LTE data services.
Under the neutral host model, the 'host' invests in public mobile access network infrastructure that can be shared by mobile network operators (MNOs). This saves on MNO infrastructure investment where the third-party network is deployed.
BT-owned EE, using BT Enterprise's neutral host solution, was the first to switch on mobile cellular voice and LTE data services for on-site customers at Alderley Park. The MNO is part of the Bruntwood SciTech deal.
In partnership with EE, BT Enterprise is rolling out the neutral host solution to approximately 20 hotspots across the campus. The aim is to "vastly improve" indoor connectivity for businesses based at Alderley Park. BT and Bruntwood SciTech are also set to "explore emerging technology solutions across additional commercial properties", including what it termed "co-creation" around 5G access and Internet of Things for businesses on-site.
Alderley Park seems to have much potential to attract other MNOs to piggy-back on BT's third-party infrastructure. According to BT Enterprise, the campus stretches across over one million sqare feet of office and laboratory space for life science and tech businesses, and is already home to over 200 companies. BT maintained that indoor service and reliable connectivity were fast becoming an increasingly important component of business mobile service needs, and that "mobile usage inside buildings was expected to increase to 90 percent in the next few years".
Mavenir in the mix?
No mention was made of suppliers in the official announcement, but, in March 2019, BT Enterprise demonstrated a virtual radio access node, developed in collaboration with US-based Mavenir Systems (BTwatch, #303). It could reportedly host up to four operators, with each able to control and manage its own virtual segment of the cell as if it were dedicated infrastructure.
BT said at the time that it expected to offer the node as "a neutral, hosted solution, with an open fronthaul", which will provide operators with more flexibility, and not require new sharing agreements between operators before any modification or update can be implemented.
Owners of large premises tend to invest in Distributed Antenna Systems to deliver multi-operator coverage, but they are expensive to deploy and upgrade. Smaller premises can provide indoor coverage with a femtocell, but that limits connectivity to a single MNO. They are also not suitable for public spaces — such as shopping centres, hotels, libraries, universities, stadia, concert venues and hospitals — where everyone wants connectivity, whichever network they use.

Ken has been writing about developments in the fixed and mobile markets for over twenty years. He has been a contributor to TelcoTitans since 2015.