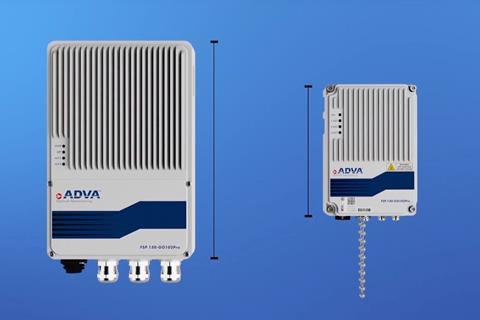 ADVA Optical Networking, a key long-term equipment supplier to BT, revealed that Openreach is deploying its FSP 150-GO102Pro small cell demarcation technology to support delivery of 1Gbps carrier Ethernet and internet protocol services, "and deliver the precise phase synchronisation needed for 5G mobile connectivity".
Available in two sizes, the ruggedised small cell gateway device is designed for use in harsh environments, and can be attached to most surfaces, including walls and lampposts. Mark Logan, Product Director at Openreach, described the product as a "key tool in our drive to address urgent small cell challenges". He added that the kit is enabling the rollout of mobile backhaul architecture that can support Openreach's 1Gbps street access product, alongside LTE-A and 5G services.
ADVA is playing a growing role in BT's work on 5G, network functions virtualisation, and software-defined networking development. Openreach already deploys equipment from the vendor as part of its infrastructure, such as its FSP 150 Ethernet demarcation and aggregation solution, FSP 150 circuits, and FSP 3000 platform (BTwatch, #260, #263, #266, #272, #294, and passim). BT is also adopting synchronisation technology from ADVA-owned Oscilloquartz to underpin its networks as it deploys 5G (BTwatch, #304).