Currency weakness dampens Region's growth.
Division out in the cold, with strategic plans focusing elsewhere.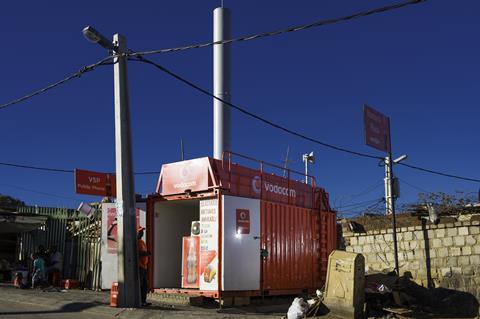 Vodafone's eagerness to extricate itself from financial bonds to the recently-renamed Rest of the World Region were again on show as the Group reported its results for the quarter to 31 March 2019 (Q4 FY18–19), and accompanying annual figures.
Relatively strong growth at OpCos such as Vodafone Egypt and Vodafone Turkey, and a slight recovery at key business Vodacom Group, helped give the Region's figures some veneer, but inflationary risks again spoiled the party.
On an "organic" basis — i.e. counting out exchange rate movement and M&A — the division's service revenue grew 5.7%, to €2.1bn: an improvement on Q3's growth rate (Vodafonewatch, #172). However, when factoring in currency weakness in markets such as South Africa and Turkey, plus the Q4 FY17–18 sale of Vodafone Qatar, service revenue actually dropped by 6.3%.
There was a similar picture for the Rest of the World Region's FY18–19 data, with revenue and core earnings growing at a healthy level "organically" (by 6.1% and 6.3%, respectively), but contracting markedly when translated into euros (‑3.3% and ‑2.2%).
Vodafone Rest of the World Region, service revenue summary, Q4 FY18–19
Q4 FY17–18
Q4 FY18–19
Notes: The Group revised its reporting segments on 1 October 2018, to reflect changes to its organisational structure. The former Africa, Middle East and Asia-Pacific Region now comprises separate Vodacom Group, Turkey, and Other Markets reporting segments, all aggregated under a "Rest of the World" umbrella. Prior numbers have been restated accordingly.
Organic growth is said by Vodafone to present performance "on a comparable basis, both in terms of merger and acquisition activity and foreign exchange rates".
"Vodacom" refers to Vodafone's interests in Vodacom Group and its subsidiaries, including those located outside of South Africa.
Sources: Vodafone and Vodafonewatch.
Service revenue by segment

€2,249m

€2,108m

Mobile

€2,016m

€1,873m

Customer revenue

€1,756m

€1,646m

Incoming revenue

€156m

€138m

Other revenue

€104m

€89m

Fixed-line

€233m

€235m

Service revenue by geography

€2,249m

€2,108m

Vodacom

€1,113m

€1,096m

Turkey

€491m

€432m

Other Markets

€1,136m

€1,012m

Egypt

€231m

€279m
Exit strategy
The Group's new leadership continued to give the impression of not being able to exit many Rest of the World Region territories quickly enough — whether through sales (as seen in Fiji, Qatar, and now New Zealand) or stake‑diluting mergers (India and — possibly — Australia). Scant attention was paid to the division in the Q4 results' accompanying presentation.
Strategically, too, it was noticeable that the emphasis on "radical simplification" of European businesses did not extend much beyond Vodafone's home region (see separate report). "Portfolio management" remains the focus elsewhere, with the results prefaced by confirmation of the Vodafone New Zealand sale, and efforts to push through mergers in India (Bharti Infratel–Indus Towers) and Australia (TPG Telecom) — see separate report.
African powerhouse Vodacom remained a point of concern, with "increased headwinds" — including ongoing political and regulatory muddiness (Vodafonewatch, #174) — again highlighted in South Africa. Vodacom South Africa returned to organic growth on service revenue (albeit just, with a +0.3% rate), and "accelerating growth" at the operator's other businesses helped Vodacom report an improved overall growth figure of 3.5%.
Both VfEg and VfT continued to support Vodacom with double-digit growth in Q4 (11.2% and 15%, respectively), and further sizeable gains in earnings before interest, taxation, depreciation, and amortisation (EBITDA) across FY18–19 (23.1% and 19.2%).