CityFibre wants end to VfUK exclusivity to capture more business.
Openreach turns VfUK's head with generous FTTP discounts.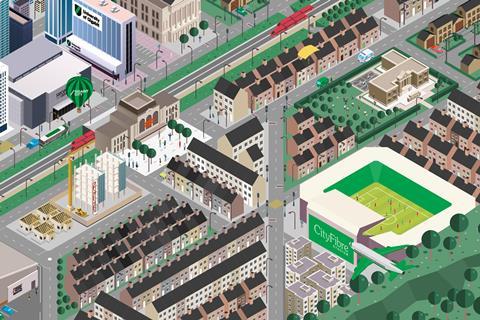 CityFibre, a fibre‑to-the‑premise (FTTP) infrastructure provider, was reportedly in "advanced talks" with Vodafone UK (VfUK) to rip up exclusivity terms written into their ten‑year 'full‑fibre' wholesale arrangement, signed in November 2017 (Vodafonewatch, #160).
According to The Telegraph newspaper, the exclusivity deal is sticking in the craw of CityFibre's owners, Goldman Sachs and private equity firm Antin, which took over the business in a £538m (€631m) deal in April 2018, with fears about losing major contracts from other broadband providers. TalkTalk and potentially Sky Broadband are on CityFibre's radar, said The Telegraph. To try and persuade VfUK to redraw the contract, unnamed industry sources said CityFibre will offer the OpCo improved commercial rates.
VfUK and CityFibre initially paraded their partnership as being mutually beneficial. The OpCo had recourse to more competitive wholesale broadband rates than those offered at the time by Openreach, BT's infrastructure arm, while privately owned CityFibre had minimum take‑up guarantees from VfUK. A useful way, it seemed, to de‑risk investment. During the first phase of FTTP deployment — which had the aim of connecting "at least" one million premises across twelve cities by 2021 — CityFibre granted VfUK a temporary period of exclusive rights, predominantly during the build phase of each city network. In return, VfUK made a minimum volume-based commitment of 20%. Gaining a head start over competitors for Gigafast Broadband service was clearly an attraction for the OpCo.
Greater good
VfUK may well acquiesce. After all, allowing retailers to share CityFibre infrastructure sooner than envisaged should put it on a stronger financial footing and keep Openreach on its toes. The original business plan of meeting a one million premise target in 2021, according to The Telegraph, now looks "unachievable". The newspaper cited some industry estimates as indicating CityFibre has passed fewer than 200,000 homes with FTTP, while Openreach is approaching the two million-mark.
Moreover, CityFibre's backers have made significant financial commitment. In October 2018, they agreed a £2.5bn fund expansion of the FTTP network to reach five million premises across 37 cities and towns by the end of 2024 (Vodafonewatch, #173).
Bigger picture
The UK's fledgling full‑fibre scene offers potential for various twists and turns, with possible outcomes invariably putting Openreach under more pressure to be competitive. It is a dynamic environment that VfUK and other broadband retailers no doubt welcome, pushing as it does Openreach into offering more attractive wholesale deals than it perhaps would otherwise (see below). One possible scenario is a CityFibre takeover of rival TalkTalk's FibreNation project (Vodafonewatch, #179). Like CityFibre, FibreNation is pitched as a next-generation network alternative to Openreach and Liberty Global-owned cableco Virgin Media. According to The Telegraph, CityFibre agreed a £200m valuation of FibreNation with the caveat — assuming VfUK agrees — that TalkTalk transfers large swathes of its 4.3 million broadband customers from the Openreach network onto CityFibre's.
Another ongoing Openreach worry is that Virgin Media, backed by a more well‑heeled Liberty Global — bolstered to the tune of €10.6bn after selling German and eastern European cable networks to Vodafone Group (Vodafonewatch, #178) — tempts Sky to abandon its wholesale broadband relationship with the incumbent.
Outreach from Openreach
Sensing perhaps growing competition in the full‑fibre space, Openreach made an audacious bid to expand its FTTP network through a mixture of generous discounts on connection and rental fees, alongside an insistence that its communications provider (CP) customers — if they are to take advantage of lower prices — undertake marketing legwork to promote higher speed connections. By making discounts conditional on local marketing campaigns paid for by others, Openreach is playing a canny FTTP game.
VfUK was quick to bite. Only days after Openreach announced its price discounts, which come into effect on 1 January 2020 and end on 30 September 2022, VfUK struck a wholesale agreement with BT's infrastructure arm. Under the arrangement, VfUK intends to extend its full‑fibre broadband network by up to 500,000 residential and business premises across three cities: Birmingham, Bristol, and Liverpool (cities outside the planned CityFibre footprint).
The OpCo said it will start making Openreach FTTP available to its customers in spring 2020, and that the service will grow to 500,000 premises by mid‑2021 as the wholesale footprint expands, under "phase one" of a strategic agreement between VfUK and Openreach. The deal includes options for "further phases" that could extend FTTP coverage to other locations.
Carrot with strings attached
Openreach notified CPs about its "special offer" to lease FTTP capacity in Fibre Cities during early-November 2019. Discounts on both connection and rental fees are available. The offer also includes free line rental for a year if the end customer switches to fibre from a Virgin Media cable line.
There are some caveats, however. For a start, CPs must have Generic Ethernet Access (GEA) cable links in place at the local exchange to support Openreach's GEA‑FTTP infrastructure, which enables CPs to funnel FTTP data traffic over their own core network. Openreach said it will share "regular information" on its GEA‑FTTP rollout in order to help CPs with planning and marketing activities.
Neither will CPs have complete freedom to take advantage of the discounts across its entire Fibre Cities footprint. Instead, they are limited to a maximum of four "conurbations", which can range in size from a minimum of 10,000 premises to a maximum of 500,000. BT's infrastructure arm said it was aiming for a minimum average revenue-per-user of £16.28 across the offer term, a figure presumably derived from active data lines only. The special offer is open to CPs until the end of June 2020.
Pricing nuts and bolts
There is a possibility that VfUK will not have to stump up any connection fees in its selected areas, provided the connection is completed within certain timeframes after the "trigger point". The trigger point, as defined by Openreach, can be no later than 30 September 2021. Earlier trigger points are determined by the latest date of the two following events: the date that premises are released as per the CP's rollout plan following the CP's nomination; and the date that Openreach declares the primary service as 'ready for service' at premises.
For premises new to the Openreach network, dubbed 'NTN', connection fees are waived for a range of data products — from 40Mbps/10Mbps (downlink/uplink) through to 1Gbps/115Mbps — provided the connection is made within twelve months of the trigger point. Connection fees for non‑NTN premises are also free, but only if connections are made within six months of the trigger point. Openreach offers a 50% connection fee discount on GEA‑FTTP listed prices for non‑NTN premises that are connected between seven and twelve months from the trigger point.
Annual rental costs have also been slashed (see below). For sake of comparison, ISPreview pointed out that the 220Mbps/30Mbps product normally attracts an annual rental fee of £255.36 plus value‑added tax (VAT), and the new 1Gbps/115Mbps product — slated to go live in March 2020 — would normally cost £375.36 plus VAT.
FTTP bonanza: annual full-fibre rental offer pricing from Openreach

Data product variant (uplink/downlink)

From

Until

Annual rental

Sources: BTwatch, Openreach.

Up to 80Mbps/20Mbps

01/01/2020

30/09/2022

£195.36

Up to 115Mbps/20Mbps

23/03/2020

30/09/2022

£195.36

Up to 160Mbps/30Mbps

01/01/2020

30/09/2022

£195.36

Up to 220Mbps/30Mbps

23/03/2020

30/09/2022

£195.36

Up to 330Mbps/50Mbps

01/01/2020

30/09/2022

£255.36

Up to 550Mbps/75Mbps

23/03/2020

30/09/2022

£255.36

Up to 1Gbps/115Mbps

23/03/2020

30/09/2022

£291.36