Esther Colmenarejo replaces Bosco Aranguren, who leaves to head DAZN's Spanish operations.
Appointment continues management revamp at challenged Spanish unit.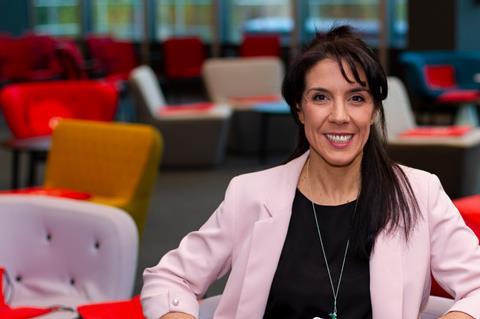 Vodafone Spain appointed Esther Colmenarejo as Director of its Digital Unit and New Lines of Business, effective 1 April. She will also join the Executive Committee.
Colmenarejo is replacing Bosco Aranguren, who is leaving to take up the newly created position of General Manager at DAZN Spain in April 2022, which will see him lead the sports steaming specialist's local operations.
Colmenarejo joined Vodafone in 2017, and since May 2019 has served as Head of the Digital Customer Solutions unit, where she was credited with the creation of a "digital ecosystem integrated with artificial intelligence" through the Mi Vodafone app, as well as developing the ToBi and WhatsApp customer service channels, and personalisation of offers for customers.
She has an industrial engineering background, and previously led digital transformation processes at Spanish financial services providers Bankinter and BBVA.
The appointment comes after Vodafone Spain Chief Executive Colman Deegan's August 2021 rejig of the operator's senior management team, in part to mirror the Group's move to a split structure on technology development and management, with IT and Networks teams now working in parallel in several countries and at corporate level (Vodafonewatch, #199).
The changes also saw former Vodacom Tanzania Managing Director Hisham Hendi appointed to lead Vodafone Spain's Commercial functions, seemingly as a replacement for Andrés Vicente, who had been seen as the OpCo's 'number two' since Deegan took the helm in late-2020 (Vodafonewatch, #189), and resignation of Chief Technology Officer Ismael Asenjo.
At the time, Bosco Aranguren was named Digital Director at Vodafone Spain, along with Julia Velasco as Networks Director. Aranguren's appointment at DAZN closely follows the steaming provider securing a share of broadcast rights for La Liga football, alongside Telefónica España, across five seasons, in a deal worth €4.95bn (£4.2bn) — Telefónicawatch, #160.
Vodafone Spain Executive Committee, February 2022
Executive
Role
Appointed to leadership
Source: Vodafone Spain.

António Coimbra

President

2012

Colman Deegan

CEO

2020

Eloy Rodrigo Gil

Chief Financial Officer

2019

Jaime de Andrés

Director of Corporate Communication & Sustainability

2019

Pilar Marco

Director of Strategy

2019

Daniel Jiménez

MD, Enterprise Business Unit

2018

Elena Otero-Novas

Director of Legal, Regulation & Corporate Security

2017

Remedios Orrantia

MD, Human Resources & Property

2016

Hisham Hendi

Director of Consumer Business Unit

2021

Mercedes Vidal

IT Director

2021

Julia Velasco

Network Director

2021

Esther Colmenarejo

Director, Digital Unit and New Lines of Business

1 April 2022
Vodafone Spain is also in the midst of a downsizing exercise that saw the operator recently agree with unions to reduce its workforce by nearly 10% (Vodafonewatch, #202 and passim).