Planned JV would become biggest mobile operator in Spain with more than 20 million subscribers.
Vodafone left with fewer options in Spain as two nearest rivals join forces.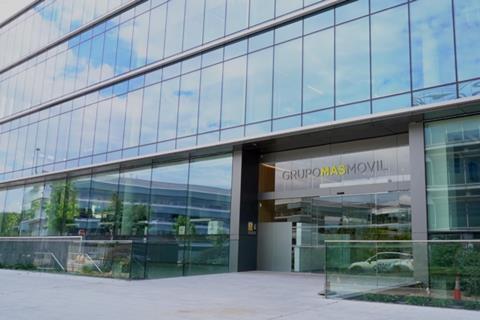 Vodafone Group remained tight-lipped on the news that Grupo MÁSMÓVIL is to join forces with Orange in Spain despite persistent rumours of a tie-up between the market's fourth-largest player and Vodafone Spain.
Orange Group announced on Tuesday that it is in exclusive talks with MÁSMÓVIL on the creation of a 50:50 joint venture in Spain with a combined enterprise value of €19.6bn (£16.3bn). Orange Spain is valued at €8.1bn while MÁSMÓVIL, owned by Lorca JVCO following the group's acquisition by private equity firms Cinven, KKR, and Providence Equity Partners in 2020 (Telefónicawatch, #144), was assessed at €11.5bn.
Orange noted that the combined entity would have revenue of more than €7.5bn and in excess of 20 million mobile customers, of which 11.5 million derive from Orange. That would place the JV firmly in second place in the market, in terms of revenue, with Vodafone Spain reporting €4.2bn in FY20–21 and Telefónica España €12.4bn in FY21. In terms of mobile subscribers, the new JV would be in the lead, as Telefónica España reported 18.48 million mobile customers at the end of 2021 and Vodafone Spain 13.54 million.
The proposed merger has yet to gain regulatory approval, which is likely to be its biggest obstacle. The European Commission, for instance, has traditionally asserted that a reduction in the number of in-market players from four to three is bad for competition.
As things stand, Orange expects the transaction to be signed by the second quarter of 2022 and completed by Q2 2023.
Jilted partner?
It is no secret that Orange has been seeking some form of in-market consolidation in Spain: Stéphane Richard, the outgoing Chairman and CEO of Orange Group, said during the operator's recent earnings call that Orange was "actively working on being involved", although he did not provide further details at the time.
It seems likely that Vodafone will be disappointed by the outcome, although a tower amalgamation with network-sharing partner Orange Spain could potentially still be possible given that local Orange TowerCo Totem Spain is not to be brought into the newly consolidated group.
Indeed, along with Italy, Spain has been a persistent drag on Vodafone's European performance. Last year, Vodafone Spain said it was to axe as many as 515 staff — equating to 12% of its workforce — in a further attempt at shoring up profitability.
Vodafone Group CEO Nick Read has long advocated "pragmatic" M&A in hyper-competitive markets. He has also repeatedly urged the EC to help the telecoms sector get better returns on investment by allowing more consolidation.
What's more, activist investor Cevian Capital is understood to have been lobbying Vodafone for "months" to look earnestly at ways in which to boost shareholder value, including in-market consolidation, selling off assets, and share buybacks.
However, Vodafone did not take up a recent opportunity to merge with Iliad in Italy. The Group said the preliminary offer from Iliad Group and private equity company Apax Partners to acquire its operation in Italy for more than €11bn was not in the interest of shareholders.
In the meantime, Vodafone Spain, like its rivals, has been exploring revenue diversification opportunities, with the creation of new subsidiary Vodafone Energía as one example.

Anne Morris is a freelance journalist, editor and translator. She has been working as a reporter and news analyst for TelcoTitans since 2016.