Big but "delicate" migration project in pipeline.
Vodafone TV spread continues as Group seeks to iron out tech ecosystem.
Liberty's Horizon platform out of contention as Group TV enabler.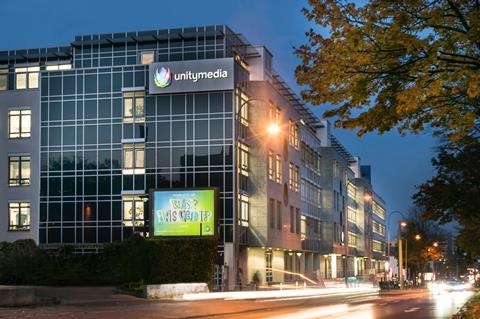 Vodafone Germany (VfD) is preparing to begin migration of Unitymedia's TV user base to the Group's Vodafone TV platform in spring 2020.
Group Chief Executive Nick Read flagged the move during Vodafone's results call for the quarter to 30 September 2019, noting that it will begin in the "next six months". In preparation, VfD is said to have trialled a system to remotely update Unitymedia set‑top boxes to the Vodafone TV offering, as part of the Project Catamaran initiative focused on integration of Unitymedia and the other Liberty Global businesses it bought in July 2019.
Unitymedia accounted for just over six million of VfD's 13.7 million total TV base at 30 September 2019, so the project will be sizeable. Read acknowledged that the migration will involve "delicate execution". If it comes off, "we will be very encouraged", he said.
Tech Unity targeted
Vodafone has long been keen to use Vodafone TV to consolidate and harmonise its video platforms (and their supply base) — which remain something of a hotchpotch following its wave of in‑market wireline acquisitions over the past decade (Vodafonewatch, passim).
Unitymedia's TV services are currently based on parent Liberty's flagship Horizon platform, which also underpins VodafoneZiggo's pay‑TV proposition, as well as lighter-touch TV services offered by UPC Czech Republic, UPC Hungary, and UPC Romania, which were also absorbed by Vodafone in the July 2019 deal.
Horizon was once mooted as a candidate to become Vodafone's main European TV platform (Vodafonewatch, #168), but VfD's move looks to rule this out.
Top‑ and bottom‑line benefits
Through platform migration and integration of branding, management, infrastructure, and buying, Vodafone hopes to realise €535m (£459m) of annual savings across the four local markets involved in the July 2019 acquisition.
VfD may well also see the switch to Vodafone TV as an opportunity to raise the per‑customer value of Unitymedia's cable TV base. The cableco's average revenue-per-TV user was placed at just €14 (£11.78) when the acquisition was announced in 2018, with Vodafone boasting of "significant standalone growth potential" and lower "cord-cutting risk".
Quad-play Liberty integration timeline

Deadline

Workstream

Notes

Source: Vodafone.

30 September 2019

Integration of management teams

Achieved

Cross-selling

Commenced

DSL migration activities

Commenced

Centralisation of procurement

Achieved

31 March 2020

Rebranding

To be completed

TV base migration

To start

31 March 2021 onwards

Merger of network backbone

–

IT and billing simplification and consolidation

–