London mayor Sadiq Khan cut the ribbon to officially open Vodafone UK's new digital hub.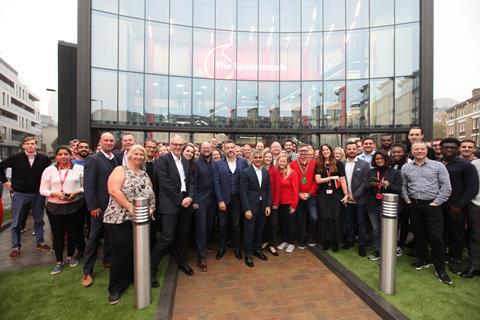 Vodafone UK (VfUK) opened a new digital hub called The Speechmark in London, following a £6.5m (€7.5m) refurbishment of the site in Southwark. The new facility, which was opened by London's Mayor Sadiq Khan, is to house 1,000 employees from VfUK's consumer, digital, and tech teams. During the opening ceremony, VfUK presented an interactive model of London, created with modelling specialist Bright Bricks, to promote smart-city services.
VfUK also trumpeted a new partnership with Transport for London that will see VfUK pilot wireless connectivity in tunnels and at eight station platforms on the eastern end of the Jubilee line, on the London Underground network. VfUK said the deployment will see between 50 and 100 engineers working through the night for six months to install and "test huge amounts of equipment". Customers will be able to access the new Wi‑Fi service via the operator's 4G network from spring 2020. The OpCo's 5G network, which has already been activated in Southwark (Vodafonewatch, #177), will support the new wireless service on the Jubilee line in the future.