Partner Markets' greenfield operator expected to launch services "very soon".
Taps Ericsson for network and Netcracker for BSS.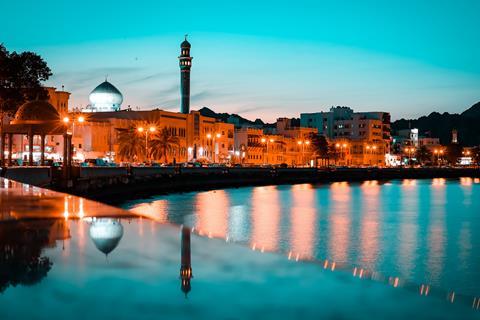 Vodafone Oman, a new Group Partner Markets alliance member, officially opened its headquarters in the country's capital city Muscat, as the greenfield operator moves closer to launching 4G and 5G services.
The move signalled progress in establishing Oman's third mobile operator, which has been a protracted process since 2019 when Oman Future Telecommunications was granted a licence by royal decree and entered a "strategic partner agreement" to operate under the Vodafone brand (Vodafonewatch, #179). The operator missed its target to launch services by the end of 2020 because it did not receive final clearance until January 2021 (Vodafonewatch, #193 and passim).
The mobile services are expected to start by the end of this year, but the operator has not specified the timeframe.
Suppliers selected
In September 2021, Vodafone Oman selected Ericsson to deploy, operate, and maintain the new 4G and 5G core and radio access networks along with a five-year managed services agreement. At the contract signing ceremony with the Swedish vendor, Vodafone Oman Technology Director Stelios Savvides indicated the launch will take place "very soon", according to the Oman Daily Observer. Asked if services will start before the end of this year, Savvides reportedly said "probably, yes".
The operator also chose Netcracker to supply cloud-based business support system Digital BSS.
Local media sources have reported that Oman Towers Company — the country's sole passive infrastructure provider — will supply telecoms towers and associated infrastructure for Vodafone Oman.
The new entrant is seeking to challenge the market's current duopoly of: Oman Mobile, the mobile arm of national operator Oman Telecommunications (Omantel); and Ooredoo Oman, whose parent Ooredoo Group comfortably weathered a startup challenge from Vodafone when in debuted in Qatar during the late-2000s. The two operators currently share the country's 5.7 million mobile connections.
While backed by Vodafone operationally, Vodafone Oman is owned by a consortium of (reportedly local) investors, led by Itqan Tech Development, a telecoms and IT solutions provider that sits within Muscat-based conglomerate Oman 70 Holding Company.
Despite Vodafone's somewhat patchy record in the Middle East, the new Omani operator is using the Group's portfolio of Partner Markets services to support it on business set-up. The two organisations announced a 15-year strategic partner agreement in 2019, covering "innovation, services, and expertise", and Vodafone is supported by a team on the ground in Oman, working to help the operator establish itself (Vodafonewatch, #175 and #179).
The Group appears to have long had its feelers out regarding opportunities in Oman. Vodafone was on the shortlist when Oman offered out its second mobile licence, back in 2004, with the concession ultimately going to a consortium led by Ooredoo (then Qatar Telecom) and TDC Group (Vodafonewatch, 2004.07). The Group was also previously mooted as a potential strategic partner of Omantel (Vodafonewatch, 2008.08).

Michelle Donegan is an experienced telecoms writer and has been contributing as a reporter and news analyst for TelcoTitans since July 2020.