Finalists from ten countries selected for F-LANE 2020, with AI, blockchain, and VR tech used to support rural women.
Virtual edition takes on an oversized cohort in five-week, all-online programme.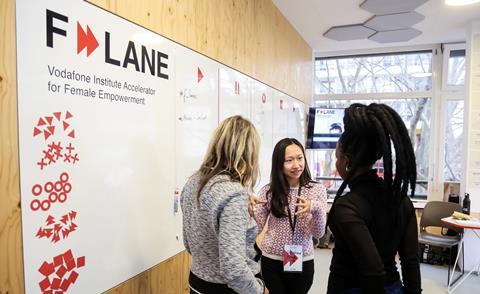 The Vodafone Institute for Society and Communications, the operator's think-tank, gave an update on its F-LANE 2020 social ventures accelerator. The programme has selected ten finalists from 455 startups that responded to its latest call for early-stage social impact startups that utilise technology to empower women.
F-LANE is in its fifth year, having launched in 2016. In a change from years past, the 2020 edition has taken on double the number of startups it did last year, and it will be entirely virtual. A five-week programme, commencing on 7 September, will include mentorship, training, and access to a network of investors. Inger Paus, the Institute's Managing Director, said that F-LANE's increased capacity this year is evidence of the "importance of social accelerator programmes". As well as doubling intake, it received twice the number of applicants received in 2019's iteration.
A 'Demo Day' in November will showcase the startups' work and give them a platform in front of investors and decision-makers in business, media, and politics.
The Institute runs F-LANE with its implementation partner Yunus Social Business, a German non-profit venture fund that invests in sustainable social enterprises. Other listed partners of the programme are Impact Hub Berlin, Social Entrepreneurship Akademie, and WLOUNGE.
The 2020 cohort utilise a wide range of technologies for diverse use-cases, with some common themes. Broadly, the F-LANE 2020 brief required technology to be used for female empowerment. For most finalists, this means the provision of training and mentorship, often with financial management support given via the startups' platforms.
F-LANE 2020 finalists
Startup
Focus
Sources: companies.

Akojo Market

UK

An e-commerce platform that opens the UK market to African, (mostly) female-founded, independent brands.

Autsera

UK

A social and communication training tool for autistic children, utilising virtual reality.

Bidhaa Sasa

Kenya

Last-mile distribution services aimed at improving quality of life for rural women.

Hive Online

Denmark, Rwanda, and Sweden

A distributed community finance platform that opens credit to entrepreneurial women in rural Africa. Leverages blockchain technology.

LuluLab

Denmark

Educational games that teach women and girls about sexual rights and reproductive health. A localisation process ensures the tools are culturally sensitive and adhere to national policies.

Mete a Colher

Brazil

A platform (Tina) that offers support and guidance to victims of domestic violence in Brazil.

Nabta Health

UAE

A diagnosis and healthcare management service via Aya, a machine learning and artificial intelligence-powered virtual assistant.

ProyectoMoms

Chile

A platform that connects women to employers, encouraging companies to create a flexible work culture that allows mothers to continue a professional career.

SheKab

Pakistan

A car-pooling subscription app for professional women in Pakistan.

Zoora

Uganda

A digital platform for rural women, providing safe record-keeping, training, and access to agriculture-specific financial support.