Kleisterlee to be replaced by new Chairman van Boxmeer.
Pack shuffled at Vodafone Business.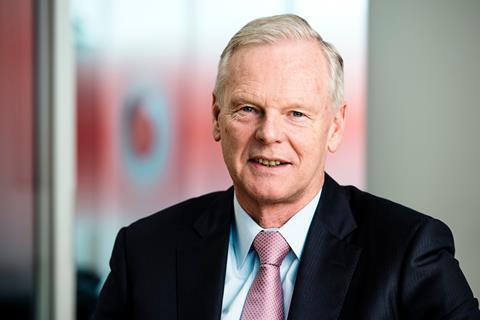 Company
Executive
Activity
Details
Sources: Vodafone, various.

Board of Directors

Gerard Kleisterlee

Departure

Vodafone confirmed that as previously flagged, Chairman Gerard Kleisterlee is to step down, from 3 November 2020, after coming to the end of his nine-year mandate. He will be replaced by current Heineken Chief Executive (CEO) Jean-Francois van Boxmeer (see separate report). Van Boxmeer will join the Group as a Non-Executive Director from 28 July 2020, subject to shareholder approval.

Jean-Francois van Boxmeer

Appointment

Group Commercial, Operations & Strategy

Simon Buck

Departure

Simon Buck, formerly Vodafone Global Enterprise's Head of Consulting & Innovation and Director of Vodafone subsidiary Bluefish Communications, stepped away from both roles. He founded management consultancy Chrysalis DX in February 2020, and is Managing Director (MD) at the business.

Antony Fin

Departure

Antony Finn, Head of Global Enterprise for Cloud, Hosting & Security, left the Group to join intelligence and monitoring specialist ThousandEyes as Regional Vice-President for NEMEA.

Jennifer Gill Didoni

New role

Jennifer Gill Didoni, Head of 5G Cloud & Services, broadened her remit to become Head of Cloud Partnerships at Vodafone Business.

Sarah Green

New role

Sarah Green, Head of Strategic Projects & Business Management at Vodafone Business, was named Head of Business Operations for Cloud & Security.

Teresa Martínez Herranz

Appointment

Teresa Martínez Herranz, Head of Strategy & Planning for Technology Enterprise at VfD, was named Vodafone Business' Head of Commercial Operations for Southern Europe. She now leads a team accountable for new business and renewals across the region.

David Tirado

Departure

David Tirado left Vodafone to join fintech startup and challenger bank Revolut as Director of Strategic Partnerships. He was previously Global Director of Growth & Digital at Vodafone IoT.

Gianluca Pasquali

Appointment

Gianluca Pasquali, Director of Commercial Operations at Vodafone Italy (VfIt), shifted to Group level as Retail & Operations Director. His move came as Phil Patel, formerly Director for Retail & Customer Operations, and one-time MD for M-PESA, moved up to become Group Director of Products & Services.

Phil Patel

New role

External Affairs

Natasha Dalton

New role

Vodafone Foundation appointed a new Head of Engagement, promoting former Communications & Fundraising Manager Natasha Dalton to the position.

Group Finance

Miguel Orue-Echebarria

Appointment

Miguel Orue-Echebarria, Vodafone Spain's Chief Financial Officer (CFO), was appointed Audit Director at Group level. He takes the vacant spot left by Diego Galli, who recently moved to newly merged Italian towerco INWIT as CFO (Vodafonewatch, #185).

Virginie Vast

Departure

Vodafone's Global Head of Digital Supply Chain & Customer Operations Virginie Vast left to join Amazon as Head of Procurement, Innovation & Sustainability.

Group Technology

Volkmar Hammer

Departure

Volkmar Hammer was appointed Vodafone's Head of Network Standards, leaving the Head of Services Applications post he had held for four years. Hammer has been in a number of leadership roles at the Group since joining from Bharti Airtel in 2007.

Katrin Jacke

Appointment

Katrin Jacke, Head of Human Resources (HR) Integration & Business Partnering at Vodafone Germany (VfD), left the OpCo to become HR Director, Group Technology.

Joseph Purnell is a Staff Reporter for TelcoTitans, contributing telecoms news analysis since 2019 as part of the TelcoTitans Editorial team.