FTTH expansion into 'market failure' localities.
Expanded wholesale relationship with Open Fiber.
Network tie­‑up between TI and Open Fiber still on cards.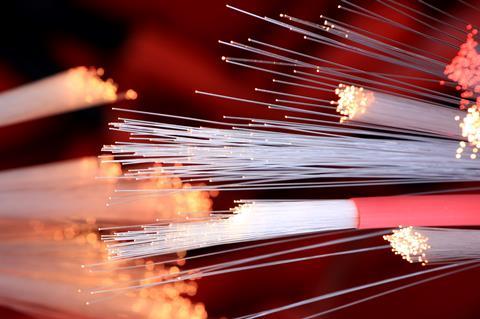 Vodafone Italy (VfIt) launched a commercial trial of fibre-to-the-home (FTTH) services in four so‑called 'white' areas — places deemed by the government to have suffered market failure in the provision of broadband access, and so on the wrong side of the digital divide.
The pilots are taking place in Fino Mornasco (in the Province of Como), San Giovanni La Punta (Province of Catania), and two areas on the outskirts of Rome (Campagnano di Roma and Arguillara Sabazia). According to local media reports, existing VfIt customers on ADSL connections will be able to access FTTH speeds of 1Gbps, without paying anything extra, for a "few months".
Public money in FTTH investment pot
VfIt has indirectly taken advantage of public money to enter these areas. FTTH capacity in the four localities comes courtesy of an agreement with next‑generation broadband wholesaler Open Fiber, which is jointly owned by state lender Cassa Depositi e Prestiti (CDP) and utility Enel. VfIt already has a "strategic relationship" with Open Fiber, and the wholesale deal to reach broadband-deprived areas is an extension of that.
Open Fiber's presence in under‑served areas has come about through public tenders issued by state-owned infrastructure company Infratel Italia. The latter is 100% owned by INVITALIA, the national agency for inward investment and economic development, which, in turn, is owned by the Italian Ministry of Economy. Infratel effectively functions as an in‑house infrastructure company for the Ministry of Economic Development, which coordinates the public and private sectors in meeting national broadband-coverage goals.
To help deliver Italy's Ultrabroadband National Plan, which aims to reach all Italian households with speeds of at least 30Mbps by 2020, Infratel was given a €2.9bn (£2.6bn) budget to subsidise network build where the operator business case is not so compelling. The national plan further envisages extending next‑generation access (NGA) coverage, supporting at least 100Mbps, to 85% of households by 2020.
Between June 2017 and April 2019, Infratel embarked on three rounds of tenders to engage with the private sector on network build. Open Fiber won all three concessions, scooping up €2.6bn of public funds in the process. In preparing the Ultrabroadband National Plan, the government mapped out areas where it thought public financing was required, which turned out to cover a sizeable 38% of Italian households.
Through its newly won concessions, Open Fiber is responsible for building and maintaining the subsidised NGA network for 20 years. The network will cover all 20 Italian regions and a total of 7,635 digital divide localities. It can wholesale NGA services during this time, but ultimate ownership of the network still belongs to the government. Infratel is responsible for overall design and development control of the NGA infrastructure.
Italy mentioned in FTTH despatches
Industry grouping FTTH Council Europe gave special mention to Italy on publication of the latest FTTH and fibre‑to‑the‑business (FTTB) subscriber and homes‑passed figures in the European Union (EU), provided by market research specialist IDATE. On number of homes passed, the council noted that Italy enjoyed "outstanding growth" in the twelve months to September 2018, with coverage jumping by 43% to nearly 6.3 million. EU average growth was 15.7%. Open Fiber rollouts have no doubt contributed to the uptick, although it is difficult to gauge VfIt's contribution on the subscriber front as a wholesale customer. As at 31 March 2019, VfIt said it had 2.78 million 'broadband' customers, up nearly 300,000 from one year previously, but did not give an NGA technology breakdown. In April 2018, VfIt confirmed that it will use Open Fiber's network in a total of 271 towns and cities by 2022. At the time of the announcement, VfIt was an active Open Fiber customer in 13 cities (Vodafonewatch, #165). The OpCo also has extensive wholesale arrangements, and a pending mobile network-sharing arrangement, with incumbent Telecom Italia (TI).
TI CEO sees positives in Open Fiber tie‑up
Luigi Gubitosi, Chief Executive (CEO) of TI, rekindled the idea of a network merger of some sort with Open Fiber. According to Reuters, Gubitosi thinks a tie‑up would be a positive move. "In the coming months we will discuss things with our board and with our shareholders to see what the next steps will be", he said.
The signs have been that VfIt will not necessarily object to an amalgamation between the two operators, provided access parity can be guaranteed. Speaking in December 2018, Aldo Bisio, CEO of VfIt, said his main priority was focusing on preserving "real competition" and ensuring no return to the TI monopoly that Open Fiber only "managed to break after many years" (Vodafonewatch, #170). Beyond VfIt, Open Fiber has retail partnerships with rivals Sky Italia and Wind Tre.
The idea of a TI–Open Fiber merger, which avoids duplication of network investment, has been brewing for some time. In April 2018, CDP fuelled tie‑up speculation by buying a single-figure stake in TI. Disputes among TI's major shareholders about how best to proceed is nonetheless a potential obstacle to any deal being struck. Elliot Management Corporation, an activist shareholder, has long wanted to spin off TI's landline assets. France's Vivendi, while not necessarily opposed to a merger, wants TI to keep control of its biggest asset. Gubitosi is backed by Elliot.