Operator firms up yet another business overhaul.
Deal made to outsource remaining retail outlets rather than close them as part of job cull.
Terms agreed for voluntary redundancies and retirements.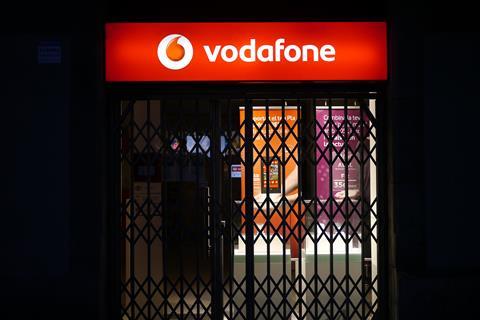 Challenged Vodafone Spain (VfS) is reported to have now concluded talks with unions on its latest downsizing plan, announced in mid-September 2021 (Vodafonewatch, #199).
An El País report suggests that the OpCo and worker reps at the Comisiones Obreras (CCOO) and Unión General de Trabajadores (UGT) have thrashed out a new Expediente de Regulación de Empleo (ERE), or employment regulation file, whereby 442 staff will lose their jobs or transfer to a new retail partner of the operator. This is down from the 515 losses originally proposed by VfS, but still well over 10% of its workforce (4,257 at 31 March 2021, according to Group figures).
The lessening of the blow has apparently been enabled by fresh arrangements for voluntary retirement and redundancy, and movement of staff between departments. The new ERE is said to cover the terms of who qualifies for voluntary exits, what levels of compensation they receive, and what obligations they are under after they depart, such as non-compete commitments. The application process for voluntary redundancy is expected to open up in mid-November 2021, with departures starting at the end of that month.
As mooted, the talks are also said to have ended up with an agreement by VfS to outsource its 34 remaining retail stores — rather than merely closing them, as originally envisaged. This, according to reports, could save the jobs of about 230 of the affected staff, as they will have the option to transfer across to the provider that ends up franchising the stores (assuming a deal is done).
Digital-driven downsizing
Vodafone has made numerous attempts to recalibrate its troubled Spanish business over the years, and the latest plan, announced by Group leadership in 2019, saw it put the OpCo at the forefront of its shift to a "Digital First" marketing and sales strategy across Europe (one of whose 'mid-term' aims is generate more than 45% of customer acquisitions via virtual channels, rather than shops — Vodafonewatch, #171 and passim). Over a longer timeframe, Vodafone Spain is said to have farmed out most of its real estate to third-party distributors, giving it an indirect footprint of about 600 stores.
The OpCo's new Chief Executive Colman Deegan recently expanded on the changes being made to "our organisation, our structure, and our direction of travel" during the TM Forum's Digital Transformation World Series. He echoed the themes outlined in the Group's Tech 2025 programme, which focuses on platforms, software, and "cultural transformation" (Vodafonewatch, #198). "What we look like today is not what we looked like three years ago, and for sure won't be what we will look like in three years' time, and that is the evolution to a tech company", he noted.
Part of this change involves having more IT capability reside within the company, which should give the operator more control over the products and services it develops, as well as the customer experience. The operator is also creating common platforms that can be scaled and reused across the Group. "Technology is enabling amazing capabilities and major steps forward in how we run our business … the exciting thing is [when it is] all being developed by our own teams", he said.
He said VfS is also changing how it works. "Three or four years ago, if you had mentioned words like tribes, squads, or agile, you [would] have had a lot of confused faces around the table. Now it's fundamental", he said.
As part of this shift, the operator is combining commercial and IT teams to work more closely together. In Spain, "we will bring in an incremental 75 IT engineers and 75 commercial people into our squads this year… in three years' time, I'm sure we will have more people working in commercial and IT than we have in other parts of the agile framework we have in other parts of the business", he added.
ERE we go again
The announcement to further scale back the VfS workforce represents yet another step up in cost cutting at the challenged OpCo and will see its headcount drop below the 4,000 mark — a level it has not been at for the best part of a decade. It last fell below this mark around March 2014, after another major round of redundancies, and before it (temporarily) bulked up through the July 2014 acquisition of cable operator ONO.
The ERE is said to be VfS's eighth in total — a reflection of the OpCo's competitive struggles over the last decade or more. It is a mechanism that Spanish companies must go through when embarking on mass lay-offs on the grounds of economic difficulties, and which is also designed to protect certain rights of workers. "For some years now, intense price competition and the drift towards low-value fees in Spain has led to a sharp fall in revenues and a significant margin deterioration", VfS said in a statement when commencing the ERE negotiations.