Reshuffles at Vodafone Business.
Boddy moves into Group Strategy Director position.
Tenorio take TIP topspot.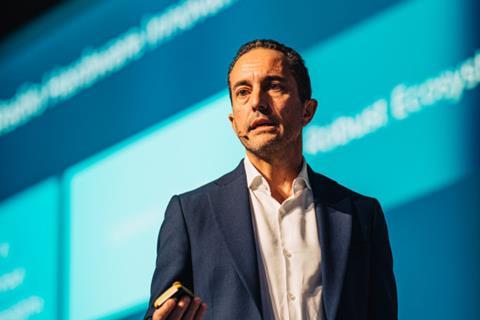 Company

Executive

Activity

Details

Sources: Vodafone, various.

Group

Richard
Ellis

New role

Richard Ellis, previously VodafoneZiggo's Director of Customer Service, was named Director of Sales at Vodafone's Cloud & Security unit.

Group Commercial, Operations & Strategy

Katharine Elliott-Fagerlind

Departure

Katharine Elliott-Fagerlind left her role as Head of Marketing for the Middle East & Africa at Vodafone Business. She was appointed Chief Marketing Officer for Saudi financial services player DEX.

Brian Fitzpatrick

Departure

Recent months' rejigging of Vodafone Business' senior management continued with news that Vodafone Carrier Services Chief Executive Brian Fitzpatrick is to step down from June 2020. In a LinkedIn post, Fitzpatrick said that "after many years on the road, my current plan calls for me to relocate to North America hopefully re-establish some roots". His successor is yet to be named.

Mikael
Gouerec

Appointment

Mikael Gouerec, Country Manager for France & Benelux at Tata Communications, was brought to Vodafone Business as Country Manager for France.

Murat Halil
Teksal

New role

Murat Halil Teksal was appointed Group Head of Financial Services in late‑2019. The executive, who joined the Group from Telenity in 2011 after spending five years with AT&T, will focus on fintech — suggesting there has been a broadening-out of Vodafone's financial services strategy beyond high-profile m‑payment and m‑transfer platform M–PESA.

Graeme
Harvey

Appointment

Vodafone Business named Graeme Harvey Head of Fixed Solution Sales. He joins from BT, where he was Deputy General Manager for Major Enterprise Specialist Sales.

Paul
Jacobs

Appointment

Paul Jacobs, formerly Director of Customer Experience Transformation at Deloitte Digital, was named Head of Operations Transformation at Vodafone.

Ilkem
Özar

Appointment

Ilkem Özar was appointed Head of Sales for Albania, Greece & Turkey at Vodafone Global Enterprise. She left her Chief Executive (CEO) position at Turkish technology player MAY Siber Teknoloji.

Florian
Plücker

Appointment

Florian Plücker was appointed Director of Products & Propositions for Business‑to-Business at Vodafone Business. He was previously in the same role at recent Vodafone Germany (VfD) acquisition Unitymedia.

Anne
Stilling

New role

Vodafone appointed Anne Stilling Global Director of Brand & Media, filling the position left vacant with Sara Martins de Oliveira's exit in 2019 (Vodafonewatch, #178). Stilling was previously Director of Brand Communication & Media at VfD.

Nils
Wiegemann

New role

Nils Wiegemann became Head of Germany for Vodafone Global Enterprise. He was previously Director of Business in the Rhein‑Main region for VfD.

Group External Affairs

Lucia
Hayes

Departure

Lucia Hayes, Head of Brand, Marketing & Communications for Vodafone Foundation, left the Group. She has become Director of Communications at Girl Effect, a media development non‑profit organisation.

Group
Finance

Samuel
Horrocks

Departure

Samuel Horrocks, Director of Finance for Vodafone's Internet of Things, Marketing, and Unified Communications & Connectivity business lines, left to join satellite operator Inmarsat as Group Financial Controller.

Matt
Johnson

Appointment

Vodafone Group appointed a new Director of Investor Relations (IR) in Matt Johnson. He joins from UK hospitality brand Whitbread, where he was Director of Strategy, Investor Relations & Communications.

Tim Boddy, his predecessor as Director of IR, has moved into a Director of Strategy role.


Tim
Boddy

New role

Group Human Resources

Ilker
Alioglu

New role

Ilker Alioglu, formerly Principal of Group Digital Transformation, was named Global Head of Organisational Effectiveness. A former Accenture executive, Alioglu has been at Vodafone since 2011.

Group
Technology

Bruno
Cornaglia

External appointment

Group Fixed Access Senior Manager Bruno Cornaglia was appointed Director of the SDN/NFV Work Area at standardisation body Broadband Forum. Cornaglia indicated that he was focusing on a virtualisation-based concept for fixed-access network sharing.

Svetlana
Grant

Appointment

Svetlana Grant was appointed Vodafone's Head of IoT Strategic Technology Partnerships. She joins after a decade with the GSM Association, most recently as Director of the organisation's IoT Programme.

Santiago
Tenorio

External appointment

Santiago Tenorio, Head of Network Strategy & Architecture at Vodafone, was appointed the new Chairman at open networking group the Telecom Infra Project. He succeeds former Deutsche Telekom executive Axel Clauberg, following the latter's recent move to join Amazon Web Services. Tenorio, who has been leading Vodafone's efforts around Open RAN use‑case development, said he will use his new role to "champion continued innovation and the opening up of supplier ecosystems to more competition".