Operator selects Chinese supplier for "end-to-end" next-gen 400G backbone solution.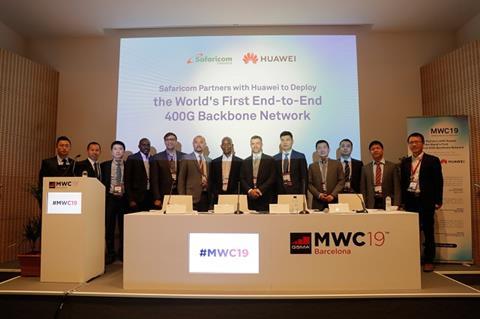 Safaricom committed to upgrading its backbone network from "100G" to "400G" capacity, using optical transport network (OTN) gear from network partner Huawei Technologies. No timeframe was given for when the new OTN kit might be installed, but that did not stop Safaricom and Huawei from claiming that this was the world's first commercial 400G project (Vodafone New Zealand reported a 400G implementation with Ciena in 2017 — Vodafonewatch, #159).
The upgraded backbone network, running between Kisumu, Mombasa, and Nairobi, will use Huawei's "end-to-end" IP+optical 400G network kit, which is based on the supplier's backbone router and OTN platform. The backbone router, as the headline billing suggests, provides capacity of up-to-400GE (Gigabit Ethernet)-per-port.
Huawei claimed that with fast reroute and automatically-switched optical network technologies, the 400G solution can enable "protection-switching in milliseconds". Performance of this sort purportedly "guarantees" the type of network reliability needed for delay-sensitive services, such as the M-PESA m‑money service.
Capacity crunch
Safaricom emphasised sharply-increasing traffic volumes to explain its desired shift from 100G to 400G capacity in the backbone network. According to the operator, expansion of fibre-to-the-home and enterprise fibre has put extra strain on the network, while mobile data usage has been doubling year-on-year.
"Huawei's end-to-end 400G solution coordinates router and WDM [wave division multiplexing] planning and maximises network value. It will help us fully utilise network resources, and optimise the forwarding cost‑per‑bit while ensuring high reliability. "

— Thibaud Rerolle, Chief Technology Officer, Safaricom.