Safaricom looks set to be blocked from operating fintech service in the country, appearing to make case for entry shakier.
Operator reaffirms Ethiopian commitment and indicates bid will be submitted.
Interested parties await ECA's spectrum auction update.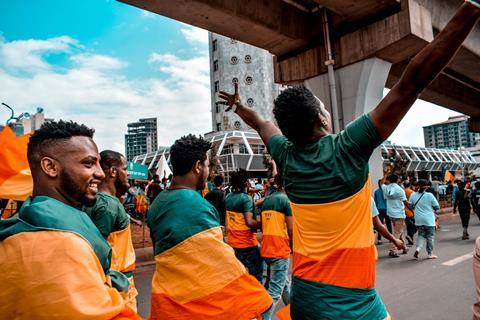 Safaricom's Chief Executive Peter Ndegwa gave a strong indication that the Global Partnership for Ethiopia consortium — led by Safaricom, alongside Vodacom and Vodafone — will still bid for a mobile licence in Ethiopia, even if it is unable in the short term to extend its flagship mobile money platform M‑PESA into the country.
The Ethiopian Communications Authority (ECA) opened the Ethiopian market for two new mobile competitors in May 2020 — part of the Ethiopian government's drive for an economic boost through "liberalisation and privatisation" of its telecoms sector. But this does not appear to extend to mobile financial services, as the operator originally hoped.
A fresh report in Business Daily earlier this week suggested that the consortium may devalue its bid, given an Ethiopian law stipulating that only "locally-owned non-financial institutions" are allowed to operate mobile m‑transfer systems in the country.
However, the message from Ndegwa during the operator's latest earnings call, held earlier in November, was clear. Ethiopia is a "long-term play" for Safaricom and the operator's hope, he continued, is that "if we went in with a pure telecom licence, that a mobile money license would then be allowed within [a relatively] short period of time".
Questions over the licence's appeal to Safaricom and partners are understandable, given what appears a marked shift in the consortium's approach from when it submitted an expression of interest in the Ethiopian mobile licence auction in June (Vodafonewatch, #187). Speaking on an earnings call in July, Ndegwa said that "a licence that doesn't include a mobile money licence will significantly reduce the level of profitability", and would thus force the Global Partnership to reduce its bid.
Should the consortium withdraw from the bidding, or fail, it is unclear whether or not Safaricom could revisit the idea of offering M-PESA in Ethiopia via a local partnership, as had been previously mooted (Vodafonewatch, #186).
Auction timing still a question mark
Axian Group, Etisalat, MTN Group, Orange, Saudi Telecom Company, and Telkom South Africa are among the other twelve parties that are said to have submitted expressions of interest in the two concessions being put up for grabs.
The ECA is expected to deliver an update on the auction timeline at the end of this month, with Vodacom Group Chief Executive Shameel Joosub speculating that the sale itself could be pushed to early‑2021 (and further delays appear possible, owing to an ongoing regional conflict in the Horn of Africa).
"We're monitoring the situation on the ground, given the recent developments. But so far, they haven't given full clarity yet on what [capital expenditure] and so on will be required. Once more information is available, it's anticipated that the auction will end up happening in February, March next year in Ethiopia."

— Joosub.
M‑PESA, debuting in 2007 (Vodafonewatch, 2007.03), is said to be Africa's largest fintech platform. At the end of 2019, it was said to serve more than 41.5 million customers and, as of today, is live in seven countries including the Democratic Republic of Congo (DRC), Egypt, Ghana, Kenya, Lesotho, Mozambique, and Tanzania. Safaricom, M‑PESA's main and most successful proponent, has long been seeking opportunities to expand the service into other African markets, although relies on authorities being willing to open up their financial industries to new sources of competition.
Too good to miss out
Speaking to local media outlet The East African in early-November, Safaricom's Chairman Michael Joseph reiterated the operator's desire to enter the Ethiopian market, premised on the fact that it is the second-most populous country in Africa with a reported mobile penetration rate of 45%.
Ndegwa, moreover, described Ethiopia as Safaricom's "primary focus" for international expansion given the "revenue opportunity, but also the operational capacity that will be required for us to be able to bring it to life". Expansion in East Africa has been a longstanding ambition for the Kenyan operator (Vodafonewatch, passim).
The government currently holds a monopoly on the sector via its ownership of Ethio Telecom — which claims to serve 44.5 million mobile and just under one million fixed-line customers — but as part of its open market incentive, ECA had recently announced its intention to make Ethio shares available to private investors.


Sam Patterson is a Staff Reporter for TelcoTitans, contributing telecoms news analysis since September 2020 as part of the TelcoTitans and Market Mettle Editorial team.