CEO sees refresh of INWIT's internal operations, instigated following meld of Vodafone Italy towers, as basis for industry leadership and stepping stone to expansion into new markets.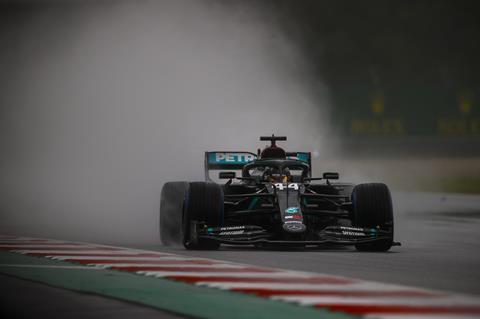 Giovanni Ferigo, Chief Executive of Vodafone and Telecom Italia's tower joint venture Infrastrutture Wireless Italiane (INWIT), talked up ambitions to become the "Mercedes" of the European telecoms infrastructure scene, executing on a post-merger business transformation programme and then exporting best practices into new markets.
Speaking during the provider's results call for the quarter to 30 June 2020 (Q2 FY20), held on Friday, Ferigo said he wanted "to create, to define INWIT as the best set up TowerCo in Europe" — and in the process presumably become the Toto Wolff of the regional passive infrastructure world.
Front of the grid
INWIT, he said, is focused on becoming a "new, very interesting machine".
"And so let me say, the setup will be, continues to be — okay, I'm Italian, so it's very difficult for me to say it — to build the Mercedes of Formula One in the tower environment."

Ferigo.
Ferigo said the JV, currently, was "very concentrated" on an integration effort following the March 2020 merger of TIM and Vodafone's tower assets (Vodafonewatch, #185), and focused purely on organic growth.
At the same time, he indicated the business was already "studying" the opportunity to expand into markets beyond Italy.
Once INWIT has developed best practices internally, these could be more easily exported with what Ferigo described as a "plug-and-play scheme". "We are studying and after one year, 18 months, we will start to analyse deeply some concrete opportunity", he added.
Edge and drones in focus as INWIT draws up new business plan
The Q2 session — headlined "Engine ON" — saw INWIT executives provide an update on the post-merger internal reshaping effort.
An efficiencies-centred integration programme, due for completion in March 2021, has been focusing on a refresh of INWIT's supply chain ecosystem, aimed at "strengthening" its vendor line-up post-merger, as well as "systems cloud-ification", "process digitalisation", and creation of "one, single, integrated team".
Ferigo also outlined an increased focus on innovation within the merged business, involving "exploring and assessing" new opportunities around edge computing infrastructure, smart-city solutions, use of drones, and "green solutions". A more detailed, new business plan is to be laid out by INWIT in November 2020, when it reports its Q3 figures.
Vodafone's cash grab could push back
Ferigo's comments regarding international expansion are another illustration of the competing interests and tensions Vodafone has let loose with its move to extract national tower assets from Europe Region OpCos, and in some cases meld them with rival setups.
Internally, the idea behind Vodafone's TowerCo creation programme clearly came out of its powerful Group Finance department and its focus on debt reduction and 'asset utilisation' improvement, to strengthen the challenged operator's financial footing.
However, as the likes of INWIT seek to deliver on that mandate, and flourish as standalone businesses, it remains to be seen how their operational efficiency and commercial ambitions can be balanced with OpCo network teams' focus on services differentiation versus operator rivals.
If INWIT has ambitions to expand internationally, as part of its go-to-market plan, there is also the question of how Vodafone can ensure it does not come into conflict with other national TowerCos and the over-arching, Germany-based Vantage Towers business, without limiting INWIT's potential.
In the midst of it all, too, are the crowd of Group shareholders and TowerCo co-owners that will all have their own ideas about how each business should approach a rapidly-evolving part of the telecoms market, which geographies and product segments to expand to, and how to go about creating efficiencies.
With TowerCo multiples soaring, Vodafone has said a lot about the cash-raising potential of its tower extraction programme — less so about how it is going to manage all of these interests.
In INWIT's case, the JV is morphing, through a pending ownership rejig due to be firmed up later in 2020, towards a convoluted shareholder structure seeing:
Vodafone own 33.2% of the business, and continue to share control with TIM.
TIM maintain its interest through a 51%-stake of TIM Tower HoldCo, a vehicle being set up with ownership of 30.2% of the JV.
The remaining 49% of TIM Tower HoldCo owned by a consortium of institutional investors led by private equity group Ardian.
Canson Capital Partners hold 3% of INWIT.
The remainder being listed.
As with other European TowerCos, Vodafone's interest in INWIT will be controlled by Vantage Towers, which is itself set to open up to new shareholders through a 2021 flotation.
INWIT shrugs off coronavirus and preps business ramp-up
The comments came as INWIT reported an apparently solid set of results for Q2 — the first quarter featuring performance as a merged business (although comparison with past performance remains somewhat blurred).
Ferigo said the JV had seen "no significant impact from COVID-19" and said it was ready for a "step-up in the level of activity" from later in 2020, outlining a number of business drivers it plans to leverage following the deal's completion. These include:
Creation of a "common grid" melding TIM and Vodafone Italy's combined 22,000 sites, particularly with an eye towards 5G needs.
A related push around renegotiation of leases. Ex-Vodafone staffer Diego Galli, now Chief Financial Officer of INWIT, highlighted creation of a "dedicated function" focused on contract "optimisation". This is being led by an unnamed former Vodafone Italy executive reporting directly to Ferigo.
The upcoming introduction of a "Simplification Law" in Italy, enabling infrastructure players to save time on securing permissions and speed up network rollout. INWIT stressed this was key to supporting 5G delivery.
Client diversification, linked with openness conditions laid down by the European Commission when approving the merger, including creation of a Transparency Register of sites in municipalities of more than 35,000 inhabitants. Currently, external "hospitalities" represent only around 21% of INWIT's points-of-presence and the JV is aiming to bring in more than 1,000 additional tenants by the end of FY20, with most currently expected to come from operators other than TIM and VfIt.
Densification via small-cells and Distributed Antenna Systems, including installation of DAS in "top locations" such as business headquarters, cultural sites, hospitals, stadiums, and universities. A "dedicated sales team" has been set up by INWIT, to "accelerate commercialisation" of DAS. In the prickly area of small-cell real estate, INWIT is focusing on "securing attractive locations in advance of commercialisation".
Fixed wireless access — an area VfIt has been moving into, and Ferigo has highlighted as an important driver of rural broadband delivery (Vodafonewatch, #186).
INWIT financial and commercial data, Q2 FY20 (selected)

The creation of the "new INWIT", incorporating Vodafone Italy's towers, essentially saw the business double in size, although step back on average tower tenancies because of VfIt's lower focus on commercial growth (and greater focus on savings) before the deal.

Q2 FY20
Trend (reported)
Source: INWIT.

Revenue

€184m

+83%

EBITDA after leases

€119m

+102%

EBITDA AL margin

64%

–

Tenancy ratio

1.83×

-0.07×

Operative sites

22,000

+11,000

Tenants (other operators)

8,500

+3,400

Richard Agnew is Group Editor at TelcoTitans.