Former Finance Director of Vodafone Intelligent Solutions takes on CFO role at newly combined entity.
Expanse moves come with Vodafone said to be contemplating selling part of its Indus stake to help out troubled Vi.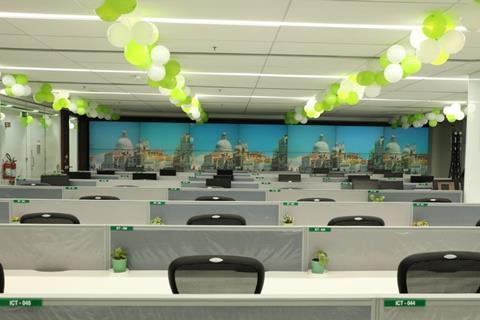 Indus Towers — the entity that emerged from the combination of the 'old' Indus Towers and Bharti Infratel, and in which Vodafone now holds a 28.12% share — seems to have spent much of its first three months introducing its management team and unveiling central pillars of its infrastructure, including a "NextGen" tower operations centre (TOC).
In a February 2021 post on LinkedIn, the TowerCo boasted that the TOC is "one of the biggest in the industry", managing more than 200 operations support systems under one roof and providing round-the-clock surveillance services for all of its 175,000+ sites across India.
TOC ticks tech boxes
New TOC functions include what Indus Towers describes as an "end-to-end tower management solution, incorporating the aspects of top-line maintenance, reliable tracking measures, and sustainable energy practices"; and real-time analytics that provide insights into all aspects of tower operations, from control and monitoring to tracking of energy utilisation.
The TOC also serves as a single point of contact for all circles and is said to facilitate a smoother billings operation. Increased automation is enabled through the deployment of artificial intelligence and machine-learning techniques.
Few other details on the TOC were provided, although it would appear that the facility is located in Gurgaon, a city situated just southwest of New Delhi.
No technology partners were credited for the upgrade, and there was no mention, for example, of any relationship between Indus Towers and IoT.nxt, the Vodacom investment with which Vodafone has been gestating an international relationship on base station monitoring technology (and smart-building solutions).
In terms of its new management team, Indus Towers has retained some managers from its constituent units, with at least one former Vodafone executive also included in the new line-up.
Bimal Dayal, who served as Chief Executive of the old Indus Towers, has been appointed CEO of the newly combined entity (Vodafonewatch, #191). Vikas Poddar, who most recently served as Global Head of Finance at the shared services business Vodafone Intelligent Solutions, has taken on the role of Chief Financial Officer.
Vi-ing for more cash?
The long-delayed merger between Indus Towers and Bharti Infratel was finally completed in November 2020 after an added set of financial commitments from Vodafone Idea — now re-branded as "Vi" — to the combined entity (Vodafonewatch, #189 and #190).
Vi, Vodafone's loss-making joint venture in India, is one of Indus Towers' biggest customers, together with rivals Bharti Airtel and Reliance Jio Infocomm. The JV cashed in its 11.15%-stake in the old Indus Towers during late-2020, netting INR 37.6bn (£371m/€425m) in return, and leaving Vodafone's direct, 28.12%-holding as the Group's sole remaining interest in the giant TowerCo.
Since then, it has been speculated that Vodafone may sell a small portion of this stake to inject yet more capital into Vi, according to a January 2021 report from The Economic Times.
The rumours began circulating just after Vi was said to be on the verge of announcing an investment of at least INR 146bn from Vodafone and several other US-based private equity investors.
In its 13 February earnings presentation for the quarter to 31 December 2020 (Q3 FY20–21), Vi confirmed that it is in "active discussions with potential investors" on a fund-raising exercise through which it hopes to garner up to INR 250bn.
The merger of Infratel's standalone tower assets with Indus envisaged the creation of the world's largest mobile infrastructure business outside of China. As of 31 December 2020, the new-look Indus Towers had around 175,510 towers and some 318,310 tenancies in India after gaining 3,416 new towers and 4,204 new tenancies in Q3 FY20–21. For the quarter, Indus Towers reported consolidated revenue of INR 67bn, a pro forma increase of 5% year-on-year. Earnings before interest, taxation, depreciation, and amortisation increased 10% to INR 36bn.

Anne Morris is a freelance journalist, editor and translator. She has been working as a reporter and news analyst for TelcoTitans since 2016.