CEO of South African IoT startup steps down in what appears abrupt decision.
Move comes despite repeated talking-up of IoT.nxt's progress and potential by parents Vodacom and Vodafone.
Statement highlights new leadership will steer IoT.nxt's "journey of globalisation" under Vodacom's stewardship.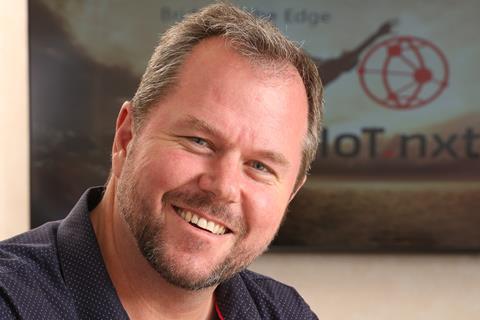 Nico Steyn, Chief Executive and co-founder of IoT.nxt, is to step down as the startup prepares for what he called a "next phase of commercialisation and corporatisation" under parent Vodacom Group.
The South African — who founded IoT.nxt with partners Terje Moen and Bertus Jacobs in 2015, and continued to lead it following its 51%-buyout by Vodacom in 2019 (Vodafonewatch, #174) — said he will remain a shareholder and board director at the enterprise Internet of Things specialist.
Hinting at an abrupt and unplanned switch, the business is to be managed on an interim basis by Shane Cooper, a recent hire as Managing Director of IoT.nxt Africa.
No warning signals
No reasons were provided for the change — which comes as something of a surprise, given IoT.nxt only recently realigned its senior management and has appeared to be continuing to deliver for Vodacom during the pandemic.
In its latest quarterly results, for the three months to 31 December 2020, the South African operator claimed 39.1% growth in overall IoT revenue, and CEO Shameel Joosub pointed to further traction in commercial tie-ups between IoT.nxt and Vodafone businesses around key products, including its Raptor base station monitoring technology, CoVision smart-buildings system, and mobile private networks (Vodafonewatch, passim).
" IoT.nxt is a South African subsidiary but we're now selling our services as far afield as California. We've had some really nice uptake of the platform by Vodafone UK, Vodafone Netherlands [VodafoneZiggo], Vodafone Germany. So it is being embedded more and more into the Vodafone group. Of course not all that revenue is flowing yet, but… let's say it's a very credible story. "

Joosub, speaking in early-February.
Letting go
There were some suggestions in IoT.nxt's statement that IoT.nxt's closer integration with its parents had had at least a partial role in Steyn's resignation.
" I will now focus my time and effort in areas of the business that I most enjoy and where I can continue to add meaningful value. "

" As a founder making this decision is not easy. However, I know the exceptional executive team that we have assembled over the past 18 months is well positioned to embrace the next phase of commercialisation and corporatisation that is required for IoT.nxt's journey of globalisation. "

Steyn.

" Going forward, as we settle into the new managerial structure, we will be reviewing the leadership requirements in critical areas of the business with a view to ensure we continue to deliver on our strategic objectives and global aspirations. "

Wayne Fitzjohn, Chairman, IoT.nxt.
Neither Vodacom nor Vodafone have an unblemished record, over the years, when it comes to buying in innovation by acquiring startups and melding them into their corporate structure. However, Steyn had pointed to a healthy relationship with its parent as recently as mid-2020, saying Vodacom had allowed IoT.nxt to continue to operate as an independent unit within the group. "We had been worried about losing control of the business", he admitted, but added that "Vodacom has been a great partner".

Richard Agnew is Group Editor at TelcoTitans.