Rival claims foul play in behind-scenes negotiations with Disney.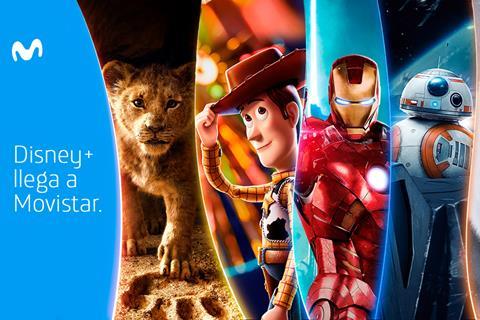 Telefónica España (Movistar) agreed a deal to become the "strategic distributor" for The Walt Disney Company's much-anticipated Disney+ streaming service, although in doing so brought heat back onto its market position in pay‑TV.
Following negotiations that had reportedly gone on for months, the two businesses shook hands on an agreement that has seen Disney+ integrated within the operator's Movistar+ pay‑TV platform. The move adds "more than 25 exclusive originals, 500 movies, and 300 series" to Movistar+, including content from Disney, Marvel, National Geographic, Pixar, and Star Wars.
The service went live in Spain on 24 March 2020, as part of Disney+'s expansion into Europe, albeit with video quality scaled back in line with streaming industry commitments to take steps to ensure network infrastructure is not over‑burdened during the coronavirus crisis. With the Spanish government having declared a state of emergency and placed the population on lockdown as the virus spreads, the already highly‑anticipated service launch may see a further bump in demand.
"After years of a strong relationship between Telefónica and Disney, we are excited to announce this alliance. Disney + enriches the experience of Movistar customers, with exceptional storytelling from five incredible Disney brands. "

— Emilio Gayo, Chief Executive, Movistar.
The inevitable pushback…
Movistar's statement avoided reference to any exclusivity to its relationship with Disney, but did say the deal "presents a unique opportunity for Movistar+ subscribers".
This apparent caution over language looked prescient, as, on the day of Movistar's announcement, Vodafone Spain was reported to have sent a letter of complaint to the Comisión Nacional de los Mercados y la Competencia (CNMC). Vodafone is said to argue that the Movistar–Disney agreement breaches conditions imposed on Telefónica as part of its controversial Canal+ acquisition in 2015 (which came with a content wholesaling obligation for other communications providers — Telefónicawatch, #96).
Vodafone has also apparently been in negotiations with Disney, but claims the US media provider has moved much more slowly on integration with its Vodafone TV platform. As such, it described Movistar's agreement as offering "covert exclusivity" for the incumbent. The CNMC has yet to outline its response to Vodafone's move.
Movistar's deal came as a range of Disney+ carriage partnerships were confirmed in Europe. Telefónica UK has secured mobile distribution rights to Disney+ content in Britain, with Sky forming Disney's main partner in the country, whereas Deutsche Telekom has tied with the provider in Germany.