Telefónica|Vivo signs a 50:50 deal with Quebec-based investor to launch FiBrasil.
Wholesale fibre provider will expand Vivo's geographic reach, while the OB focuses on upgrading its existing fixed-network footprint.
Long-heralded $1bn Chilean InfraCo plans culminate with KKR taking 60% stake.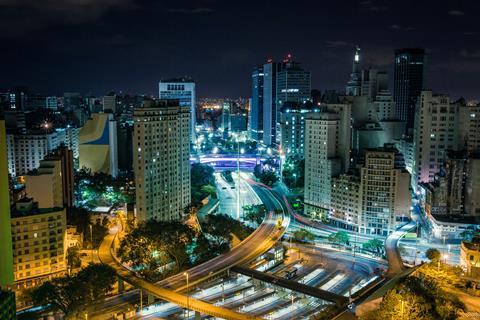 Telefónica signed a deal with Canadian investment group Caisse de Dépôt et Placement du Quebec (CDPQ) to establish FiBrasil, a neutral fibre wholesale provider joint venture (JV).
CDPQ took a 50% stake in the operation, with Telefónica Infra and Telefónica|Vivo splitting the remainder. CDPQ's investment amounts to up to BRL 1.8bn (€269m), spread over primary and secondary payments.
The deal is subject to regulatory approval, but anticipated to close in the second quarter of 2021.
Greenfield expansion from a brownfield base
FiBrasil — known simply as 'InfraCo' until now — will focus on "selected mid-sized cities across Brazil outside the state of Sao Paulo", with Vivo to act as an "anchor tenant", according to the operator's Chief Executive Christian Gebara. Being a neutral wholesale provider, access to the network will be offered to other operators.
Telefónica's side of the bargain will see it contribute a network passing 1.6 million premises on "brownfield" sites to the new entity. The extent to which the brownfield sites are a mix of copper and fibre connectivity was not stated by Telefónica. Nevertheless, this network will provide momentum as the new company aims to reach a goal of passing 5.5 million premises with full fibre by 2025. This rollout will reach a number of "greenfield cities" where Vivo will use the new infrastructure to launch services for the first time.
As previously flagged by Gebara, Vivo hopes the JV will enable "faster" fibre-to-the-premises (FTTP) rollout, "with lower capex" as it chases a target of passing 24 million homes by 2025 (Telefónicawatch, #149). In its results presentation for the year and final quarter of 2020 (Q4 FY20), the operating business reported it had passed 3.3 million homes (a 36.3% increase year-on-year). It now claims to have a FTTP network in 266 Brazilian cities, with revenue of BRL 896m in Q4 (up 52% year-on-year).
Brazil plans end in tiers
Speaking on Telefónica Group's FY20 earnings call in late-February 2021, Chief Operating Officer Ángel Vilá fleshed out the strategy for Brazilian FTTP deployment by referring to a three-tier market. "Tier one" areas, he said, will be wholly developed with Vivo capex and owned, operated, and managed by the OB itself. "Tier two" areas will be addressed through collaborations such as the FiBrasil venture, and the existing partnership with American Tower in Minas Gerais (Telefónicawatch, #143). The third tier is to be reached through a franchise model, with local network providers putting up the capex and licensing the Vivo brand, and the operator managing installation and operations.
KKR takes charge in Chile
Ahead of the announcement of FiBrasil, it was confirmed that after more than a year of seeking an appropriate partner (Telefónicawatch, #142), Telefónica had reached an agreement with investment firm KKR for the creation of a new fibre infrastructure venture in Chile.
KKR, a close Group partner on infrastructure deals since taking a stake in Telxius (Telefónicawatch, passim), is to own 60% of the new venture, which is described as "Chile's first open access wholesale fibre-optics company".
The deal, expected to close in the first half of 2021 subject to regulatory approval, will see Telefónica hand over its existing fibre infrastructure in the country, covering around two million premises. The new venture has a target of expanding coverage to 3.5 million households by 2023, and the new partners noted that two-thirds of the footprint will be serving a population that lives outside high-density, high-income, urban areas.
The deal values the Telefónica fibre business in Chile at $1bn (€840m), with Group Chief Financial Officer Laura Abasolo highlighting that this puts a $500 value to Telefónica on each home passed by fibre in the country. This was further used by Abasolo to underline the Group's belief that its Hispanoamérica business more generally remains undervalued by investors (see separate).
FibreCos springing up
The latest deals follow an agreement in Germany, where Telefónica Deutschland created a 50:50 joint venture with Allianz to drive rural and semi-rural fibre rollout. Unlike the Brazilian and Chilean deals, however, the German venture does not entail a transfer of existing FTTP network assets, with the operation effectively starting at zero (Telefónicawatch, #149).
Telefónica del Peru, for its part, created PangeaCo in 2020. Though currently wholly-owned by the Peruvian OB, it is again pegged as an initiative to "close the digital divide" — ostensibly targeting under-served, semi-rural regions (Telefónicawatch, #149).

Joseph Purnell is a Staff Reporter for TelcoTitans, contributing telecoms news analysis since 2019 as part of the TelcoTitans Editorial team.