New Digital Operations Centre forms part of the Group's Innovation and Talent Hub transformation strategy.
DOC draws together disparate Telefónica Cybersecurity & Cloud Tech teams from across the capital.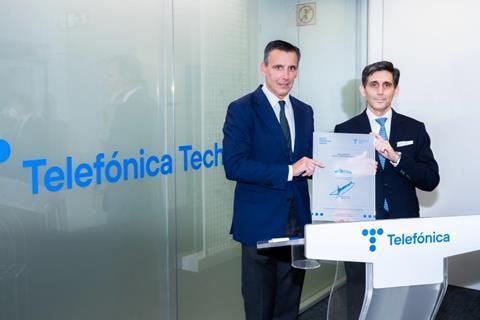 Group Executive Chairman Jose María Álvarez-Pallete cut the ribbon at Telefónica Tech's Digital Operations Centre (DOC), a hub for cybersecurity and cloud services.
The DOC is situated at the Distrito Telefónica HQ in Madrid and forms part of the operator's effort to transform its central offices into an "Innovation and Talent Hub" by 2024.
It will bring together teams and operations experts working in the Telefónica Cybersecurity & Cloud Tech division, including those already based at the Group HQ and two teams currently working from other Madrid offices in Gran Vía and Julián Camarillo. Together, these teams will sit within a network of eleven operations centres around the world.
Some 200 staff will work from the DOC, coordinating with Telefónica Tech's 2,300 colleagues in international operations teams.
Cybersecurity & Cloud gets a new home
Álvarez-Pallete was joined by Telefónica Tech Chief Executive José Cerdán for the inauguration. Cerdán said the DOC will be used to deliver an "innovative and comprehensive cybersecurity and cloud offering". It will also enable the provision of personalised digital tools and services, he added.
Distrito Telefónica DOC services suite
Source: Telefónica.
Security management

Services focused on perimeter security devices, such as firewalls and proxies.

Massive industrialised services

Standardised services that are underpinned by a 'high degree' of automation.
Primarily focused on protecting Spanish critical infrastructure from foreign attack.
Support for Telefónica España's security service operators, including Conexión Segura and Tu Empresa Segura.

Digital Surveillance

Monitoring of cloud assets as part of Telefónica's NextDefense enterprise services suite. These include Managed Detection and Response, Risk-base Vulnerability Management, and Security Intelligence.

Endpoint monitoring and management

Threat detection and analysis tool.

Security services in the cloud

Security tools for Secure Access Service Edge and SD-WAN.
Telefónica commits to campus life
Álvarez-Pallete pointed to the DOC's place in the wider Group transformation initiative. "We continue to enrich our global Innovation and Talent Hub with the services and resources that society demands", he said.
The Group plans to invest €100m into the Hub within the next two years, with completion anticipated in 2024 to coincide with the operator's first centenary. As well as hosting Telefónica staff, the 140,000 square metres of office space will be used to train 100,000 people annually in digital skills, serving as a tool to "attract and retain talent" according to Álvarez-Pallete (Telefónicawatch, #159).
Distrito Telefónica also hosts the Group's Universitas, a "corporate university" launched in April 2022 to provide working spaces for both face-to-face and remote training. The Universitas campus includes a virtual learning environment equipped with video collaboration tools, and was described as a core part of the Innovation and Talent Hub strategy (Telefónicawatch, #162). Telefónica partnered UK-based cloud communications software provider LoopUp Group, which will deploy its Hybridium events solution at the HQ. Hybridium will be used to support Universitas hybrid classes.
Also on the HQ campus is an Innovation Center, which hosts R&D projects (such as that with Grupo Álava on predictive maintenance for industrial machinery) and talent training (Telefónicawatch, #161).
Further, the transformation led to a reorganisation of Fundación Telefónica. The Group's charitable arm was brought within the Innovation and Talent Hub strategy under new President Álvarez-Pallete in February 2022, with a renewed focus on employability training for "those that need it most".

Joseph Purnell is a Staff Reporter for TelcoTitans, contributing telecoms news analysis since 2019 as part of the TelcoTitans Editorial team.