Deal continues Telefónica's collaboration with Darwin on development of new CAV industry vertical.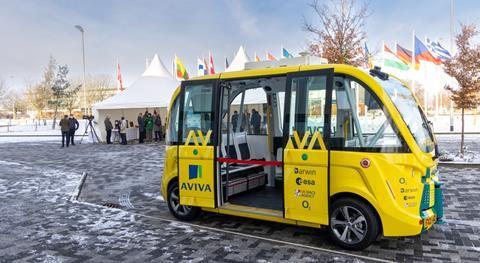 Telefónica Tech signed a strategic agreement with communications R&D specialist Darwin Innovation Group to develop a security solution for terrestrial and satellite communication channels of connected autonomous vehicles (CAV).
Darwin's technology enables CAVs to switch between satellite and 5G networks, while Telefónica Tech is providing cybersecurity services to protect the vehicles.
The new agreement will see Telefónica Tech's security experts work with Darwin's development team to perform penetration tests on Darwin's technology to identify and resolve vulnerabilities.
Telefónica added that the collaboration will enable Darwin to ensure its technology "takes cybersecurity into account at the design level and improve identity processes", resulting in a "cybersecurity shield" that spans multiple sectors, securing both terrestrial and satellite channels, "so that different networks can be used to support each other without compromising security".
Telefónica and Darwin Innovation Group are also supporting Project Darwin, unveiled in June 2019 and centred on the Harwell Campus, a science and innovation hub based in Oxfordshire (Telefónicawatch, #136), which is testing new technology and end‑to‑end connectivity solutions, including 5G and satellite communications, to aid development of the new CAV industry vertical. The four‑year trial programme is also backed by the European Space Agency (ESA), the UK Space Agency, Oxford and Glasgow Universities, and various startups specialising in self‑driving mobility solutions.
As well as the Harwell Campus, Darwin has locations at Telefónica's (O2) London and Slough offices and in Glasgow. O2 UK and ESA opened the Darwin laboratory to explore the use of satellite and 5G technology for automated vehicles at the University of Glasgow in 2020 (Telefónicawatch, #148). The 5G equipment for the new lab is provided by Nokia and the geosynchronous communications satellites by Spanish satellite operator (and former Group investment) Hispasat.
O2 UK also partnered with Cisco and others in May 2020 to develop what was described as a "cybersecurity blueprint" for connected and autonomous mobility.
The new deal furthers Telefónica's focus on the cybersecurity sector following the October 2020 launch of Telefónica Tech Ventures, which aims to develop in‑house investment capabilities for Telefónica Tech while detecting disruptive innovation in cybersecurity, and comes after a tie‑up between Telefónica Tech and Malaysian operator Celcom Axiata Berhad to bolster its cybersecurity portfolio.