Commerzbank's comdirect to support refresh of O2 Germany's O2 Banking service, after break-up of relationship with launch partner Fidor Bank.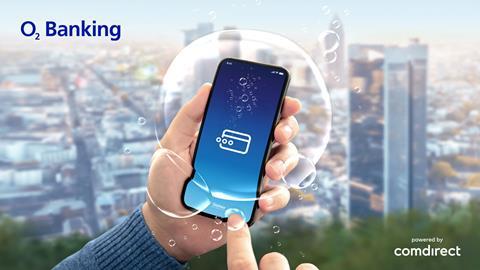 Telefónica Deutschland finally unveiled the name of its new partner for the O2 Banking service. comdirect bank is to pick up where Fidor Bank left off, although hopefully with more success.
O2 Germany — which revealed in late-April 2020 that it was in advanced negotiations with a new partner for its banking service (Telefónicawatch, #143) — has now confirmed that comdirect, 90%-owned by Commerzbank and described as one of the leading online banks in Germany, will offer a full-fledged banking service to O2 customers, including a Girocard debit and Visa credit card.
The refreshed O2 Banking will also offer the ability to withdraw cash worldwide free of charge, and access to contactless payment systems and the Apple Pay and Google Pay digital wallet platforms. A new bonus programme will be available from autumn 2020. The new O2 Banking app will be available on Android and iOS smartphones from 28 May 2020. O2 Banking customers will also have access to the cominvest virtual adviser for wealth management.
Slate apparently wiped clean for O2 Banking customer base
It seems that existing O2 Banking customers will not be automatically transferred to the new service but O2 Germany will offer a €25 bonus and 50GB of free mobile data to those who open a new comdirect account by 30 June 2020, although this is subject to certain conditions.
Wolfgang Metze, Chief Consumer Officer at O2 Germany, described comdirect as the "ideal partner" for O2 Banking, noting that the two partners have the same objective of turning the mobile phone into a "smart companion" for digital banking services. The new banking service is based on comdirect's Banking Industry Platform, which appears to be its white-label platform for banking services.
Account closed
O2 Germany provided no explanation as to why it decided to end its relationship with Fidor Bank, a German digital banking player that has supported O2 Banking since June 2016 (Telefónicawatch, #107).
It can only be surmised that O2 Banking's performance has so far failed to meet expectations. Although O2 Germany has not revealed specific figures for the banking service, broader signals have not been positive. In the operating business's Annual Report for the twelve months to 31 December 2019, it said its "other revenues" line, which includes O2 Banking, slumped to €11m in the year. In FY18, the figure was €13m and FY17 €19m.
According to German website finanz-szene.de, Fidor Bank was serving around 70,000 white-label O2 Banking customers as of 31 December 2018. Fidor Bank was acquired by France-based BPCE in 2016, but indications are that the purchase has not been a success. BCPE was said to have attempted to sell the bank to Germany's Oldenburgischen Landesbank in 2019, but the talks apparently fell through in late-2019.
In this context, it is also worth noting that comdirect is to be merged into parent bank Commerzbank. The business models of the two banks have become more closely aligned, with a growing focus on digital and mobile-first banking. However, Teltarif pointed out that it is currently unclear how the merger would affect the O2 Banking offer, also noting that the comdirect name could eventually disappear.