Partners manage autonomous robots at CIE Automotive facility in Spain following 5G implementation at Port of Málaga.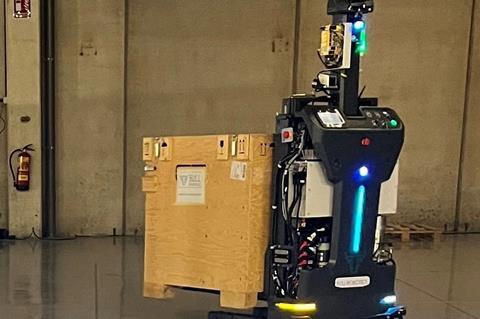 Telefónica and Japanese IT services company NTT Data added another 5G industrial application to their collaboration in Spain with a "5G intralogistics management platform" developed for automotive supplier CIE Automotive Group.
Currently a proof of concept, the 5G-based platform manages the movement of products from the assembly line to the warehouse via automated guided vehicles (AGV) and autonomous mobile robots (AMR), and is being validated at a CIE Automotive facility in Itzair, Guipúzcoa that makes fuel rails for car engines.
Telefónica, via Telefónica Tech and Telefónica Empresas, was said to provide the 5G connectivity, partner ecosystem, and "Industry 4.0 capabilities". Telefónica partner DTA, a Spanish provider of on-site transportation vehicles, supplied the 5G-enabled AMRs that are integrated into the platform.
NTT Data brought together the analytics and business management systems, including SAP, to integrate and process information from the production and AGV navigation systems.
The joint solution is intended to make it easier and more efficient to move products through manufacturing and distribution facilities, as well as ports. For CIE, the 5G-connected AGVs enable "continuous flow of supply and collection of finished product packaging for stacking at height in the warehouse", said Jon Ezkerra, R&D Project Coordinator at CIE Automotive.
The partners hope to "industrialise" the solution for a broader set of customers, and add more "connected factory and fleet management functionalities" along with additional interfaces for other AGV and AMR systems.
Duo deploys 5G port in Málaga
The implementation for CIE Automotive follows a similar collaboration between Telefónica and NTT Data in the Port of Málaga at the end of last year. The project enabled port staff to control the access of vessels in real time, detect unauthorised vessels, and gather data. In this case, NTT Data provided the analytics and artificial intelligence tech applied to real-time data from 5G-connected cameras and devices, while the telco provided the 5G connectivity and VDC Edge node for local data processing.
NTT Data is a familiar partner and the companies have ties on projects in Europe and Latin America. Most recently, the Japanese firm was part of the first "Wayra Labs" in Bogotá, Colombia, where it demonstrated a 5G augmented reality application for sporting events (Telefónicawatch, #162). NTT Data subsidiary everis, a consultancy and outsourcing specialist, is part of Telefonica's Internet para Todos rural connectivity joint venture in Latin America (Telefónicawatch, #144, #149, and #157).
Telefónica's also has partnerships with telcos from the Asia-Pacific region beyond NTT's IT services arm. In December 2021, Telefónica Tech teamed with Malaysian operator Celcom Axiata Berhad to provide cyber-threat solutions in the country, which followed a security services-focused partnership with TM ONE, Telekom Malaysia's public sector and enterprise division, in the same year (Telefónicawatch, #153).
In late-July 2020, Telefónica Group named the B2B division of Axiata as its newest Partners Program ally, with plans to develop integrated offerings for a range of industry verticals, highlighting agriculture, energy, mining, and transport. The Spanish operator's Partners Program also includes China Unicom.
Further back, Telefónica teamed with SoftBank Telecom in 2015 to offer services to multinational companies in Japan and Asia-Pacific. In 2018, Telefónica joined AT&T, Etisalat (since rebranded to e&), Singtel, and SoftBank to create the Telco Security Alliance.

Michelle Donegan is an experienced telecoms writer and has been contributing as a reporter and news analyst for TelcoTitans since July 2020.