Cancom business, bought in August, becomes "Telefónica Tech UK & Ireland".
New name reflects ambitions to widen out Group's in‑country offering.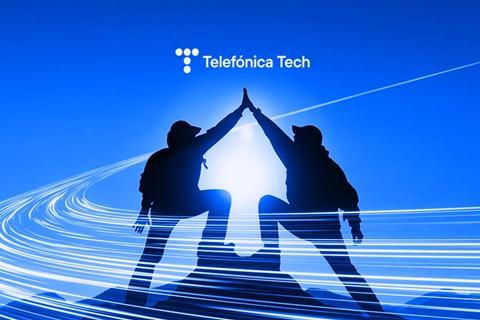 Telefónica again flagged intent to target the UK for new business opportunities that skirt close to the perimeter of joint venture Virgin Media O2, with a rebrand of recent cloud services acquisition Cancom UK & Ireland.
The operation — bought from Germany's Cancom Group during late‑July in a €390m (€331m) deal (Telefónicawatch, #156) — was renamed "Telefónica Tech UK & Ireland" earlier this month, according to a Companies House filing.
The new brand reflects plans to tie the business into the Telefónica Cybersecurity & Cloud Tech arm of Telefónica Tech, the Group's highly acquisitive growth areas division, and up its B2B game in the UK.
Telefónica Tech also recently installed its General Counsel Diego Colchero and Head of Investor Relations & Corporate Development Jaime Rodríguez‑Ramos to oversee the UK & Ireland unit (Telefónicawatch, #158), and has begun integrating its 600 staff within Telefónica Cybersecurity & Cloud Tech.
As previously noted, the shareholders' agreement underpinning Telefónica and Liberty Global's creation of VM O2 leaves room for the Spanish group to expand in various areas within the Telefónica Tech ballpark. These include the former Cancom business markets of cloud, cybersecurity, and data centre services, as well as over‑the‑top products. Also free for action is Telefónica Infra's focus area of ownership, management, and leasing of communications towers.
Following the buyout of the former Cancom unit, José Cerdán, CEO of Telefónica Tech, said the deal would "strengthen our cloud and cybersecurity capabilities in the UK and Ireland, with a strong focus on professional and managed services". Cancom, meanwhile, said it was exiting the UK and Ireland to distill focus onto the DACH region (Austria, Germany, and Switzerland). The German provider built the business through 2018–2019 acquisitions of IT players Ocean Intelligent Communications and Novosco.
More than cybersecurity?
It is notable that the new Cancom name is Telefónica Tech UK & Ireland, reflecting the wider division rather than just the Cybersecurity & Cloud unit into which the business naturally fits. When Telefónica Tech took control of the local Telefónica cybersecurity business in Brazil, it was branded "Telefónica Cibersegurança e Tecnologia do Brasil" to reflect its focus.
This may suggest that, in the longer term, the UK business may expand to encompass products and services linked to Telefónica Tech's other core unit, Telefónica Big Data and IoT, such as the Smart Steps offering previously provided by the erstwhile Luca division, and sold by O2 Business (Telefónicawatch, #144 and passim).