Smart shin pad provider Humanox nets deal with Club Atlético Osasuna and Telefónica for Spanish grassroots rollout.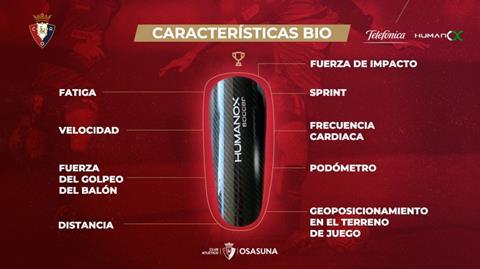 Telefónica has partnered with Spanish football club Atlético Osasuna and startup Humanox to launch a sports development programme for 18,000 children in the Navarre region, involving connected-shin pads.
The 'Cantera Salud' programme aims to introduce new technologies into football training for youngsters, in order to identify and nurture rising talent from 137 youth teams linked to Osasuna. It will do so by distributing Humanox's HX50 smart-shin pads to teams, connected with Telefónica España's mobile network for real-time data tracking and monitoring. Osasuna claimed there are "several sponsors" interested in supporting the programme.
"This pioneering technological solution opens up a whole world of possibilities for use not only in soccer but also in other sports. The digitisation of society and the opportunities it opens up for us in all areas is one of Telefónica's strategic commitments."

Andrés Escribano, Director of IoT & Big Data, Telefónica.
Humanox Chief Executive Rafael Contrera highlighted the benefits of offering grassroots players wearable technology that is "typical of professional footballers". Agustín Cardenas, Director of Transformation at Telefónica Empresas, said the partnership formed part of Telefónica's "commitment to the digital transformation of the economy and of society".
Humanox started its relationship with Telefónica as an inductee to its IoT Activation Programme. The scheme opened its doors once again in May 2020 to applications from startups looking to develop solutions based around artificial intelligence, blockchain, IoT, and carrier billing, offering free tech integration and the potential for funding from Telefónica investment and development arm Wayra.