Group finalises long-awaited divestment.
Final transaction price is $538m, around $40m short of previously agreed deal.
Movistar marque utilised by Liberty as it pursues multi-brand strategy in Costa Rica.
Former Movistar Costa Rica exec to head operations.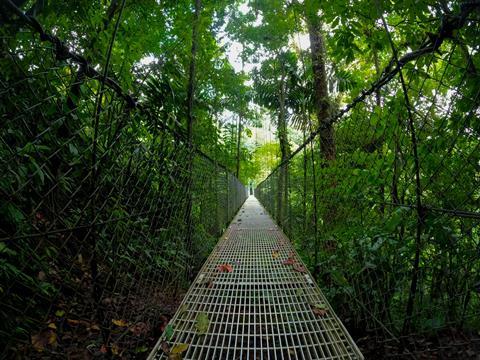 Liberty Latin America (LLA) completed the acquisition of Telefónica Costa Rica (Movistar). The purchase price was $538m (€458m/£388m), according to a Telefónica filing with Spanish market regulator Comisión Nacional del Mercado de Valores.
The filing added that the transaction reduces Group net debt by around $440m.
Following the deal's completion, Movistar — which was the market's second-largest mobile player with approximately 2.4 million subscribers — has merged with LLA's Cabletica cableco, creating a new, integrated communications player operating under Cabletica|Movistar branding (Telefónicawatch, #146 and #155).
LLA said the merger will not affect commercial operations or the branding of telephony and mobile service offerings, which will continue to feature the Movistar marque.
While details on the leadership team of the new entity are thin on the ground, Johanna Escobar Guerra has taken the position of General Manager. According to La Republica, she will report to Guillermo Ponce, LLA's Senior Vice-President of South-Central Markets. Guerra was formally Chief Executive of the (erstwhile) Movistar Costa Rica (Telefónicawatch, #107).
In a short statement on the merger, Guerra said the combined business will look to expand strategy to "new value propositions", accelerate the expansion of fixed and mobile networks, and create an "unsurpassed" customer service experience.
Ticked off the checklist
The announcement came a matter of days after the merger partners were handed the green-light to conclude the deal by Costa Rica President Carlos Alvarado Quesada. The Superintendencia de Telecomunicaciones (SUTEL), Costa Rica's telecommunications authority, had already ruled that the acquisition is not anti-competitive (Telefónicawatch, #155).
The Group's Costa Rica exit has been marred by delays. The former buyer-elect Millicom International Cellular pulled the plug on an initial agreement, worth $579m, in May 2020 — a move Millicom premised on apparent, and hotly disputed, regulatory complications (Telefónicawatch, #145, #145, and #152).
The Costa Rica divestment reflects Telefónica's long-running commitment to isolate and monetise its Hispanoamérica unit. This in turn forms part of a major transformation plan, unveiled in November 2019, that refocused the Group's attention on four core markets: Brazil, Germany, Spain, and the UK (Telefónicawatch, #141).
Telefónica made quick initial strides with deals to offload its operating businesses in Central America, with Nicaragua and Panama sold to Millicom in 2019. Telefónica has in the last couple of years also sold Movistar Guatemala and agreed a deal to sell its assets in El Salvador to América Móvil, but saw the latter fall through (Telefónicawatch, #132, #137 and #146).
Argentinian media conglomerate Grupo Olmos has also formalised interest in Telefónica Uruguay.
LLA wants more?
A recent El Economista report described LLA as a possible purchaser of Telefónica's assets in Chile, with the Group purportedly stepping up efforts to source a buyer. However, there was little indication as to whether a potential deal would include both fixed and mobile assets in the country, nor was any reference made to existing restructuring plans for Chile, which includes the establishment of a new InfraCo venture with investment firm KKR (Telefónicawatch, #152).
LLA was spun off from Liberty Global in late-2017, and today operates in 20 countries across Latin America, in the Bahamas, and across the Caribbean under the consumer brands BTC, Cabletica, Flow, Liberty, Más Móvil, UTS, and VTR. It also operates a subsea and terrestrial fibre-optic cable network that connects more than 40 markets in the region.
Telefónica's Latin American telecoms holdings, 31 December 2020
Operating business
Country
Group shareholding (%)
Source: Telefónica.

Telefónica Brazil

Brazil

73.69%

Telefónica Hispam

Telefónica Venezolana

Venezuela

100%

Colombia Telecomunicaciones

Colombia

67.5%

Telefónica Móviles México

Mexico

100%

Otecel

Ecuador

100%

Telefónica de Argentina

Argentina

100%

Telefónica Móviles Argentina

Argentina

100%

Telefónica Chile

Chile

99.14%

Telefónica del Perú

Peru

98.94%

Telefónica Móviles del Uruguay

Uruguay

100%

Other

Telefónica Móviles El Salvador

El Salvador

59.58%

Sam Patterson is a Staff Reporter for TelcoTitans, contributing telecoms news analysis since September 2020 as part of the TelcoTitans Editorial team.