After the abrupt end of its Securitas partnership, Telefónica is again attempting to integrate security services into its connected home strategy.
Despite allusions to "smart" solutions, Prosegur currently remains principally a traditional burglar alarm business.
Shareholder and partner.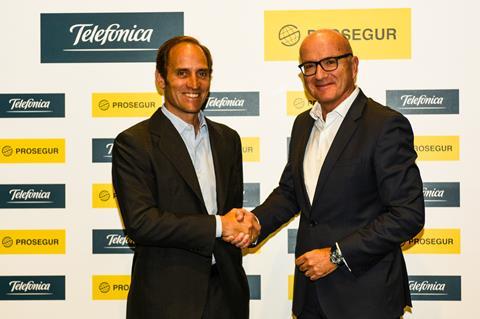 Telefónica España is to acquire a 50% stake in Spanish home-monitoring and alarm business Prosegur in a deal that values the company at €600m.
The deal, which is subject to approvals by the appropriate authorities, could see Telefónica pay the consideration in treasury shares, giving Prosegur a stake in the telco. In heralding the deal, Ángel Vilá, Telefónica Group Chief Operating Officer, welcomed Prosegur as a "partner and future shareholder".
The companies said their collaboration would enable the development of innovative new solutions for residential and small business customers. Telefónica considers that the demand for connected home solutions will provide an opportunity to build and incorporate security products.
Prosegur already offers what it describes as a "smart" alarm system with app‑based controls, as well as more traditional domestic security alarms linked to a central control.
The partners suggested that the Spanish home security market is to continue growing substantially in the coming years, and the country has been identified as one of the fastest growing for alarm and monitoring systems in Europe. Research from Statista indicates a compound annual growth rate for security system revenue of around 15% in the period to 2023, although the annual rate of growth in Spain is set to decline year‑on‑year from 2019 levels of around 25%.
The partners have also agreed to explore opportunities for collaboration between their venture capital units, Prosegur Tech Ventures and Telefónica Innovation Ventures.
Prosegur plugging Securitas gap
The collaboration with Prosegur follows the shuttering of the Movistar VeriSure Hogar smart security solution in 2018, which was prompted by the apparent withdrawal of services from Prosegur rival Securitas Direct (Telefónicawatch, #98, #127).
At the time of the withdrawal of the VeriSure Hogar, which utilised the Sigfox IoT platform, Telefónica indicated that it had plans to return to the security sector as part of a "global proposal for the home", suggesting a digitally‑driven solution. However, it is notable that Telefónica has chosen to return to the home-monitoring market by again partnering with a traditional physical burglar alarm company, which might suggest a more hybrid proposal is now on the cards.
The closure of VeriSure Hogar was not Telefónica's only retreat from the smart home market in 2018, with the O2 Smart Home service in the UK also abandoned after failing to find an audience (Telefónicawatch, #127).