Microsoft plans to open a new 'Azure region' for data centres in Spain and use Telefónica infrastructure to create a joint cloud services offering.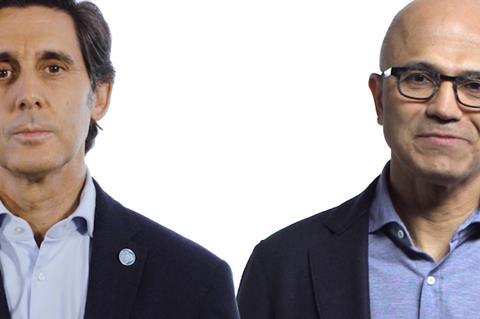 Telefónica expanded its strategic partnership with Microsoft, with the aim of providing cloud services on a joint basis to enterprise customers of all sizes as well as public bodies based in Spain.
The purpose of the expanded alliance is to help mutual customers migrate to the cloud in order to create new business opportunities and improve competitiveness, according to the two partners.
They pair will provide Microsoft cloud services, including Microsoft 365, Microsoft Azure, Microsoft Dynamics 365, and Microsoft Power Platform, from a new Microsoft data centre 'region' (or Azure region) in Spain, using Telefónica's infrastructure.
The partners referenced a "new strategic collaboration framework" that will underpin joint go‑to‑market plans in Telefónica's footprint. Target sectors include education, finance, government, health, insurance, manufacturing, retail, and travel.
In‑house cloud refresh too
Telefónica also named Microsoft as a strategic cloud partner to help it "accelerate its own internal digital transformation", indicating a move to diversify beyond other public cloud providers including Amazon Web Services (AWS) and Google Cloud Platform (Telefónicawatch, #125–#127 and #136).
Telefónica said it will use Microsoft Cloud for "pursuing efficiency, flexibility, and scalability improvements, optimisation of operations, and cost reductions". "As a strategic partner for its multi‑cloud strategy, Microsoft will train hundreds of Telefónica employees on Microsoft Cloud services", Telefónica added.
"The opening of a Microsoft data centre region in Spain is a game changer — a key milestone in our strategic partnership that will boost Spain's industrial fabric and digital economy. Cloud is one of the key priorities in Telefónica, as we announced in November [2019] with the launch of Telefónica Tech, the new unit to boost the solid growth of digital services. This global strategic partnership with Microsoft will certainly help to achieve that objective. "

— José María Álvarez‑Pallete, Chief Executive of Telefónica.
Telefónica and Microsoft had already unveiled a strategic alliance agreement at Mobile World Congress 2019, and the two partners have collaborated in a number of areas, including: the marketing of Microsoft Azure cloud services; Telefónica's cognitive intelligence Fourth Platform; the AURA digital assistant; and use of the Microsoft Azure AI platform to design new services (Telefónicawatch, #133 and passim). Further, the operator said it has deployed Microsoft 365 in all 14 countries in which it operates.
Microsoft said there are currently 52 Azure regions worldwide. Plans have also been announced for a further six, including Spain, as well as Israel, Mexico, Qatar, and two 'Azure government' regions in the United States for US government agencies and partners. A 'region' refers to a set of data centres connected through a dedicated regional low‑latency network.