Telco to collaborate with long‑term partner CaixaBank in equipment leasing joint venture.
Division to begin operations in January 2023.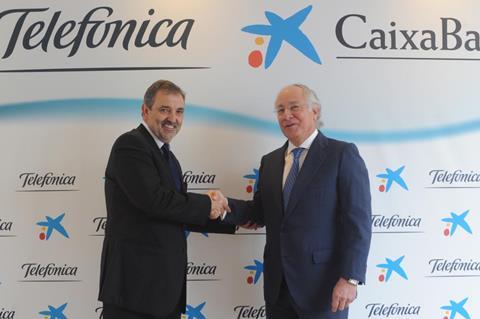 Telefónica and minority shareholder CaixaBank have revealed plans for a new business focused on the provision of tech rental services. A new legal entity was created under the name Telefónica Renting in July, with operations expected to commence in January 2023.
The new business, based in Madrid, will purchase, lease, and sell mobile terminals and other electronic devices, along with 'accessory services', reports indicate.
Telefónica applied to register Telefónica Renting as a trademark in April, although ostensibly only in Spain — indicating the business's initial focus will be on its home market and not yet on other countries where it already offers handset leasing, such as Germany and the UK.
According to Cinco Días, Telefónica Renting's capital is distributed evenly across both partners, with half of its funding coming from the telco's Consumer Finance division and the rest supplied by CaixaBank Payments & Consumer, a card and digital payments subsidiary set up by the lender in 2019.
As a joint venture, the directorate will be spread across both groups. Juan Miguel Gandarias, Chief Executive of CaixaBank Payments & Consumer, will chair the Board of Directors.
Telefónica's relationship with CaixaBank, a Valencia-based financial services provider with over 5,000 branches, spans multiple decades and ventures.
These include Telefónica Consumer Finance, a 50:50 JV that was set up in 2013 and promotes the financing of mobile terminals (Telefónicawatch, #85, #117, and passim). It appears from currently available information that Telefónica Renting will have a mandate to build beyond this forerunning JV's product set, and to a wider range of connected devices — although Telefónica has yet to provide full details.
In 2017, the operator's tie-up with CaixaBank expanded with the launch of a consumer loan offering called Movistar Money, and earlier this year the two partners collaborated on the launch of a payment solution for Telefónica España's pay-TV customers (Telefónicawatch, #134 and #150).
CaixaBank, also holds a minority stake in Telefónica (4.51% as of March 2022).