League offers up to five‑year contracts, ignoring regulator advice.
Depreciation anticipated following Lionel Messi departure.
Companies have until mid‑December to apply.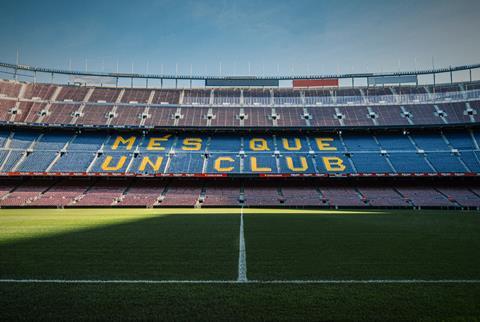 Telefónica confirmed its interest in acquiring fresh La Liga rights following the publication of the Spanish football league's tender conditions for the 2022/23 season onwards.
Speaking at Telefónica's Q3 results call, COO Angel Vila said the operator will "evaluate different possibilities" but is ultimately "aiming for deflation" on its previous rights deal.
Applications are open until 13 December, and Vila suggested the telco will maximise that time to dissect the myriad of new packages the league has released.
The rights are available in seven different packages, each divided into sections designed for terrestrial and non‑terrestrial broadcast.
Traditionally, La Liga — the organising body for Spanish football's top two tiers — has sold rights packages in three‑year cycles, with Telefónica's most recent purchase (2019–22) costing a whopping €2.9bn (£2.5bn), earning it the right to broadcast nine matches per week.
New legislation passed in 2020 scrapped these limitations. The law now simply states that the "duration of commercial contracts shall be subject to the competition rules of the European Union". However, regulator Comisión Nacional de los Mercados y la Competencia indicated its desire to maintain the three‑year limit — a plea the league has ignored.
Vila emphasised Telefónica's interest in "differential content", with this year's tender offering more flexible options than in the past. "The packages can be the whole ten matches of every weekend, or can be split by packages of five and five or seven and three", the COO noted. "They also open a possibility of some bidders potentially acquiring specific weekends and all matches".
He added that tailored content packages such as this are "relevant for us to maintain and improve our commercial ratios, such as ARPU and churn", but that the rights must be acquired in a "cost‑effective" way. "We apply very strict cost analysis based on profitability, as we have done every time in the past", Vila highlighted.
It wouldn't be the first time Telefónica has reduced its investment in football rights. The telco reportedly paid €975m for its latest three‑year tender of Champions League rights for the 2021–24 period — about 10% less than its previous payment for the same rights deal across 2018–21.
La Liga is said to be hopeful of involvement from a wider spectrum of operators, with interest mooted from Amazon Prime and DAZN.
Neither Orange nor Vodafone will partake in the tender, while Mediapro is said to be operating on a limited budget.
The tender process could be further complicated by Lionel Messi's summer move to Paris Saint‑Germain. The Argentinian — widely regarded as one of the greatest players of all time — was undoubtedly a major pull for La Liga viewers, and it remains to be seen just how much his absence will affect audience interest, particularly from overseas.